Amanda England - Page 2
Amanda England has been a life-long fan of theatre. Some of her earliest memories include watching her father hang lights at a community theatre and singing show tunes while her mother worked as a high school theatre director. As a teen, Amanda performed in several school shows but found her most joyful moments as an audience member. She has a particular fondness for musicals and any experiences that allow her to interact with cast & crew.

Amanda grew up in DFW and attended Plano Senior High School and UT Dallas, where she received her bachelor's and master's degrees. When she's not watching shows & collecting autographs at the stage door, Amanda serves children and their families as a Speech-Language Pathologist. Her other favorite activities include writing, crafting, hosting parties, and volunteering in her community.
MOST POPULAR ARTICLES
LAST 30 DAYS
LAST 365 DAYS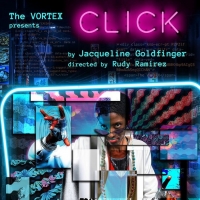 BWW Review: CLICK Envisions the Future of #MeToo at The VORTEX
Posted: Jan. 27, 2020


BWW Review: Penfold Theatre's GHOST QUARTET Delights Austin Audiences
Posted: Oct. 25, 2019


BWW Review: Captial T Theatre's IT IS MAGIC Casts a Spell on Austin Audiences
Posted: Nov. 21, 2019


BWW Review: Shit-Faced Shakespeare's THE TAMING OF THE SHREW Butchers the Bard
Posted: Dec. 3, 2019


BWW Interview: Adam Pascal Discusses Life, Work, and the National Tour of SOMETHING ROTTEN!

January 14, 2018

Just how good is it the be The Bard? BroadwayWorld spoke with the man himself - Adam Pascal - to find out. Pascal is best known by fans as the actor who originated the role of Roger Davis in RENT. He is currently playing Shakespeare in the SOMETHING ROTTEN! national tour, which is headed back to DFW this week.
---
BWW Interview: Making DFW Improv Safe for All

January 11, 2018

In the world of unscripted theatre how do you know when you've crossed a line? That is the question that local improv leaders are working hard to answer.
---
BWW Review: ORAL FIXATION's Storytelling Hits Close to Home

December 23, 2017

ORAL FIXATION - An Obsession with True Life Tales - is a night of storytelling that takes tales from real people in the community and brings them together under one roof. Each performance is based on a different theme, and the storytellers receive direction from Nicole Stewart. On Tuesday, December 19th the show's theme was 'Close to Home', with seven individuals sharing their real-life experiences.
---
BWW Review: Steal Away to See THE GRINCH at Winspear Opera House

December 9, 2017

Highlights from the show include magical jokes, a versatile set and props that all appear to be straight out of Seuss' book, and awesome moments of audience participation. The musical is fast-paced, with a relatively short running time and no intermission. A definite must-see for families with young children. The constant action and humor will keep even the more hesitant young theatergoers engaged.
---
BWW Review: Uptown Players' GEORGIA MCBRIDE Delivers Delightful Drag

December 4, 2017

Uptown Players' GEORGIA MCBRIDE balances more drama than 'Heartbreak Hotel' with a slew of drag performances that slay.
---
BWW Review: JOHN Bewitches Audiences at Undermain Theatre

November 17, 2017

If you are interested in a show that is intelligent, haunting, and deeply human, don't miss this spectacular production of Annie Baker's JOHN at Undermain Theatre. Tickets are available at http://www.undermain.org/. Show runs through December 3rd, with tickets for remaining performances starting at $20.
---
BWW Review: SISTER ACT at MAINSTAGE IRVING - LAS COLINAS

November 6, 2017

If you are in search of a musical that will speak to your soul, grab your family and friends (don't forget your sisters) and head to SISTER ACT at Mainstage Irving - Las Colinas!
---
BWW Review: SEX TIPS Audiences Raise the Roof at McDavid Studio in Ft. Worth

November 4, 2017

Looking for a fun adventure this weekend in Fort Worth? You have three more opportunities to see SEX TIPS FOR STRAIGHT WOMEN FROM A GAY MAN! Whether you are seeking a memorable date night or want to hit the town with friends, put down the Cards Against Humanity and go see this show instead!
---
BWW Review: WaterTower Theatre Unveils Regional Premiere of PRIDE AND PREJUDICE

October 18, 2017

Get thyself to WaterTower Theatre for this fresh take on an old classic. Whether you are a true fan or a Jane Austen novice, you won't be disappointed.
---
BWW Review: THE ADDAMS FAMILY Delivers Halloween Laughs at Runway Theatre

October 18, 2017

Just in time for Halloween, Runway Theatre opens its 2017-2018 season with a show that audiences of all ages can enjoy. Whether you are familiar with the dark humor of THE ADDAMS FAMILY TV show and movies, or this is your first introduction to the classic characters - this comedic musical directed by Bill Sizemore has something for everyone.
---
BWW Review: HAIR Audiences Transported Half a Century at Dallas Theater Center

October 4, 2017

Head to Dallas Theater Center's production of HAIR for the peace, love, & nudity. Stay for the interactive, multi-sensory experience and reflection on social issues.
---