MTC Presents A DOLL'S HOUSE, PART 2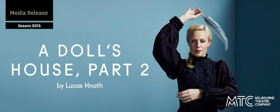 Marta Dusseldorp (Janet King), Deidre Rubenstein (Ladies in Black), Greg Stone (The Weir) and Zoe Terakes (Janet King) star in the Australian premiere of Tony Award-nominated drama A Doll's House, Part 2, directed by 2018 Helpmann Award nominee and MTC Associate Director Sarah Goodes.
Opening on Thursday 16 August at Southbank Theatre, The Sumner, A Doll's House, Part 2 sees daring US playwright Lucas Hnath take up where Ibsen left off with an intriguing and decidedly modern perspective on the famed play's provocative themes.
Sarah Goodes said, 'A Doll's House, Part 2 was recently nominated for 8 Tony Awards for good reason. Peppered with modern language, the play is a fresh, funny and illuminating piece of theatre examining a famous story and characters through an entirely new perspective that speaks directly to our times. The opportunity to see one of our great actors, Marta Dusseldorp, in the lead role is not to be missed.'
In 1879, Nora Helmer handed her husband her keys and wedding ring and left home, slamming the door behind her. But whatever happened to this famous literary figure from Henrik Ibsen's A Doll's House? And what of the family she left behind? 15 years later, Nora is now a successful feminist writer returning to get the divorce her husband Torvald never filed for. All she needs is the paperwork.
Lucas Hnath's plays include The Christians, Red Speedo, A Public Reading of an Unproduced Screenplay About the Death of Walt Disney, Nightnight, Isaac's Eye, Death Tax, and The Courtship of Anna Nicole Smith. His plays are published by Dramatists Play Service. Lucas has been a resident playwright at New Dramatists since 2011 and is a proud member of Ensemble Studio Theatre. Lucas is a winner of the 2012 Whitfield Cook Award for Isaac's Eye and received a 2013 Steinberg/ATCA New Play Award Citation for Death Tax. He has also received commissions from the EST/Sloan Project, Actors Theatre of Louisville, South Coast Repertory, Playwrights Horizons, New York University's Graduate Acting Program, and The Royal Court Theatre. Lucas Holds a BFA and an MFA from New York University's Department of Dramatic Writing.
MTC Associate Director Sarah Goodes' reputation as a leading director of new Australian and international work has been built on widespread praise and multiple award nominations. For MTC her recent work includes The Children, Three Little Words, John and Switzerland (following its acclaimed season in Sydney). Formerly Resident Director at Sydney Theatre Company, Sarah directed The Hanging, Disgraced, Orlando, Battle of Waterloo, The Effect, Vere (Faith), The Splinter, and Edward Gant's Amazing Feats of Loneliness. Her other directing credits include Elling, Black Milk, The Sweetest Thing, and The Small Things (B Sharp Belvoir); The Colour of Panic (Sydney Opera House); Vertigo and the Virginia, The Schelling Point, Hilt, and What Happened Was (Old Fitzroy Theatre); and The Unscrupulous Murderer Hasse Karlson Reveals the Gruesome Truth about the Woman Who Froze to Death on a Railway Bridge (Darlinghurst Theatre Company). In 2015 she was the recipient of the Gloria Payten Travel Scholarship.
Cast Marta Dusseldorp, Deidre Rubenstein, Greg Stone, Zoe Terakes
Director Sarah Goodes
Set & Costume Designer Tracy Grant Lord
Lighting Designer Niklas Pajanti
Composer & Sound Designer Chris Williams
Season dates
11 August - 15 September
Opening Night
Thursday 16 August
Tickets: mtc.com.au or 03 8688 0800