Interview: Justin Hamilton of THE BALLAD OF JOHN TILT ANIMUS at Melbourne International Comedy Festival
Who is John Tilt Animus? Well you'll have to see Justin Hamilton's three-part play at Melbourne International Comedy Festival to find out. Or just part one. Or just part three. It's up to you!
What happens when you suddenly feel removed from the life you once loved? At three different points in his career, comedian John Tilt Animus learns surprising lessons that could one day lead to his downfall.
Justin Hamilton's new three-part creative masterpiece follows the rise and fall of John Tilt Animus. Like the Marvel movies, see one show for one story or see all three for a mega-story.
We chatted to Justin about said mega-story...
Hello! Let's start with an easy one. What have you been up to since we last saw you at the Melbourne International Comedy Festival?
I've been living a life of solitude in Sydney which is not as friendly as Melbourne but does provide me with Vitamin D in winter. On the work front I have been involved in a number of TV projects as a writer, that have ranged from stacks of heaps of fun to "it's a job".
Presenting a narrative/play at MICF is a little different to how we've seen you in the past. What made you get theatrical for the 2019 festival?
I've performed a few shows that have had a touch of the theatrics in the past, including the play "Goodbye Ruby Tuesday", but this year's sprawling narrative was heavily influenced by the types of work I was enjoying in other mediums. From TV series like The Leftovers to Twin Peaks: The Return to the writings of Grant Morrison and Tom King, I've really enjoyed the ambiguity in that work, and being a little more theatrical allowed me to delve into that approach a little more.
For those who think the MICF is sitting on the couch with a cuppa and watching the Gala on a Sunday night, what should people know about this show?
It will be a very different experience to stand-up and if they're not up for something different, then the show won't be for them. That isn't a slight, but we live in expensive times and don't want to waste their hard earned coin. But if they want a story that doesn't fit into a box, and is open to interpretation, then I think they'll get a lot out of this show.
What's the worst thing an audience member can do you at your show? How should people behave?
Sit up the front and talk or go through their phone. All three shows in this trilogy are no longer than 50 mins, so it would be nice if they could refrain from doing that. I don't think that is too much to ask but I also know the anxiety some people feel by not checking their phone every few minutes. We really do look at our smart phones the way we used to look at loved ones, just gazing into that blue light.
It's a sad and scary time in the world. Does that help you make people laugh or are we all so miserable it's making your job harder?
Good question. I don't really know, I feel that people who go to a comedy show are definitely up for laughing and getting away from the world. It makes it difficult sometimes to talk about real world issues, but just belting out gags feels like it has for years. I think we're definitely more cynical when it comes to viewing anything that feels too sincere. In reality every audience is a new adventure. That is part of the fun.
Do you have any other show recommendations for this year's MICF?
To be honest, I just like seeing what my friends are doing these days, especially since I don't see them often. I really loved Tom Gleeson and Wil Anderson's shows this year, both comics are on top of their game. Judith Lucy nailed it...again. Of course. I love Carl Donnelly's work. I missed Hannah Gadsby's show but I'll catch that in Sydney. I'm going to try to hit it hard in the next couple of days before I finish up and fly back to my $100,000 a week rent apartment in Sydney.
Justin Hamilton's three-part The Ballad of John Tilt Animus is playing at The Toff in Town until April 16. Get your tickets here!
Victoria's passion for the arts and entertainment was born in Adelaide, nurtured in Sydney, and is now being further fuelled in Melbourne. Working as producer and talent manager, she has learnt... (read more about this author)
Review: THE PHANTOM OF THE OPERA is Magical and Majestic in Melbourne

November 7, 2022

What did our critic think of THE PHANTOM OF THE OPERA at State Theatre?
---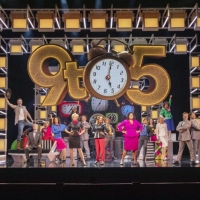 Review: 9 TO 5 tumbles Into Melbourne and Works Wonders!

July 25, 2022

What did our critic think of 9 TO 5 at Arts Centre Melbourne? From the second the first few notes of the iconic anthem to working life hit our ears, the audience at the Melbourne opening of 9 to 5: The Musical knew they were in for a fabulously fun night. Written and presented by the one and only Dolly Parton, this show is as camp, energetic and sparkly as one would expect.
---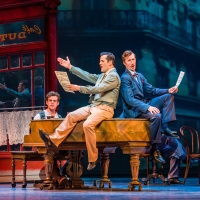 BWW Review: AN AMERICAN IN PARIS Is A Masterpiece in Melbourne

March 24, 2022

Entering the theatre, we see nought but a lone piano on the stage. This unassuming opening to An American in Paris could lead an unknowing audience member to think they were about to see a lean and understated production - but oh how wrong they would be. This musical is a veritable smorgasbord of colour, joy and movement. This reviewer spent the entire show with wide eyes, a beaming smile, and a full heart.
---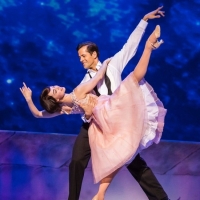 BWW Interview: AN AMERICAN IN PARIS Star Robert Fairchild Talks Its Australian Tour

March 1, 2022

Ahead of his Australian season, we had a chat with Robert Fairchild - a former principal dancer with the New York Ballet who made his debut as Jerry in An American in Paris on Broadway and then reprised it for London's West End.
---