Review: YANKEE TAVERN - Different Stages Knocks It Out Of The Park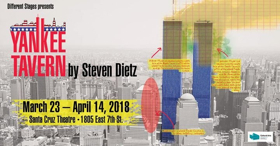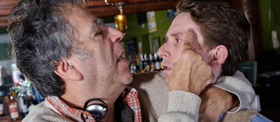 YANKEE TAVERN by prolific playwright Steven Deitz, is a labyrinthine journey through the mind of conspiracy theorist Ray (Bill Karnovsky). Through all the crazy scenarios Ray spouts, there may just be a kernel of truth.

Conspiracy theories abound in our world, political conspiracies seem to have longer shelf life, but just about any event can have a outrageous spinner of falsehoods behind it. Central to YANKEE TAVERN is the mountain of tiny tidbits about the terrorist attack on NYC's World Trade Center's Twin Towers in downtown Manhattan. The sheer scope of the attack, with not one massive skyscraper losing its structural integrity, not two huge buildings fell, but three structures in the World Trade Center Plaza fell that day. Merely the date 9/11/01 can trigger nightmares, PTSD and memories of a day that changed our lives forever. Every one of us remember clearly where we were the moment we heard the terrible news, it's a fixed point in our collective conscious. Social media has only served to increase the spread of conspiracy theories, especially those attached to global politics have found a new audience and new plots spread like wildfire these days. YANKEE TAVERN fixture Ray (Bill Karnovsky) shares his version of supposed secrets and uncovered truths that most of us are unaware of. Bar owner Adam (Will Douglas) and his fiancé Janet (Kelsey Mazak) treat Ray as a member of the family and indulge his off kilter view of the world. It's when a stranger, Palmer (Greg Ginther), walks into the bar is when things go off the rails. The play isn't only fascinating on an intellectual level, it's compelling, funny and a dash of mystery thrown in just for the fun of it.
Different Stages production of YANKEE TAVERN is flawless in its delivery of a powerful evening of entertainment. Director Norman Blumensaadt has been a mainstay of the Austin theatre scene since 1981, he never fails to bring something unique to the stage, this show is no different. His feel for the material is clear and it's message to the audience well conveyed. The entire cast is outstanding, Douglas and Mazak as the young couple are engaging and compelling. Greg Ginther as the mystery man is a wonderful surprise as a newcomer to the Austin stage. But it's Bill Karnovsky who gives a tour de force performance as conspiracy theorist extraordinaire. His delivery is perfection and his characterization astonishing. It's easy for actors to overplay such a bold and outspoken role, but Karnovsky avoids those pitfalls deftly and gives a stellar turn that is certainly award worthy. As someone who takes a dim view of most fringe theories, I found myself pulled into Ray's wild scenarios, he's just that convincing. Also worthy of note are James Jennings lighting design and Elaine Jacobs set design; both artfully make the most of the Santa Cruz stage space.
I give my highest recommendation to YANKEE TAVERN, produced by Different Stages at Santa Cruz Theatre. I know you'll be as thoroughly entertained as I was by the outstanding cast, wonderful direction and compelling storytelling. Please note: evening performances begin at 7:30 PM.
YANKEE TAVERN
by Steven Dietz
Directed by Norman Blumensaadt
Different Stages at Santa Cruz Theatre, 1805 E 7th St, Austin
March 23 thru April 14, Thursday - Saturday @ 7:30 PM, Sunday @ 3:00 PM
Running Time: 2 hours with one 15 minute intermission
Tickets: $15 - $30, DifferentStagesTheatre.org