Interview: James Taylor Odom Brings Dream Role in A GENTLEMAN'S GUIDE TO LOVE AND MURDER to the Fox Theatre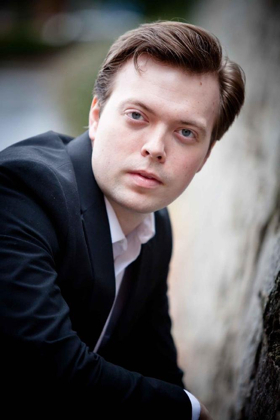 That moment when you've been training for a role ever since you were five and didn't even know it.
From watching a range of British television shows and movies when he was little to studying one-man show work in grad school, James Taylor Odom's background has prepared him perfectly to play all eight members of the ill-fated D'Ysquith family in the tour of A GENTLEMAN'S GUIDE TO LOVE AND MURDER. A Metro Atlanta native and Brenau University graduate, Odom is returning home March 13-18 to perform a dream role at the Fox Theatre. Below, check out what he has to say about getting murdered eight times a night, changing costumes in 14 seconds, and tackling the "marathon" that is Act 1.
---
We're so excited to get the GENTLEMAN'S GUIDE tour very soon. How has it been going so far?
It's been going so well. Incredibly! We were just in Portland, Oregon, and it was one of the best stops on the tour so far. Great audiences. All across the country, people really have been surprised at seeing something they don't really know, and they go in with fresh eyes and just have a great time. They laugh; they really enjoy following the story. It's cool.
It's always exciting to see a show you're not familiar with and end up loving it. Your character, or rather, "track," is the one that casual theatre fans are the most familiar with. So can you tell our readers a little bit about your place in the story?
Absolutely. So, I play the D'Ysquith family. There are eight members of the D'Ysquith family, all of whom are nasty in some way- they're an upper-crust, British family. The story revolves around a man named Monty Navarro, who discovers he's ninth in line to this vast wealth and title. And to win the affections of this woman he admires, he tries to cash in on the family's wealth, and unfortunately the D'Ysquith family rejects him, so he decides to kill them off one by one. So every scene, I'm coming out and he's killing me off in some clever way, and then I'm coming back right away, sometimes as fast as 14 seconds, with a costume change as a new member of this horrible family. So sometimes a woman, sometimes a man, young, old, it doesn't matter.
Besides costumes, what do you do yourself to differentiate characters?
I did a lot of work in graduate school in one-person show development and utilizing skills for multi-character work. Those skills I bring to the table in a rehearsal process like this: I'll stand in front of the mirror and see how my body responds with what's on the page with that character, how they move, how they talk, what the voice inflection is. Those are just physical things including putting on the costume and seeing how my body responds to that.
I also use inspirations of people or characters in other forms of entertainment for inspiration for these characters, for sure. As well as, I've been a lover of British television and entertainment since I was a kid. I was five years old and loving BBC, Masterpiece Theatre, and Masterpiece Mystery, so all of those things kind of come into play in my knowledge of British farce and that sort of thing. But also, when you look at the text, you see what each character wants. It's pretty obvious, and I'd say it's almost kind of classic Shakespearean in the sense that these characters I'm playing say what they mean, they know what they want, and it's pretty clear. I just go out on stage and go for that using all those different things that I brought to the table to bring these characters to life and make them distinct.
It sounds like this role was made for you, and you've been low-key training for it forever.
It definitely was a dream of mine to play this role. I saw the show on Broadway with an acting mentor of mine, and he turned to me after the first act and said "James, this is your show." And I was sitting there going, "I absolutely feel the same way. Hopefully one day I'll get to play it!" And luckily it happened.
That's amazing! So which of your characters would you say is your favorite?
It's often dependent upon how the night's going, how the audience is responding, and my feelings at the time. I love them all, I really do. Some of them are harder than others in terms of the choreography and getting through some of the more athletic scenes. But I would say that Henry the Beekeeper is one of my favorites. He's just a delight to play, and he has a really fun death that I can't wait for audiences to see.
Can you expand on what you mean by "more athletic scenes"?
Each D'Ysquith dies in some unique way, and there's usually some kind of clever staging that happens, but I don't want to give too much away. Well, to be honest there are some clips in the trailer in the publicity materials that give it away, so I'll give an example. I play an old drunken priest who, when he gets killed off, he's falling from the tower of this church. So there's a unique, VERTIGO-style staging that happens as I fall from the top of the tower, so unique things like that bring cinema and theatre together and are really fun for the audience.
So what would you say is the most challenging part of the show for you?
Act 1. Act 1 is definitely the hardest part for me because it's non-stop. I would say that, the other lead, Monty, never leaves the stage, but what I'm doing is I'm coming out on stage, usually with some pretty athletic scene of some kind, whether it's choreography or dancing or something like that, then dying, and then immediately going off and having sometimes 14 seconds to make a costume change and get back on stage to do another scene with another interesting death. It's non-stop. It's a marathon, really. So there are times when I get to a certain part of Act 1 and there are no breaks for me, it feels like it's a mountain to climb. Those can be some of the most challenging things.
That sounds like such an involved character! Not only are you doing a lot, but it's constant. So, to transition a bit, you're from Lawrenceville, right? I would assume you have seen shows at the Fox before.
Yes, born and raised. My mother still lives there, and I'm down there a lot. If I'm not in New York or traveling, that's where I am. My first Broadway musical that was touring I saw at the Fox when I was in high school. It was really my first professional show that I ever saw, and it was THE DROWSY CHAPERONE. It's an amazing musical, and when I saw it, I was sitting in the audience going, "I want to do this for a living in some way! Or at least I want to play 'the Man in the Chair.'" And that hasn't happened yet, but give it time, I hope.
So, the Fox I've been to numerous times, THE SOUND OF MUSIC, 9 TO 5, WICKED, all those great shows. So it's really the most exciting stop on the tour to be able to come home. None of my family has seen the show yet- we've been on the road since September- so they're all going to be coming to the Fox, so it's going to be a really beautiful moment.
We're excited to have you back! Anything else you want to tell our readers?
I guess I would say, if anyone's on the fence about coming to see GENTLEMAN'S GUIDE, don't be. It's really a hysterical show that is unique. If you're looking for a way to get away from the craziness of the world and everything that's going on right now, if you just want a night out to laugh and have a wonderful time, this show's for you.
---
James Taylor Odom is thrilled to make his National Tour debut in GENTLEMAN'S GUIDE. Regional: Murder For Two (Suspects), My Fair Lady (Henry Higgins), The 39 Steps (Richard Hannay), Baskerville(Sherlock Holmes) and Mary Poppins (George Banks). Other favorites include The Importance of Being Earnest, One Man 2 Guvnors, God of Carnage and The West End Horror. Recent Theatres include TheatreSquared, Shadowland Stages, Cortland Repertory, and Prather Entertainment Group. Training: BA, Gainesville Theatre Alliance. MFA, University of Arkansas. jamestaylorodom.com
GENTLEMAN'S GUIDE will play at Atlanta's Fox Theatre March 13-18, 2018. It tells the uproarious story of Monty Navarro, a distant heir to a family fortune who sets out to jump the line of succession, by any means necessary. All the while, he's got to juggle his mistress (she's after more than just love), his fiancée (she's his cousin but who's keeping track?), and the constant threat of landing behind bars! Of course, it will all be worth it if he can slay his way to his inheritance... and be done in time for tea.
Tickets start at $33.50 and are available by visiting FoxTheatre.org by calling 1-855-285-8499 or visiting the Fox Theatre Box Office (660 Peachtree St NE, Atlanta, GA 30308). Group orders of 10 or more may be placed by calling 404-881-2000. Performance schedule, prices and cast are subject to change without notice.
For more information, please visit AGentlemansGuideBroadway.com or BroadwayInAtlanta.com.