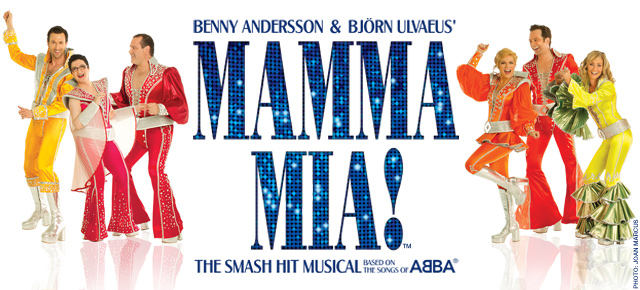 Click Here for More Articles on MAMMA MIA!
Thank You for the Music- MAMMA MIA! Cast Members of Past and Present Recall Memories from the Past 14 Years
"Broadway will never be the same," says MAMMA MIA! alum Courtney Reed. It's true... later tonight, after the Dynamos take their final bows as the reigning dancing queens of the Great White Way, an era will end in New York City that has lasted a whopping 14 years. Benny Andersson and Björn Ulvaeus' global smash hit musical MAMMA MIA!, inspired by the songs of ABBA, will end its historic, record-breaking run tonight, September 12, 2015, after 5,773 performances.
MAMMA MIA! is one of the most successful musicals of all time anywhere in the world, the eighth longest running show in Broadway history and one of only five current musicals to have run for more ten years on Broadway. The show recently passed the long runs of Rent, Miss Saigon, 42nd Street, Grease and Fiddler on the Roof, establishing the musical as a Broadway legend.
MAMMA MIA! opened at Broadway's Winter Garden Theatre on October 18, 2001, following the meteoric success of the London premiere which debuted in 1999 and continues to play to packed houses at the The Novello Theatre in the West End.
The Broadway run of Mamma Mia! has grossed more than $600 million at the box office, and the show has taken in over $2 billion worldwide. Under Craymer's guidance, MAMMA MIA! has become a world-wide phenomenon, seen by over 54 million people in 16 languages in 49 productions and over 400 cities around the world.
The North American productions of Mamma Mia! combined have played nearly 20,000 performances. More than 20 million people have seen Mamma Mia! in North America, including over 7 million on Broadway alone. The North American companies of Mamma Mia! have raised over $5 million for Broadway Cares Equity Fights Aids.
Not only has the show made a huge impact on audiences around the world, but it has has been a big part of the careers of many of Broadway's biggest stars. In anticipation of this big day, BroadwayWorld has reached out to many of the alumni who have once called the Winter Garden (and Broadhurst) home. Check out what they had to say about their time in MAMMA MIA! below:
---
What is your favorite Mamma Mia! memory?
Judy McLane: After 11 years, there are so many to count. The 10th anniversary performing the mega mix outside with fireworks bursting above us, our New Year's Eve performances at the Winter Garden, our in house Olympics and Christmas door competitions, lighting the Empire State Building and the excitement of the finale moving through the audience to get them on their feet, every night.
Aaron Lazar: First time sporting the spandex in the mega mix for a full crowd at the Winter Garden. Unforgettable!
Allison Case: It was my Broadway debut. A bunch of family flew out from the west coast to be there- my heart was so full. I opened on a Wednesday and some dear friends from HAIR came to my matinee that day. And at the night show I looked down at the curtain call and saw my pal Eden Espinosa smiling back up at me from a few rows back. She had bought a ticket and surprised me. It was an amazing day.
Michele Pawk: The best part was getting to marry my husband every night.
Olga Merediz: My most favorite memory ( there are MANY!) of being in the show is when the actress playing Donna... I can't remember her name. She took over Michelle Pawk and she did the role like a sex kitten. Well, she missed an entrance one night. She was super late for the entrance to the scene before the song Chiquitita and Dancing Queen. Well, Judy McLane (who was playing the role of Tanya at the time) and I just started improvising for a good minute and a half! Judy and I were very in sinc in those 2 roles. We just played off each other. We used the "costumes" that were in the trunk onstage and created a fun improvised scene. Instead of panicking we were having the time of our lives making up dialogue like: "Oh, don't you remember when we wore this outfit??" "Yes!! Of course I remember". It just seemed like we were having fun reminiscing as friends within the story. But it went on for a long while. Finally the actress playing Donna came onstage. We looked at her like we wanted to kill her! God, that was so much fun. Judy and I laughed about it for days.
Lisa Brescia: Every time a company member was leaving the show, there would be a "Happy Trails" celebration for them. The outpouring of love towards the departing actor was like nothing I'd ever seen. Every single time. Mamma Mia! knows how to put a company together...they are the kindest souls.
Judy Kaye: For me, the most memorable moment of being a part of MM was rehearsing and opening during and after 9/11. The morning of the attack was one thing. I live in NJ on the Palisades looking down the Hudson River at the World Trade Center, and watched as the second plane hit the building. Something compelled me to get on the ferry and get into NY for rehearsal. Each of us had our own experience of that horrible day. But, what stays with me is the experience of starting previews to a benefit performance so soon after such a tragedy. We got to the mega mix and the reaction of the audience that night was like nothing else I'd ever experienced on a stage before or after. The looks on the faces of the folks who charged forward to the edge of the stage. Not just enjoying the music and rocking out with us, but with a desperation in their eyes. The show was known as "the Lourdes of Musical Theater", but this was beyond. I think Mamma Mia! helped to heal the city of NY in a way nothing could have. Night after night as we opened the show, and began a wonderful run, audiences experienced unadulterated joy! And, we did, too.
Frankie James Grande: One day all of the boys got brand new flippers for "lay all your love" but we never got to try them onstage before the show and for some reason, the plastic part of the flippers would not grip the stage like our old flippers and ALL 8 of us wiped out as soon as we got onstage and ALL of us SREAMED at the top of our lungs. It was absolutely the funniest thing that's ever happened to me onstage. We had to crawl to our spots onstage, while attempting to sing and dance but really all we could do was laugh. At the end of the scene i was supposed to push the boat offstage but of course I slipped and ended up having to be dragged offstage behind the boat like a flopping fish. When I finally got offstage I curled up into a ball and tried my hardest not to pee myself cause I was laughing so hard. That's live theatre. No one was hurt thankfully, but I still to this day wonder what the hell that audience was thinking that night as they watched 8 chorus boys in scuba suits and flippers crawling around the stage on all fours while screaming and laughing to "lay all your love on me"...
Andy Kelso: Mamma Mia! was my Broadway debut, so all of the 'firsts' that go along with that are probably some of my favorite memories. It was also the first time I ever wore a wedding dress and that is certainly a favorite memory for me-if not for my friends and family.
Beth Leavel: What comes to mind first is during my put in... I had just finished singing "Money Money" and I hear our PSM Andy ask the cast to "hold please". I thought to myself..." Well I must have been terrible for them to stop the rehearsal.." And then down the aisle at the Winter Garden Theatre strolls Bj?rn Ulvaeus! Of ABBA! He was in town and dropped by to say hello and nice job!! Bam!
Liz McCartney: Soooo many, I think making my co stars laugh was my favorite thing. One of the best was Judy McLane used to react to Carolee Carmello with a shocked face that I called "old retracto chin", the next night Judy and I both looked at Carolee with "old retracto chin" and when she had the opportunity offstage, Carolee laughed and smacked us both. I fell after Waterloo and had to crawl off stage. Judy's toenail ripped off onstage, really low, it was gross, she put a band aide on it and painted it like her toenail, that also fell off, I said someone would be selling it on EBay the next day. Instead, the next day she had an acrylic toenail, atta girl!
Felicia Finley: My favorite memory was moving theaters! I've never transferred from one venue to another. That process was hysterically funny and fascinating at the same time!
---
Why do you think the show has been so embraced by fans?
Carolee Carmello: I think people love the show because it's nostalgic and upbeat and it reminds them of another time.
Louise Pitre: I think the fact that these characters were REAL people and that women were the main characters made it special too. The songs of course made it nostalgic but the story of these real people is what was touching and affecting.
Frankie James Grande: I believe the show has been embraced for all these years because it is a celebration of music theatre and life. It is SO fun and happy and joyous and the music is so infectious that you have no choice but to smile and dance and sing along. Mamma Mia! has the power to take us out of our complicated, busy, sometimes overwhelming lives and just makes us feel joy for 3 hours... And it's that feeling that makes them keep coming back for more.
Judy McLane: I have always called it an anti-depressant. It makes people feel good. I think it's a combo platter... the music, the high energy, the experience that it's never too late for love and when it comes, it can be in any shape, size or gender.
Courtney Reed: First of all ABBA is fierce! I grew up listeneing to it even after years of The Mia! I'm STILL not sick of it! The power of ABBA is real!
Allison Case: The show is filled with so much joy. People literally leave the theatre dancing, singing, laughing and smiling!
Michael James Scott: I think the show has been embraced because of it's relentless joyful fun. You can't walk out the theatre after seeing Mamma Mia! without feeling good. You can try, but it's very hard!!!
---
What do you/will you miss most about being in Mamma Mia!?
Aaron Lazar: The people. A great group of souls both onstage and behind the scenes. It was a very special time for me. Thank you Judy Craymer and Mamma Mia!!!
Felicia Finley: The Mamma Mia! Olympics... The lacing of shoes race was nerve racking, not to mention the spoon in the bottle competition! I can still feel the thrill of victory and the agony of defeat.
Carolee Carmello: I miss that aerobic workout 8 times a week! It was great for my waistline!
Louise Pitre: The paycheck. Definitely.
Andy Kelso: Spandex. What will become of Broadway without all the spandex?! But coming in at close second is the family that IS Mamma Mia! The life-long friends that I made while working on the show and the amazing memories that were created during that time truly made it the time of my life (pun intended).
Michael James Scott: Obviously dancing in a wetsuit and flippers
Courtney Reed: Broadway will never be the same. Mamma Mia! has literally changed lives! I know it did for me. I will miss knowing that there was always a second home and family for me on broadway . Saying that Mamma Mia! will be missed is an understatement!
Lisa Brescia: I miss my co-workers (cast, crew, management, house staff). I miss singing that music. And most of all, I miss looking out at the end of the show and seeing the audience's faces, people from all over the world, beaming back at us with wide smiles and generous hearts. They gave us so much every single day.
Olga Merediz: I miss being cast as a SEXY middle aged older woman instead of the roles you usually get offered as an actress who is not young anymore. Also, kissing the hot guy and getting him at the end was the icing on the cake! And I miss all that weight I lost doing 8 shows a week of the show! Ha!
Beth Leavel: I will miss feeling like a rock star. I don't have that opportunity very often...so...strutting downstage in my white spandex with my fellow storytellers with the audience on their feet singing with us? Priceless. Thank you for the music and memories Mamma Mia!
Photo Credit: Joan Marcus