THE LATEST DRAFT Podcast Second Season Premieres Feb. 12
You can listen to The Latest Draft available on Apple Podcasts, Stitcher, and iHeartRadio.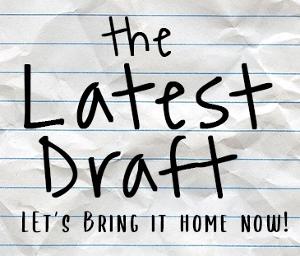 Season Two of The Latest Draft Podcast premieres this Friday, February 12. After receiving dozens of submissions, the producers narrowed down the season to eight podcast musicals and 20 cabaret songs.
Episodes 1-4 and 5-9 present short-form musicals followed by in-depth interviews with the authors. The writers open up about creating their pieces, tips for structuring songs and stories and finding inspiration amid the pandemic.
Episodes 5 and 10 (the Cabaret Episodes) each feature ten songs ranging from ballads to bops.
"We are so thrilled to be back for a second season! As was the case with last season, The Latest Draft aims to highlight and feature new musical theatre writers," The Latest Draft producer and creator Samantha Rosenblatt said. "It was incredible to receive so many submissions and truly heart-warming to see that theatre is alive and well, even if on a virtual stage right now. As an emerging writer myself, I loved being able to connect with so many members of the theatre community to bring together Season 2 of The Latest Draft. You won't want to miss these incredible songs and shows!"
You can listen to The Latest Draft available on Apple Podcasts, Stitcher, and iHeartRadio.
You can follow the podcast on Facebook and Instagram @TheLatestDraft for updates, writing tips, and more.
https://podcasts.apple.com/us/podcast/the-latest-draft-podcast/id1523004670
The line-up for Season 2 is:
Ep 1 - Feb. 12
OBSCENE, LEWD, LASCIVIOUS, AND FILTHY!
Book, Music and Lyrics by Adam J. Rineer
Ep. 2 - Feb. 26
The Yellow Wallpaper
Book and Lyrics by Sam Norman
Music by Eliza Randall
Ep. 3 - March 5
The Adventures of Inspector Lockshire (A Musical Murder Mystery!)
Book, Music and Lyrics by Mason McDowell
Ep. 4 - March 12
Pigeon Pizza Party
Book, Music and Lyrics by Spencer Robelen
Ep. 5 - March 19
Cabaret #3
Featuring songs by Jess LeProtto, Craig Franke Jacinth Greywoode, Rebecca Hart, Alanya Bridge, Bryan Blaskie, Jamie Maletz, Ryan Korell Jonathan Keebler, Willem Oosthuysen, Laura K. Kleinbaum, Shayna Toh, Nico Juber, Sam Sultan, and Emma Freeman
Ep. 6 - March 26
The Arrival
Book and Lyrics by Jamie Maletz
Music by Jack Trzcinski
Ep. 7 - April 2
A Constellation
Book by Elena Faverio
Music by John Brautigam
Ep. 8 - April 9
Rapplestiltskin: The Real Grimm Shady
Book and Lyrics by Maggie Moe
Music by Earl Marrows
Ep. 9 - April 16
The Ballad of Elisa Lam
Book and Lyrics by Garrett Bell
Music by Charlie Romano
Ep. 10 - April 23
Cabaret #4
Featuring songs by Eric Fegan, Jamie Maletz, Alanya Bridge, Matt Day, Shayna Toh, Alara Magritte Slonaker, Daniel Rosen, Michael Wartofsky, Jacob Kerzner, Seth Roseman, G. Victoria Campbell, Marcus Yi, Joey Contrereas, and Ben Halstead
About The Latest Draft
The Latest Draft is a podcast celebrating new works from the next generation of great musical theatre authors. Weekly episodes will feature podcast musicals by book writers, lyricists, and composers from around the world. The brainchild of theatre writers Elspeth Collard and Sam Rosenblatt, the podcast aims to promote young theatre-makers and to inspire artists to keep creating during these trying times.