THE BAND'S VISIT Will Offer Special Performance to Benefit The Actors Fund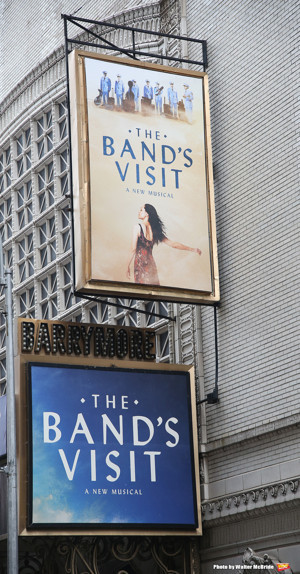 The Band's Visit has added a Special Benefit Performance for The Actors Fund. This benefit performance will be held this Sunday, February 25, 2018 at 7:30 pm at the Barrymore Theatre (243 West 47th Street).
Purchase a ticket at the 'Diva' level for premium seats, plus admission to a private post-show cast party featuring live music from the show, food and beverage, and a copy of the cast album, all for just $300. Tickets are now on sale at www.actorsfund.org/TheBandsVisit or by calling 212.221.7300 ext. 133.
The Band's Visit landed on more BEST OF 2017 lists than any show this year including being honored by The New York Times, The Washington Post, The Wall Street Journal, Los Angeles Times, Chicago Tribune, Time magazine, Entertainment Weekly, New York Magazine, Deadline, Variety, Hollywood Reporter, Time Out New York, New York Observer, Forbes, The Wrap, Broadway.com, Buzzfeed, Thrillist, Daily Beast, Huffington Post and Asbury Park Press.
The Band's Visit features music and lyrics by David Yazbek, a book by Itamar Moses, is based on the screenplay by Eran Kolirin, and is directed by David Cromer. The Broadway company ofThe Band's Visit includes Katrina Lenk, Tony Shalhoub, John Cariani, Ari'el Stachel, George Abud, Etai Benson, Adam Kantor, Andrew Polk, Bill Army, Rachel Prather, Jonathan Raviv, Sharone Sayegh, Kristen Sieh, Alok Tewari, Pomme Koch, Ahmad Maksoud, Madison Micucci and James Rana. Musicians include Andrea Grody, Alexandra Eckhardt, Ossama Farouk, Philip Mayer, Sam Sadigursky, Jeff Theiss, Harvey Valdes and Garo Yellin.
After a mix-up at the border, an Egyptian Police Band is sent to a remote village in the middle of the Israeli desert. With no bus until morning and no hotel in sight, these unlikely travelers are taken in by the locals. Under the spell of the desert sky, their lives become intertwined in the most unexpected ways. The Band's Visit celebrates the deeply human ways music, longing and laughter can connect us all.
The creative team includes Patrick McCollum (Choreography), Scott Pask (Set Design), Sarah Laux (Costume Design), Tyler Micoleau (Lighting Design), Kai Harada (Sound Design), Maya Ciarrocchi (Projection Design), Charles G. LaPointe (Hair Designer), Jamshied Sharifi (Orchestrations), Andrea Grody (Music Supervisor, Music Director & Additional Arrangements) and Dean Sharenow (Music Supervisor & Music Coordinator).
THE BAND'S VISIT is produced by Orin Wolf, StylesFour Productions, Evamere Entertainment, Atlantic Theater Company, David F. Schwartz, Barbara Broccoli, Frederick Zollo, Grove•REG, Lassen Blume Baldwin, Thomas Steven Perakos, Marc Platt, The Shubert Organization, The Baruch/Routh/Frankel/Viertel Group, Robert Cole, DeRoy-Carr-Klausner, Federman-Moellenberg, FilmNation Entertainment, Roy Furman, FVSL Theatricals, Hendel-Karmazin, HoriPro Inc., IPN, JAM Theatricals, The John Gore Organization, Koenigsberg-Krauss, David Mirvish, James L. Nederlander, Al Nocciolino, Once Upon A Time Productions, Susan Rose and Paul Shiverick. The Executive Producer for The Band's Visit is Allan Williams.
The Actors Fund is a national human services organization that fosters stability and resiliency, and provides a safety net for performing arts and entertainment professionals over their lifespan. Through offices in New York, Los Angeles, and Chicago, The Fund serves everyone in film, theater, television, music, opera, radio and dance with programs including social services and emergency financial assistance, health care and insurance counseling, housing, and secondary employment and training services. Visit www.actorsfund.org.
Actors Fund Special Performances are among the most thrilling theatrical experiences and the hottest tickets in town. Broadway and Off-Broadway companies generously give their time and talent to raise funds to help those in need in the creative community by adding these special shows to their already rigorous schedules, and perform for audiences full of their peers from the entertainment community.
Photo Credit: Walter McBride / WM Photos