BWW Exclusive: Four of Broadway's Hottest Musical Directors Sound Off About What They Do, Inspirations and How They Do It!
Who helps an actor to sing material a certain way? If you ask the majority of people outside the theater industry they would say people simply sound the way they sound or maybe credit the composer or director. In truth, in the majority of cases in the musical theater world it is the Musical (or Music) Director. This person, who is not eligible for a Tony Award and rarely gets mentioned in reviews, is integral to the product you see and hear.
"We're there on the first day and we teach all the stuff," said Vadim Feichtner, Musical Director of the upcoming Broadway revival of FALSETTOS and composer William Finn's go-to guy. "We help interpret all the stuff. We work with the actors. We work with the orchestra. We conduct the orchestra. We try to make it more than just people singing and get it to a place where it comes alive and becomes theater."
Musical Directors are most associated with the orchestra because they almost always conduct the orchestra. However much of their time is spent with actors. They are usually even involved in casting decisions. "The director is 90% of it," Lon Hoyt, ON YOUR FEET!'s veteran Musical Director/Music Arranger/Keyboard man, said. "But I'm there to either agree or say: 'They can't hit that top note. We can take the song down. Back to you.'"
With a show like this CHICAGO revival, which has put in 217 principals and hundreds of ensemble members in its nearly 20 years in existence, Musical Director Leslie Stifelman (who started out with the show as a pianist and became Musical Director in 2003) spends a good amount of her time on casting. There is a constant flow of auditions. Once someone is cast, the Musical Director snaps into teacher mode, occasionally before formal rehearsals begin. Most of the new CHICAGO principals have three to five weeks of rehearsals, but there typically are work sessions ahead of time. Stifelman worked with Melanie Griffith periodically over a six month period before the film star entered CHICAGO.
Likewise, well before rehearsals began for the Broadway production of NATASHA, PIERRE & THE GREAT COMET OF 1812, Broadway newbie Josh Groban turned to Musical Director Or Matias, who has been with the show since its beginnings, for help learning Pierre's sound. Matias-also making his Broadway debut-met with Groban on several occasions, sometimes with writer Dave Malloy and director Rachel Chavkin and other times one-on-one. "From the very beginning his attitude was: 'I want to learn,'" Matias explained. "We talked about vocal quality in terms of technical elements and vocal execution. We'd play some bars and experiment. I'm just as eager to learn from him who Pierre is as he is to learn from me."
Think of a Musical Director as less public school teacher and more private group tutor. Rehearsal time includes working with actors individually and as a group, with others on the creative team and alone. Each actor learns differently-some require going over the same five bars until a note is nailed, some require being left alone-and it is the Musical Director's job to know how to instruct each actor. Most are expert pianists and can sit with actors playing a song multiple ways.
"The music has to come from you - your will, your want," Stifelman said. "Whether you're forcing them to do something by telling them what to do or by inspiring them to do something a certain way."
Musical directors can't just seek the perfect sound, they also need to be conscious of character development. "I worked with Paul [Gemignani] on INTO THE WOODS and SHE LOVES ME, and one of the many things I adore about him is how collaborative he is," actress Laura Benanti said of the legendary Musical Director, who received a Special Lifetime Achievement Tony in 2001. "He wants to find the best key, the best tempo, and the best tone for you. He is such a wonderful artist and the acting is so important to him that he really prioritizes that."
For a revival, a musical director must often help the cast overcome The Shadows of the past. Feichtner noted that he told cast members to stop listening to the well-known FALSETTOS original cast recording. He recorded some plunk tracks of the score on the piano so the cast members could listen to that to rehearse without hearing their predecessors' voices in their heads.
For a new musical the material is constantly in flux and the Musical Director must roll with these changes. Matias-who has worked on four shows with Malloy-relayed that he feels a "true sense of collaboration" with THE GREAT COMET team, which helps minimize anxiety. When he receives new pages, he and Malloy discuss them right away, adjusting them on the spot when necessary.
During rehearsals, the Musical Director must "fulfill everyone's wants while still making music," as Hoyt put it. There are notes and group discussions. The choreographer might want a musical emphasis on a kick. The composer might have comments about how his/her work is being interpreted. "[FALSETTOS co-librettist and director James] Lapine just wants things fixed. He asks: 'Can you give me four more bars here?' Then that is what I do," Feichtner stated.
For a limited engagement like FALSETTOS, the casting generally flows from the music. For a show like CHICAGO, the music is sometimes tailored for the casting.
"We adapt to tell the story clearly within your vocal range and technique," Stifelman said, admitting to shouldering the majority of the burden for this task. "We're like a school. I have a very specific system of how I teach everything. All the diction for the score is extremely specific. Every note that you sing we have an idea for. Now you can have an idea and we can sometimes adapt. We have different keys you can sing in-for Roxie we have three different keys. Someone like Brandy will come in and sing a few different notes. But we don't bend the show until it breaks, we keep its integrity."
Nowadays many Musical Directors are taking on more responsibility and are credited with vocal, music and/or dance arrangements. Some are also orchestrators. (In simplest terms, a vocal arrangement is taking a composer's work and applying it to a singer or multiple singers. If someone is credited with music arrangement there generally isn't a credit for vocal arrangement and vice versa. Dance arrangements allow music to go along with dance, and the arranger often creates new music based on the composer's songs and/or will frame the music tempo-wise to go along with a show's dances. Orchestrators, who are Tony eligible, take a composer's work and arrange it for a particular orchestra.)
Most spoken to believe the expansion of the job was simply part of an evolution. Musical Directors had to be prepared to do some of this, whether credited or not, because they are the ones directly working with the orchestra and the actors and are sometimes in the best position to fix what sounds wrong. Then they began to do even more and naturally wanted credit.
The most well-known Musical Directors now are in fact better known for taking on other roles. For example, Alex Lacamoire, currently Broadway's best known Musical Director thanks to HAMILTON, won a Tony Award for his orchestrations for the hit and is also credited with the musical's arrangements. For DEAR EVAN HANSEN, Lacamoire orchestrated the music, provided "additional arrangements" and will serve as Musical Supervisor-a title for the person who can essentially teach the Musical Director and others.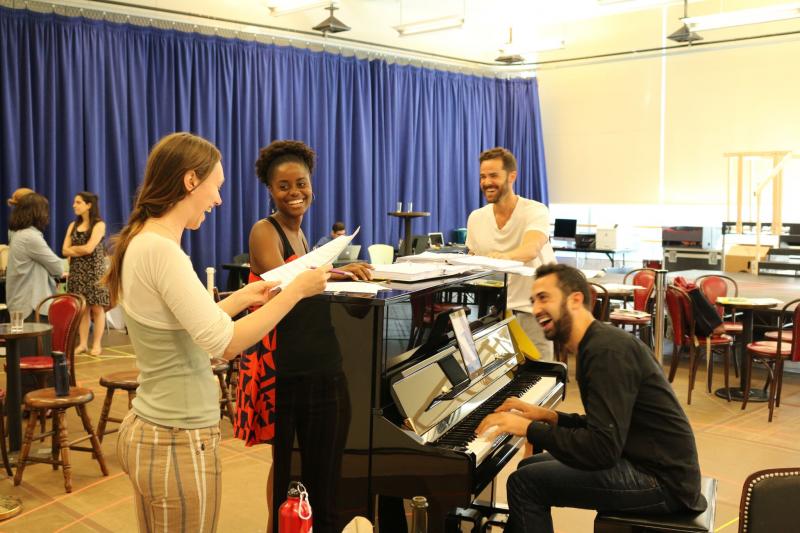 The orchestra comes fairly late into the rehearsal process and there isn't much time to instruct them. Often the group is filled with Broadway pros who can take the material and essentially teach themselves, making the short rehearsal time is inconsequential. ON YOUR FEET! however features five musicians from Miami Sound Machine. They arrived with a lot of Gloria Estefan knowledge, but not a lot of Broadway musical knowledge. Hoyt had to introduce them to the ways of the theater. For example, theater orchestras "vamp," which means they play a repeated pattern of music for a certain amount of time based on audience reaction, how long an actor holds a note, set issues, or any one of a number of other variables. Musicians from other worlds are not that used to such things.
Changes to the orchestrations must be worked out in the rehearsal room. Sometimes the orchestrations better fit the mood of the scene than the vocals and sometimes it is the other way around. The Musical Director in collaboration with the other creatives make it all meld.
Then come public performances. The Musical Director is usually conducting while watching and listening to make sure everything is as it should be, tweaking as needed. Some of them are playing an instrument too. When musicals are featured on television or film, the conductors are typically at the foot of the stage, conducting an unseen pit of musicians. But they can be anywhere. Stifelman conducts an onstage band, interacting with the actors from her perch. The Imperial Theater has been redesigned for THE GREAT COMET, including placing Matias in the center of the action. The show, featuring sit-down musicians and also actors playing musical instruments, features unique challenges for a conductor. Matias' location means he can see everyone and everyone can see him. Whereas Hoyt spends ON YOUR FEET! in a closet-like room in the basement of the Marquis Theater with his keyboard and a drummer next door-the rest of the musicians are onstage and listen to his verbal cues through earpieces while he can watch via a monitor.
Once the show opens, Musical Directors are tasked with upkeep of pretty much everything related to how the show sounds. When swings or understudies are on it is a Musical Director's job to make sure the harmonies sound as close to the way they did on opening night as possible. They frequently have to deal with substitute musicians. Then there are of course replacements if a show runs long enough. And even when everyone is in their regularly scheduled places, there is the conducting. Conducting a Broadway show is an art with many variables at play on a nightly basis. The conductor is in charge of the music's tempo. An orchestra off pace can ruin an experience--once, a substitute conductor for CHITTY CHITTY BANG BANG was going so quickly the music ended while the car was still in mid-flight.
Musical Directors are also in demand beyond Broadway-they work on musicals and concerts all over the world both as Musical Directors and musicians. Some of them also do other work. Stifelman, who said she is a lifelong learner (she credits learning Latin with making her conducting more precise) and teacher, is about to start instructing at the New School. Many Musical Directors are composers. Scott Frankel, composer of GREY GARDENS and WAR PAINT, served as Musical Director of the original Broadway production of FALSETTOS. It's possible Feichtner, who went to graduate school at NYU for musical theater writing, might follow in his footsteps. "My wife [Leslie Kritzer, currently in Broadway's SOMETHING ROTTEN!] would like me to write more," Feichtner said. "But I'm always doing something. They say: 'Do you want to come and do [music direction for] this musical for $25 at Barrington?' I say: 'Sure!'"
For all their technical prowess, it is their ability to deal with people that might be the most important thing a Musical Director brings to the table. They have to engender trust and confidence.
"I consider the role music director/dorm advisor," Hoyt-who began his career as a musical theater actor looking for the same guidance people now come to him seeking-said. "It's not like I can solve all the world's problems, but I can make the musical part of their lives easier."
Look out next month for BroadwayWorld's second installment of this special new series. Next up? Stage Managers!