Cara Joy David
BroadwayWorld's Industry Editor Cara Joy David is a New York-based entertainment journalist who has been covering the theater industry for over a decade. Her features have appeared in The New York Times, The Los Angeles Times, Time Out New York, The Miami Herald, Soap Opera Weekly and many more. You can follow her on Twitter @CaraJoyDavid. You can also read her musings on The Huffington Post.
MOST POPULAR ARTICLES
LAST 30 DAYS
Exclusive: Cell Phones at the Theater
Posted: Oct. 10, 2019


Exclusive: The Rise of the Broadway Concert
Posted: Sep. 26, 2019


LAST 365 DAYS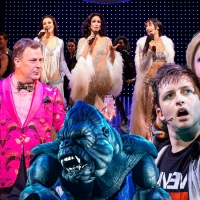 Industry Exclusive: Closing Time on Broadway
Posted: Aug. 8, 2019


Exclusive: Broadway Break Thru Failed to Pay
Posted: Apr. 10, 2019


Exclusive: BAT OUT OF HELL Tour That Never Was
Posted: Nov. 20, 2018


Exclusive: Cell Phones at the Theater
Posted: Oct. 10, 2019


Industry Editor Exclusive: The Evolution of Cell Phones Use at the Theater (And What to Do About It)

October 10, 2019

Years ago, when the popularity of cell phones started exploding, theaters in other countries started experimenting with the idea of using signal jammers to prevent cell phone use in the theater. It never took off. And more and more people started using cell phones in the theater. There is the photo before, the texting during, the random cell phone ring and sometimes the recording of the performance. Most of it is not supposed to occur. We've all heard stories about performers stopping the show until phones are put away. But some wonder what can be done to stop it or even if it should be stopped.
---
Industry Editor Exclusive: The Rise of the Broadway Concert

September 26, 2019

It used to be young Broadway performers rarely did their own shows, at least not in NYC. Some of them found a place-and there are examples to be cited for sure-but it wasn't all that common. The Laurie Beechman Theatre, downstairs at the West Bank, likely hosted the most. The more established music venues, such as Birdland, were for more established performers. While Joe's Pub was established for 'young artists' in 1998, it often didn't recruit from the Broadway stable. Some theater companies would host a pop-up night or series, but it usually wasn't more than that unless the performer would automatically attract a big crowd.
---
Industry Editor Exclusive: Filming a Broadway Show From Your Seat - Is It Ever Allowed?

August 23, 2019

Last week, many fans who couldn't fit in the theater got to enjoy part of the final performance of THE PROM courtesy of Beth Leavel's personal publicist. Lisa Goldberg, founder of her own LSG Public Relations, put up on her social media pages two-minutes-20-seconds of Leavel singing the song 'The Lady's Improving' with a note that said she recorded six minutes ('including 1.5 minutes of entrance applause') and 'received full permission to post.' The shaky video was clearly shot from a seat in the theater, which would generally be forbidden if there was no permission. So what kind of permission do you need to do this in a Broadway show? Well, it is more than a 'sure' from a producer.
---
Industry Editor Exclusive: Closing Time on Broadway

August 8, 2019

Of course, everyone has been freaking out about the amount of closings announced in recent months. From the acclaimed musical THE PROM to the cult show BE MORE CHILL to the big-budget musicals KING KONG, PRETTY WOMAN and THE CHER SHOW, it's a rough time to be a producer of tuners. But rather than wondering why so much is closing, my first thought was: a?oeWhy mid-August?a?? After all, Labor Day weekend (or slightly after) used to be the preferred time of slaughter. Producers would ring every last bit of summer tourism buck before shuttering. This year the shows are going out this month, August 11 and 18. That is because sales are dropping off after that point. But why? Most say it is the shifting of school start dates earlier.
---
Industry Editor Exclusive: PUFFS' Magical Future

July 8, 2019

PUFFS, the long-running off-Broadway HARRY POTTER-inspired comedy, is going the way of many Broadway shows, with a closing in August. But it is doing something differently: licensing four different versions of the show through Samuel French.
---
Industry Editor Exclusive: The Return of TheaterWorksUSA Summer Theatre

June 24, 2019

Last year many families were disappointed by the lack of TheaterWorksUSA free summer theater, which had become someone of a New York City institution. This year it is back, sort of. During the week community partner groups will be able to see DOG MAN: THE MUSICAL for free (or almost free); average weekend theatergoers will pay.
---
Industry Editor Exclusive: Tidbits on the 2019 Tony Awards

June 4, 2019

The Tony Awards are this coming Sunday and, of course, that is all anyone in the industry is talking about. One topic is the new Tony voting system. As we wrote about this fall, Tony Award Productions is using a new system in which a person marks her/his attendance, and the date of that attendance, on the Tony Voter Portal. If the voter does not mark her/his attendance to a certain show, then that person is blocked from voting in a category that show has received a nomination. Except there are issues that have come up as we get closer to the end of voting.
---
BWW Exclusive: David Petro's Broadway Break Thru Failed to Pay Instructors, Suspends College Program for 2019

April 10, 2019

The theater community spans across the world, but it is famously small. So when you don't pay people who works for you, it tends to get out, especially if those folks have Broadway connections. Such is the pickle that former performer and casting director David Petro seems to have found himself in. He allegedly hasn't paid various people who worked for him teaching master classes and word is now spreading.
---
BWW Exclusive: The Race for Best Revival of a Musical

April 8, 2019

For a while, it seemed like we might only have one musical revival, the Roundabout Theatre Company production of KISS ME, KATE. Then a transfer of critical darling OKLAHOMA! was announced for the Circle in the Square, adding some excitement to the Tony race. This excitement is not just over which of these revivals will win, but rather whether there will be a Best Revival of a Musical award at all. All signs point to yes, though it is not a definite.
---
Industry Editor Exclusive: The Real Results of Equity's Lab Agreement Strike

February 26, 2019

A couple of weeks ago, Actors' Equity Association ended its strike against the Broadway League related to development of new work. Most of the press regarding the strike and its termination are related to the Lab Agreement-after the strike, and a #NotALabRat social media movement, Equity members will receive profit participation for Labs. But there is a lot of the story that this spin misses.
---
Industry Editor Exclusive: Women Playwrights Make Inroads, But Broadway Still Eludes

January 1, 2019

We have a lot of new plays on Broadway this season. Thirteen are currently set. There are also seven play revivals. Two of the new plays were written by women--both produced by non-profits and both already closed. Not one revival is of a play written by a woman.
---
Industry Editor Exclusive: Givenik- Broadway's Way to Give Back

December 24, 2018

Ten years ago, Jujamcyn Theaters founded Givenik, a service that enabled ticket buyers to give a little back to charity when buying tickets to a show.
---
Industry Editor Exclusive: BAT OUT OF HELL and the Tour That Never Was

November 20, 2018

It was around 3pm on November 1, 2018. The members of the company of BAT OUT OF HELL, which was in the midst of an engagement at Toronto's Mirvish Theatre, received a text saying there would be a company meeting at 7pm. Nothing good ever comes of those; veterans knew there was something up. Once gathered, the Company Manager told them the bad news: the tour was ending where it began, in Toronto. The final performance there was to take place, as scheduled, two days later. The rest of the stops had been cancelled. Their futures were now uncertain. The night they were told that news, one actor broke his hand during the performance, another his foot.
---
Industry Editor Exclusive: Tony Awards Voting and the Flaw in the System

November 2, 2018

The Tony Awards policy has always been that in order to vote in a certain category, you needed to have seen all the shows nominated in that category. If, for example, you missed one show that was nominated in eight categories, those eight categories were off limits to you. Makes sense and seems a simple enough rule to remember. Except folks have constantly complained that people violate the policy and just vote regardless.
---
Industry Editor Exclusive: A Paperless Broadway- Technology in the Rehearsal Room

October 19, 2018

Theater folks are not necessarily the first to embrace change or technology. So it's not surprising when you walk into a rehearsal room and see creatives sitting with giant binders of paper. But certain companies are trying to change that.
---
Industry Editor Exclusive: Revival(s) on the Horizon

October 1, 2018

We are still fairly early in the Broadway season, but it is never too early to start thinking of the Tony race. And what do people seem to be focused on? Whether the Roundabout Theatre Company revival of KISS ME, KATE, which is currently the only announced musical revival, will simply be handed a Tony.
---
Industry Editor Exclusive: The Fate of Broadway's Critics

August 21, 2018

In the last few decades, theater has become much bigger business than it used to be. However, in that same period of time, the coverage of it in mainstream media outlets has dwindled. Many of us may not remember a time that off-Broadway openings were covered on Entertainment Tonight, but it happened. In recent years, even in America's theater epicenter, theater is losing ground in major publications. Neither The New York Post or The New York Daily News has a critic on staff any longer. It is hard to even tally the amount of veteran theater writers from around the country that have lost their jobs in the last decade.
---
Industry Editor Exclusive: TheaterWorksUSA's Summer Vacation

August 1, 2018

If you have kids, or just a love of children's theater, you may have noticed that TheaterWorksUSA-and, yes, after a rebranding, that is how to write it-is not presenting its free summer theater in New York this year. The program has happened almost every year since 1989, but not this one.
---
Industry Editor Exclusive: New York Stage and Film- Broadway's Upstate Playground

July 9, 2018

What do HAMILTON, THE HUMANS, DOUBT, SIDE MAN, THE WOLVES and AMERICAN IDIOT all have in common? They all started with New York Stage and Film (NYSAF). Since 1985, the non-profit's summer program, set at Vassar College, has presented a variety of readings, workshops and productions of in-development works.
---
Industry Insight Tony Awards LIVE Blog
June 10, 2018
---
1