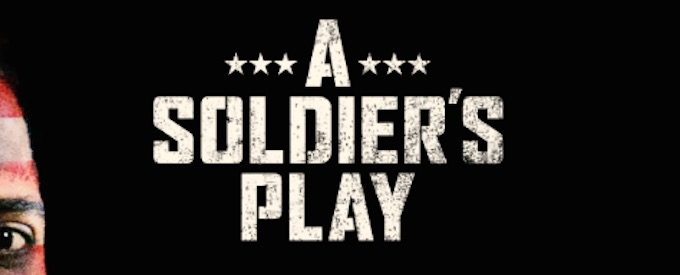 Click Here for More Articles on A SOLDIER'S PLAY
Review Roundup: A SOLDIER'S PLAY Opens On Broadway - See What the Critics Are Saying
A Soldier's Play opens tonight on Broadway at the American Airlines Theatre (227 West 42nd Street).
A Soldier's Play stars David Alan Grier, Blair Underwood, Nnamdi Asomugha, Jerry O'Connell, McKinley Belcher III, Rob Demery, Jared Grimes, Billy Eugene Jones, Nate Mann, Warner Miller, J. Alphonse Nicholson and Lee Aaron Rosen.
1944. A black Sergeant is murdered on a Louisiana Army base, and one tenacious investigator must race against his white leadership to unravel the crime before they unravel him. A hair-raising drama that reverberates with the "authentic and exciting pulse" (Ben Brantley, The New York Times) of mystery, Charles Fuller's Pulitzer Prize-winning masterpiece rockets onto Broadway for the first time, directed by Tony Award winner Kenny Leon (A Raisin in the Sun).
See what the critics are saying:
Jesse Green, The New York Times: Onstage, though, the loud ticktock of the investigation too often drowns out the emotion - an effect perhaps enhanced by the flattening of the genre brought on by endless "Law & Order" spinoffs and reruns. In any case, whether "A Soldier's Play" is a great stage drama regardless of its flaws is something its bumpy but worthy Broadway debut, directed by Kenny Leon for the Roundabout Theater Company, cannot answer. Despite some powerful acting, it is too distracted to make the case.
Michael Dale, BroadwayWorld: When a soldier in the United States Army, just before the final surge of World War II, is found shot to death in the Louisiana town where he's stationed, the immediate assumption is that one or more of the locals committed the murder. That's because the soldier in question is African-American, a member of the army's segregated unit, and the thought of black men defending our country was regarded as an outrage by many whites, particularly in the deep south.
Adam Feldman, Time Out New York: Leon's direction emphasizes the beauty of the men's blackness. At the start of the play and during transitions between scenes, the servicemen-played by Nnamdi Asomugha, Rob Demery, Billy Eugene Jones, McKinley Belcher III, Warner Miller and tap dancer Jared Grimes-raise their voices into rich, deep blues.
David Cote, Theater News Online: Roundabout Theatre Company's lean, suspenseful and entertaining revival of Charles Fuller's A Soldier's Play, while it unfolds during World War II, feels quite relevant. Fuller's murder mystery won the Pulitzer in 1982, was turned into a successful film in 1984, and now makes a belated but momentous Broadway debut thanks to an appealing cast and Kenny Leon's firm directing hand. Why such staying power? Easy: American racism is evergreen.
David Finkle, New York Stage Review: Leon's demands of the cast are met in full. It's as if every member is a stick of just-lighted dynamite. Grier and Underwood detonate the brightest and account for the most emotional damage inflicted, but everyone is outstanding. The same goes for Derek McLane's set, Dede Ayite's costumes, the Allen Lee Hughes lighting and the Dan Moses Schreier sound.
Jesse Oxfeld, New York Stage Review: Still, A Soldier's Play remains as stubbornly earnest and straightforward as its title. At its end, the black soldiers-relegated mostly to playing baseball for the base, never getting to fight Hitler-receive word that they're finally shipping out. And O'Connell's Taylor realizes the error of his early ways. "I was wrong, Davenport-about the bars-the uniform-about Negroes being in charge," he says. "I guess I'll have to get used to it." It's a play set in the 1940s, written in the 1980s, optimistically looking toward a better time in American race relations. In 2020, that can't help but feel quaint.
Greg Evans, Deadline: With three-time Tony nominee David Alan Grier and a commanding Blair Underwood leading a first-rate, 12-member cast, this Soldier's Play (adapted as A Soldier's Story for the 1984 film) moves with all the precision of a military cadence. The production is not without its missteps - a few self-conscious moments seem like gratuitous elbow jabs to make sure we understand the contemporary relevance - but director Kenny Leon drives the narrative with a solid feel for momentum.
David Rooney, The Hollywood Reporter: The structural bones of a procedural investigation thriller laced with cinematic flashbacks might be timeworn after years of movies and TV, but Leon invigorates the drama with interludes of song and movement that draw a blistering line connecting the men serving their country during wartime to those working as slave or prison chain-gang labor. Those stylistic flourishes - the first of them emerging out of darkness like increasingly unquiet voices from the past in the production's arresting opening - add spiritual heft to what is essentially a well-made whodunit.
Matt Windman, amNY: Some scenes depicting Davenport's fact-finding and investigation can be dry and clunky. But under Leon's sharp and ensemble-oriented direction, the play's cultural and political dimensions take on extended emphasis, bringing the gap between World War II-era America and the present day in its exploration of the effects of racism and the need to confront uncomfortable facts and arrive at the truth.
Tim Teeman, The Daily Beast: The Second World War rumbles on, overseas and unseen in Charles Fuller's A Soldier's Play, which won the Pulitzer Prize for Drama in 1982. Within the play, another war on bodies and minds-still as corrosive today as it was then-plays out, as the poison of racism and oppression turns both inward and outward on a group of black soldiers. This Roundabout Theatre Production (opening tonight to March 15 at the American Airlines Theatre), almost 40 long years since the play's creation, is also its Broadway debut: an indictment of prejudice in and of itself.
Jeremy Gerard, Theater News Online: The Roundabout Theatre Company's flawless revival of A Soldier's Play is such good medicine for Broadway's January blues that it might be enough just to tick off its merits: a gripping murder mystery heightened by crackling dialog, a first-class ensemble of actors in symphonic harmony, staging that audaciously adds a pinch of sex appeal to heat up its social consciousness, and just enough music to give it a pulsing rhythm and beat that delivers us to its shocking conclusion in just under two hours. That's the good news, and there's only good news to report.
Roma Torre, NY1: Kenny Leon deserves much credit enhancing the play's message through directorial flourishes. He adds historical allusions to the African American experience throughout, beginning with a stirring call-and-response from the soldiers in a darkened barracks suggesting the early roots of African music. And later we see the troops marching in a thrilling sequence, combining military cadence with stylized movements. It all comes together quite powerfully, evoking the emotional wounds borne by a lifetime of soul-crushing hate. After some 40 years, "A Soldier's Play" still hits home, summoning a world at war with itself.
Thom Geier, The Wrap: Grier returns in the first Broadway production of "A Soldier's Play," which opened Tuesday at Roundabout's American Airlines Theatre - this time as the fearsome, foul-mouthed Sgt. Vernon Waters, who commands his all-black troops as if their every move was a reflection on the future of the race. It's a searing performance from an actor best known for his work in comedies like "In Living Color" and "The Carmichael Show." And he's well-matched by Blair Underwood as the Howard Law School graduate captain who's dispatched to investigate the murder - and who soon learns that this wasn't the work of the locals. And that even the white troops who are none too pleased by the presence of black soldiers - or to get beaten bad by them on the baseball field - may not be the culprits he's quick to suspect.
Chris Jones, The New York Daily News: Kenny Leon's lively, broadly staged Roundabout revival, which stars a savvy Blair Underwood and a bold-faced David Alan Grier, plays a kind of sly homage to the erotic legacy of that Oscar-nominated film, the stage being filled with a plethora of stunningly buff and good-looking guys - there are no women in the play, but there were plenty around me in the audience at the American Airlines Theatre on 42nd St.