Pride Films and Plays to Host Screening of Terrence McNally's Documentary EVERY ACT OF LIFE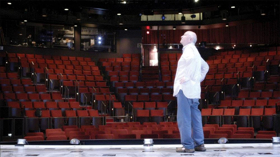 Pride Films and Plays will host the first Chicago screening of the documentary EVERY ACT OF LIFE, a feature-length documentary film by Jeff Kaufman about Terrence McNally, one of theatre's most important and prolific playwrights of the last half-century. EVERY ACT OF LIFE profiles McNally's pioneering five-decade career in the theater, focusing on the struggle for LGBT rights and his pursuit of love and inspiration at every age. The 93-minute film features Angela Lansbury, F. Murray Abraham, Larry Kramer, Nathan Lane, Audra McDonald, Edie Falco, Christine Baranski, Patrick Wilson, Billy Porter, and many more artists who have worked with McNally over his career.
EVERY ACT OF LIFE premiered at the Tribeca Film Festival in New York City in April of this year and has been screened at various film festivals throughout NORTH AMERICA since then. This a Pride Arts Center film event, and this Chicago premiere on October 28 at 7:00 pm will follow a 3:30 pm matinee performance of Mr. McNally's comedy IT'S ONLY A PLAY. Pride Films and Plays is mounting the Chicago Premiere of McNally's revised script of the comedy, produced on Broadway in 2014.
The screening of EVERY ACT OF LIFE is one of three special events that will be presented during the run of IT'S ONLY A PLAY. The first of the special events will be a reading of McNally's play DEDICATION, OR THE STUFF OF DREAMS. The play, which ran off-Broadway in 2005, concerns a couple who run a children's theatre in a mall in upstate New York. With the possibility of taking over an abandoned vaudeville palace, the couple is forced to examine how far their love of theatre will take them. PFP company member Charles A. Berglund will direct the reading, with a cast including Joan McGrath. The reading will be Sunday, October 14 at 7:00 pm. All seats are $10.00.
The second event will be a reading of MOTHERS AND SONS on Sunday, October 21 at 7:00 pm. MOTHERS AND SONS portrays a woman who pays an unexpected visit to the New York apartment of her late son's partner, who is now married to another man and has a young son. Challenged to face how society has changed around her, generations collide as she revisits the past and begins to see the life her son might have led. The play was nominated for the 2015 Tony Award for Best Play. David Zak will direct the reading, with PFP company members Michelle McKenzie-Voight as the mother and Edward Fraim as her late son's partner. All seats are $10.00.
Tickets for all events are on sale now at www.pridefilmsandplays.com or by phone at 866-811-4111.
McNally's far-ranging works include landmark plays such as MASTER CLASS, LOVE! VALOR! COMPASSION!, and FRANKIE AND JOHNNY IN THE CLAIRE DE LUNE - plays that celebrate men and women-biographical and fictional, gay and straight-who embrace life's possibilities in all their ridiculous and painful glory. He has contributed the books of ground-breaking musicals such as KISS OF THE SPIDER WOMAN, RAGTIME, and THE VISIT, that challenge notions of race, class, and sexuality. In the world of opera, he has created the librettos for the poignant DEAD MAN WALKING and the upcoming GREAT SCOTT at the Dallas Opera. Some of his other plays and musicals include THE RITZ, THE RINK, THE FULL MONTY, DEUCE, CATCH ME IF YOU CAN, MOTHERS AND SONS, A MAN OF NO IMPORTANCE, THE LISBON TRAVIATA, LIPS TOGETHER, TEETH APART; CORPUS CHRISTI, A PERFECT GANESH and ANASTASIA. Pride Films and Plays produced McNally's SOME MEN in 2014.
By the time he won the 1993 Tony for Best Book of a Musical for KISS OF THE SPIDER WOMAN (the first of four Tony awards), Mr. McNally was already a recipient of multiple Drama Desk and Lucille Lortel, and Obie Awards. He was inducted to the Theatre Hall of Fame in 1996 and has been honored by numerous organizations for his ongoing contributions to the theatre.

Related Articles