Photo Flash: The Brick Theater Presents GAME PLAY
The Brick Theater, Inc. presents GAME PLAY: A Celebration of Video Game Theater.
3 Performances executed through video games and in video game styles! 3 Game Party Nights! 3 weeks of rot-your-brain VG madness!
ADVENTURE QUEST: The town of Perilton has been invaded by an evil wizard, and only our hero can save it! Cheer as he fights for the hand of the mayor's daughter! Gasp as he infiltrates the bloodthirsty Octopus Cult! Watch as he meticulously collects inventory items! Shift uncomfortably in your seat as the narrative gradually implodes! Glance around nervously as characters are brutally murdered for no particular reason! Despair as your faith in a meaningful, ordered universe is shaken! Evoking the Golden Age of home computer gaming, Adventure Quest is both a nostalgic treat and a glimpse into the yawning Void.
Friday July 10th at 8pm, Saturday July 11th at 8pm, Monday, July 20th at 8pm, Friday July 24th at 8pm, Saturday July 25th at 8pm, $15
SUSPICIOUS PACKAGE: RX: Following last year's hit show, Suspicious Package, The Fifth Wall is proud to present an all-new adventure employing the same revolutionary technology that turned audiences into actors and the streets of Williamsburg into a stage in what NY Press called "one of the best times I have had at the theater." Suspicious Package: Rx takes our intrepid audience/cast into a not-too-distant post-apocalyptic future in which happy pills don't make anyone happy, memories can't be trusted, and everyone seems a little suspicious.
Told via provided Zune Media Players, the story unfolds as audience members (six at a time) are guided through their roles with both aural and visual cues. Video flashbacks and narrative voiceovers fill in your backstory while maps of locations and your dialogue are displayed on screen. Part theatrical experience, part live video game, pArt Williamsburg walking tour, Suspicious Package:Rx immerses its audience within a 1960s sci-fi dystopia of a far-flung future that could be right around the corner.
Weekend afternoons, RESERVATIONS REQUIRED, $20
THANK YOU, BUT OUR PRINCESS IS IN ANOTHER CASTLE: FOUR LIVE-ACTION MACHINIMA THEATER PIECES: Utilizing World of Warcraft, Halo 3 and Grand Theft Auto 4, Machinima Theater Auteur Eddie Kim presents four classical theater texts, as performed by online video game characters manipulated by gamers live on stage. Video games as digital puppetry! Technicians will use several X-Box 360 consoles and laptops linked to each other and to gamers over the internet to control digital characters in real-time in front of an audience. See the stories of Niobe and the Japanese poet, Ono no Komachi as never before. A digital movement piece, chiptunes interludes and a version of Alvin Lucier's legendary "I am Sitting in a Room" also will be presented.
Including live chiptune performance by OxygenStar!
Thu, July 2nd at 9:30pm, Fri, July 3rd at 9:30pm, Thu, July 9th at 8pm, Sat, July 11th at 5pm, Sun, July 12th at 2pm, Thu, July 16th at 8pm, Fri July 17th at 8pm, $15
Only at The Brick, 575 Metropolitan Avenue, Williamsburg, Brooklyn, one block from the Lorimer stop of the L train / Metropolitan stop of the G train. Tickets available soon at Theatermania (212-352-3101).
Photo Credit: Kimberly Craven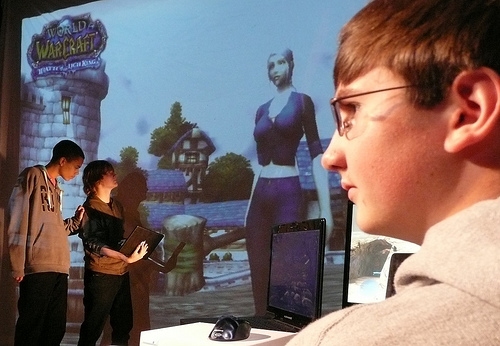 Lucas Thompson, Charlie Shields, and Tim Tully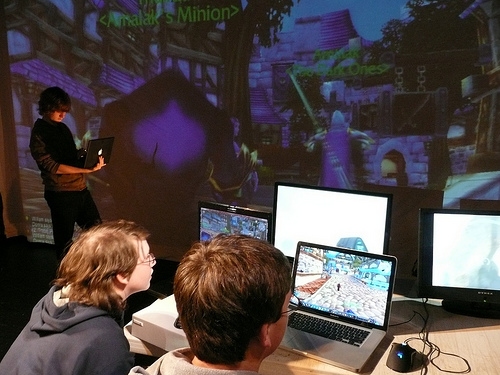 Thank You, But Our Princess Is In Another Castle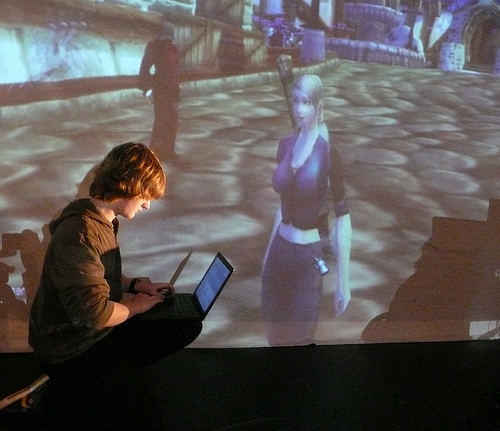 Thank You, But Our Princess Is In Another Castle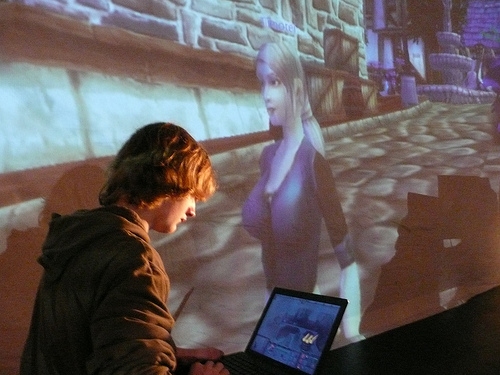 Thank You, But Our Princess Is In Another Castle

Connor Sedlacek, Lucas Thompson, Charlie Shields, and Tim Tully

Kent Meister and Sarah Engelke

Richard Lovejoy

Sarah Engelke and Kent Meister

Kent Meister, Sarah Engelke, and Danny Bowes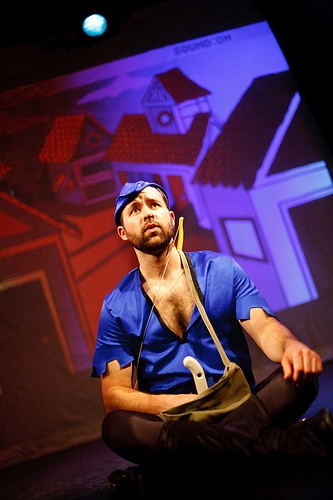 Kent Meister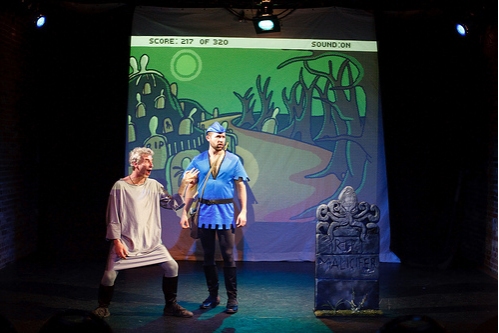 Timothy McCown Reynolds and Kent Meister

Timothy McCown Reynolds and Kent Meister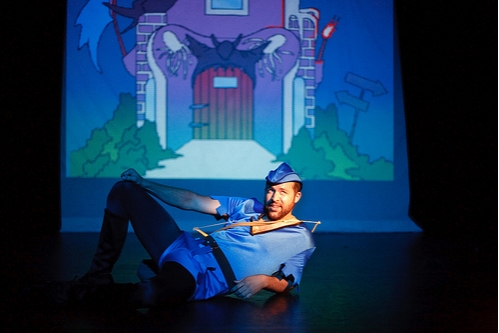 Kent Meister

Danny Bowes
Related Articles
More Hot Stories For You
Breaking: MRS. DOUBTFIRE Will Open on Broadway in Spring 2020 at the Stephen Sondheim Theatre
This just in! Mrs. Doubtfire, the new musical based on the film of the same name, will open on Broadway this coming spring at the Stephen Sondheim The... (read more)

Photo Flash: First Look at Jonathan Groff & More in LITTLE SHOP OF HORRORS
LITTLE SHOP OF HORRORS, starring Jonathan Groff, Tammy Blanchard and Christian Borle, opens October 17 at The Westside Theatre (407 W. 43rd St, NYC), ... (read more)

HAMILTON Will Hold A Fan Performance on October 31 With All Tickets Available For $10 Via Lottery
For the second year in a row, Hamilton will host a special fan performance on Thursday, October 31 at the Richard Rodgers Theatre on Broadway, with al... (read more)

Photo Flash: First Look at FROZEN's National Touring Cast; Plus Go Inside Rehearsal!
We've got your first look at Frozen North American tour stars Caroline Bowman (Elsa) and Caroline Innerbichler (Anna) in costume! In addition, Disney ... (read more)

Breaking: Ethan Slater, Gavin Lee & More Will Reunite to Film SPONGEBOB for Nickelodeon
Following a critically lauded run on Broadway, members of the original award-winning Broadway company of The SpongeBob Musical: Live On Stage! will re... (read more)

Photo Flash: Get A First Look At SUMMER: The Donna Summer Musical on Tour!
BroadwayWorld has a first look at SUMMER: The Donna Summer Musical on Tour! Check out photos of the cast in action!... (read more)