Photos: Jessie Mueller, John Slattery & More Help Out Habitat for Humanity NYC at Broadway Builds
Habitat for Humanity New York City (Habitat NYC), a major builder, preserver and advocate for affordable homeownership throughout the five boroughs, hosted Broadway stars, producers and writers for the second Broadway Builds event on Monday, October 1st. More than 25 notable names from Broadway volunteered to revitalize the Grand Street Settlement BEST Naturally Occurring Retirement Community (NORC) on the Lower East Side.
"There's a phrase that applies to the Broadway scene: 'If you can make it there, you can make it anywhere.' We know that New Yorkers dreams of 'making it' include having a safe place to call home, and for many New Yorkers, neighborhood gathering places can become like an extension of their home," said Karen Haycox, CEO of Habitat for Humanity New York City. "We are so grateful that the Broadway community has come to volunteer with us today. These folks have 'made it' in their careers, and we are touched that while Broadway is dark, they are using their day off to help us revitalize this senior center, so that the seniors who come here can have a fresh, relaxing space to gather with their friends."
Co-chairs for the event Jordan and Daryl Roth, along with Host Committee members Emily Bergl, Stephen Belber, Mara Davi and Michael A. Alden, organized a meaningful day of service joined by fellow Broadway celebrities, repainting the interior of the senior center and creating a mural design to brighten the facility for its over 700 members.
"I helped found Broadway Builds because I've always been very vocal about my Habitat support and I've found that my friends in the arts wanted to get involved," said actor and Host Committee member Emily Bergl. "I wanted to give them a chance to come out and get involved, and to see how amazing it is to do projects like this, to give seniors a brighter and better place to mingle. I wanted to shine a light on Habitat NYC. It's such a great pairing, these two - artists and Habitat NYC."
Host committee members were joined by notable participants including David Schwimmer, John Slattery, Jennifer Westfeldt, Danny Burstein, Dan Butler, Jessica Hecht, Chris Coffey, Melanie Moore, John Doman, Billy Crudup, Dominic Fumusa, Jennifer Mudge, Jessie Mueller, and Jason Butler Harner. Two representatives from the Broadway Green Alliance were also on site to assist in recycling and compost efforts.
The inaugural Broadway Builds event in 2012 took place in Bedford-Stuyvesant's Jefferson Avenue Residences where over 30 Broadway stars, writers and producers revitalized eight homes in a multi-family building.
"In 2012, I helped wrangle a couple folks to the first Broadway Builds, and have wanted to do more ever since," said playwright, director and Host Committee member Stephen Belber. "I am in awe of what this organization does and the way they go about their work, which isn't easy to do in a big city. Being a part of this, even in a very small way, is very meaningful to me because I am devoted to the idea of bringing the larger Broadway community together for a selfless endeavor than the ever self-involved world of theatre. Seeing my peers out here painting and drawing on walls makes me really happy."
"Habitat NYC's mission of bringing quality of life and affordable housing to the New York community is so important, and is in the heart of every Broadway performer," said actor and Host Committee member Mara Davi. "So to bring together the Broadway community with the larger community of New York is a perfect match."
Along with building and preserving affordable housing across the city, Habitat NYC aims to improve and refurbish underfunded public spaces such as community centers, senior centers, schools, parks, playgrounds, and more. Habitat NYC has revitalized more than 200 community spaces since 2009 and served more than 700 families through construction and preservation since 1984.
Photo Credit: Anthony Collins Photography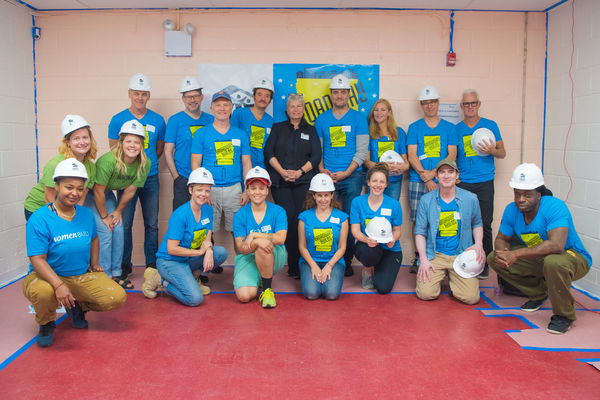 Broadway Build group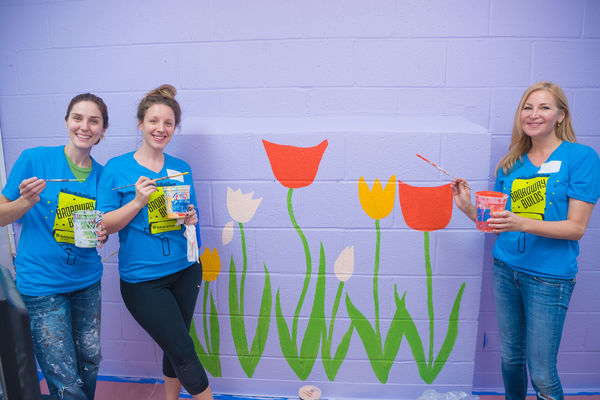 Broadway Build mural