Photo Flash: Ice Factory Festival at The Ohio Theatre
Artistic Director Robert Lyons proudly presents the 16th annual ICE FACTORY summer festival of new work. ICE FACTORY 2009 opened July 8th, and presents six New York premieres in six weeks, and wraps up August 15th. All performances are at the Ohio Theatre - 66 Wooster Street (between Spring & Broome) in Soho. Performances are Wednesdays-Saturdays at 7pm. Previous ICE FACTORY shows have gone on to Off-Broadway, the Joyce, PS 122, the Berkshire Theatre Festival, Edinburgh Fringe, Walker Art Center, et al. Tickets are $15 for adults and $10 for students/seniors via SmartTix at 212-868-4444 or www.SmartTix.com. Trains: R, W to Prince St. or 6, C, E to Spring St. For more information visit www.SohoThinkTank.org.
In the ICE FACTORY festival, Soho Think Tank presents works by emerging and established downtown companies, as well as exceptional national and international groups. Ice Factory prides itself on maintaining an extraordinary aesthetic diversity along with an unequaled standard for intelligent, imaginative theater. The festival offers companies, including the Foundry, Elevator Repair Service, Les Frères Corbusier, Jane Comfort, New Georges, Pig Iron, the Rude Mechanicals and Big Time Action Theatre, a prime forum in which to develop their work.
SOHO THINK TANK strengthens, nurtures and promotes an aesthetically and culturally diverse community of independent theatre artists and theatre companies by producing, presenting and programming new work at the Ohio Theatre, in Soho.
ICE FACTORY 2009 - 16TH ANNIVERSARY PERFORMANCE SCHEDULE
Through July 11
A Wonderland
Anonymous Ensemble
Written and directed by Eamonn Farrell. Music by William Antoniou.
Alice, a talented urban dreamer approaching middle age, is caught in a quagmire of diminishing potential, corporate insignificance and the mirage of celebrity. This is Lewis Carroll deconstructed by the mind of a modern, mature songstress on a journey of self-identity. A befeathered spectacle; a psychedelic, multimedia/music-fueled trip down the rabbit hole.
Anonymous Ensemble has been making rock theatre in NYC for seven years and has been seen in Brisbane, Berlin, Oslo, Edinburgh, throughout NYC and soon, London. They're best known as creators of the revolutionary, episodic, rock epic, The Best.

July 15 - 18
Lavaman
Aztec Economy
Written by Casey Wimpee and directed by Matthew Hancock.
A shy comic illustrator in Queens quietly expresses his repressed aggression in an unpublished graphic novel, Lavaman, featuring the daily life of a retired volcano and an alcoholic tombstone. An evening of extreme recreation with his rock-and-roll roommate and his day-trader buddy cracks open his sweet façade with an eruption that incinerates everything in its path. A hardcore punk rock mini-epic of friendship, repression and brutality. With video animation.
Aztec Economy is a Brooklyn-based company that presents small-scale live performances with an emphasis on original work. Resent performance spaces include The Tank, The Brick, Monkey Town, Marfa Lights and the Ohio Theatre. (www.newyorkisdead.net)

July 22 - 25
Babes In Toyland - Live Onstage!
The Little Lord Fauntleroys
(In their own version of Victor Herbert's Recession Spectacular)
Directed by Michael Levinton and José Zayas. Libretto based on Glen MacDonough's original 1903 Broadway script. Musical direction by Rodney Pallanck with Kate Marvin.
Babes in Toyland will recall the Happy Days of childhood to those who are facing the stern realities of life. What more could the spirit of mortal desire? Featuring a cast of a dozen, a live pianist, and starring David Greenspan as the Master Toymaker. (Not appropriate for children.)
The Little Lord Fauntleroys are an accidental theater collective interested in manipulating classical texts, pillaging faulty nostalgias and celebrating the homemade. Recently seen at Chocolate Factory, HERE Arts Center and the Ohio Theatre (all in conjunction with Target Margin Theatre).

July 29 - August 1
Reconstruction
International Wow
Conceived and created by Josh Fox & the WOW ensemble.
A town destroyed by foreclosures, evictions and other calamities rebuilds itself from the ground up. Which raises the question: if you could build any kind of house, any kind of town, any kind of country, what would you build? And what kind of person would that process create? Featuring a five-piece bluegrass band, a 30-person ensemble and live onstage house building.
International WOW combines physical and narrative performance forms from around the globe to create an energetic, explosive new form of drama. Kudos include: "Masterful" - TimeOut NY, "Astonishing tour-de-force" - NYTheatre.com, and "Ferocious Passion...Provocative!" - The NY Times. This is their first show since Surrender (2009 Drama Desk Nomination).

August 5 - 8
Conni's Avant Garde Restaurant
Conni's Avant Garde Restaurant
Gather around banquet tables within the metaphorical walls of Conni's Avant Garde Restaurant, where the idea of art as food is made deliciously real. Experience this pioneering, ensemble-generated work, while enjoying a home-cooked five-course meal, carefully prepared and presented by geniuses of the avant-garde theater. The legendary Miss Conni Convergence and her devoted ensemble humbly bring you this highly anticipated twelfth iteration of the "Complete Works in Five Courses Series." With chilled gazpacho soup, summer salad and sandwiches, and a refreshing dessert of fresh berries and cream. Come hungry!
*Note special ticket price - Performance $15 plus $25 suggested donation for meal. Doors open at 6:30pm for cocktails. Meal and show starts at 7pm.

August 12 - 15
Space//Space
Banana Bag & Bodice
Directed by Mallory Catlett. Music composed by Dave Malloy.
Two brothers travel through the expansive galactic abyss, navigating their awkward fraternal bond and their love affairs with passing voices in the ether: haunting transmissions from "somewhere out there." Part Sci-Fi, part domestic drama, this claustrophobic container tale explores the loneliness of our inner thoughts and the magnitude of our personal orbits. With original text, music and an actual spaceship on stage!
Based in Brooklyn, Banana Bag & Bodice is an ensemble-based theatre company creating unique shows with the sole purpose of entertaining as many people as possible with thoughtful provocation. Now in its 10th year, BBB has created 9 original shows and has presented nationally and internationally, including in New York, San Francisco, Berkeley, Montreal and Dublin.
Photo credits:
1. Eamonn Farrell
2. Kalli Newman
3. Lucas Stoffel
4. Sue Kessler
5. Ryan Jensen

Michael Levinton, David Greenspan and Laura von Holt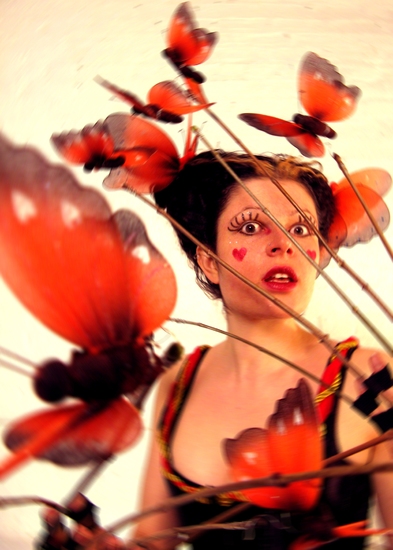 Jessica Weinstein

Janelle Lannan and cast

Performer in Conni's Avant Garde Restaurant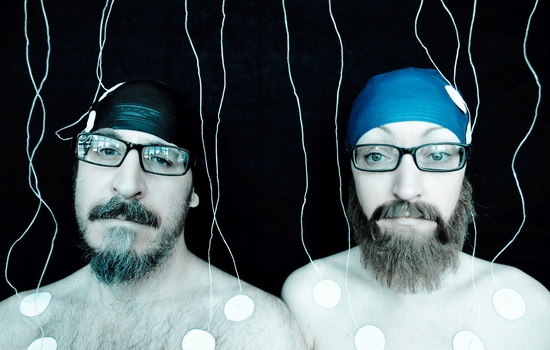 Jason Craig and Jessica Jelliffe
Related Articles
More Hot Stories For You
The Drama Book Shop, Now Co-Owned by Lin-Manuel Miranda, Will Reopen in March
 It was announced today that The Drama Book Shop will reopen its doors in March 2020 at its new Times Square home at 266 West 39th Street (between 7th... (read more)

Voting Now Open For The 2019 BroadwayWorld New Jersey Awards, Presented by TodayTix!
Voting is NOW OPEN for the 2019 BroadwayWorld New Jersey Awards, brought to you by TodayTix! The nominees are set, and now you can vote to make sure y... (read more)

LES MISERABLES Changes Dates of Broadcast in U.S. Cinemas
Les Misérables a?" The Staged Concert will be shown in cinemas across North America on Sunday December 8 & Wednesday, December 11 from the Gielgud The... (read more)

Joél Pérez, Brandon J. Dirden & More Complete Cast for TAKE ME OUT on Broadway
Take Me Out has found its full Broadway cast! Second Stage Theater has announced full casting for the Broadway production of Richard Greenberg's Tony ... (read more)

Photo Flash: First Look at the Cast of DIANA; Featuring Judy Kaye, Erin Davie, Roe Hartrampf, and Jeanna de Waal
The first photo has been released of the four stars of Diana, the upcoming new musical based on the incredible real life story of an icon to end all i... (read more)

VIDEO: SPONGEBOB SQUAREPANTS Cast Recreates Spongebob Memes
It's far from a typical Bikini Bottom day because cast members from Nickelodeon's The SpongeBob Musical: Live On Stage are recreating some of the most... (read more)