Photo Flash: First Look- Riverdale Repertory Company's HOW TO SUCCEED IN BUSINESS WITHOUT REALLY TRYING
"Mad Men" meets Broadway as the Riverdale Repertory Company presentS the classic musical comedy about big business in the 1960s, HOW TO SUCCEED IN BUSINESS WITHOUT REALLY TRYING for six performances only, November 1-16, 2014. Check out the photos below!
Featuring a cast of 31 performers from Riverdale, Yonkers, Upper Manhattan, and beyond, performances of HOW TO SUCCEED will be held at the Riverdale YM-YWHA, located at 5625 Arlington Avenue (just off of Riverdale Avenue and West 256th Street), in Riverdale, Bronx, NY.
Tickets are $15 for adults and $10 for seniors and students if purchased in advance online at www.riverdaley.org/h2s, or $20 for adults and $15 for seniors and students if purchased at the door prior to showtime. Tickets may also be purchased by phone 24/7 by calling Brown Paper Tickets at 1-800-838-3006 and selecting option 1. For group sales, please email mraider@riverdaley.org.
In HOW TO SUCCEED, an ambitious window washer follows guidance from a self-help book to meteorically rise from the mail room to the junior executive pool to the corner office... and beyond!
Featuring a brassy Broadway score including "I Believe in You," "A Secretary Is Not a Toy," "Happy to Keep His Dinner Warm," and "Brotherhood of Man," HOW TO SUCCEED cleverly - and tunefully - skewers corporate yes-men, sexual mores of the swinging 60s, and aggressive back-stabbers. In HOW TO SUCCEED IN BUSINESS WITHOUT REALLY TRYING, it''s just another day at the office!
The classic musical with songs by Frank Loesser and a libretto by Abe Burrows, Jack Weinstock, and Willie Gilbert is based on a satirical book of the same name by Shepherd Mead. The original 1961 Broadway production won seven Tony Awards, including "Best Musical," as well as the Pulitzer Prize for Drama. The 1967 film reunited much of the original cast, including Robert Morse and Rudy Vallee. The 1995 revival starred Matthew Broderick and Megan Mullally (who was later replaced by Sarah Jessica Parker). The show was revived again in 2011 starring Daniel Radcliffe, and later, Darren Criss and Nick Jonas.
The Riverdale Rep production of HOW TO SUCCEED is co-directed by Riverdale YM-YWHA''s Director of Performing Arts Laurie Walton and Performing Arts Managing Director Shawn Renfro with choreography by Emily Walton and music direction by Justin Fischer. The design team includes Tony Wan (Scenery) Penelope Margeotes (Costumes), David Pentz (Lighting), and Denise Eberly (Sound).
The cast includes Riverdale Rep veterans and several new faces: Robin Aleman, Caren Austen, Sarah Bolensky, Ronnie Becher, Gene Berger, Sheryl Berger, Jordan Bland, Jay Braver, Esther Cohen, Wylie Cohen, Sara Crowe, Mona Cushnie, Lesly de Groot, Patrick Dwyer, Joe Gonzalez, Deborah Gross, Elaine Helmrich, Timothy Mathis, Philip Meranus, Elizabeth Muñoz-Brierty, Geiddy Muñoz, Keila Muñoz, Hayden Nadine, Marilyn Raider, Katie Rhoades, Bill Russell, Barbara Salant, Phyllis Sambuco, Rhea Segal, Judah Shapiro, and Sam Yaggy.
Riverdale Rising Stars, under the direction of Founder Laurie Walton, was created to provide the teens of the Riverdale community and beyond a professional repertory company experience, creating a nurturing environment where they feel free to express themselves artistically; as they grow both onstage and off. Since our inception 14 years ago, we have now expanded our programming to include Rising Stars Jr. and Riverdale Repertory Company. Of greatest importance is the way that all build self-esteem, learn enormous respect for others, develop camaraderie and create lifelong friendships. Together, these award-winning companies provide a world of expression, passion and creativity for all ages.
For more information about upcoming productions and auditions, visit www.RiverdaleRisingStars.com.
The mission of the Riverdale YM-YWHA is to be the hub that brings together members of the Jewish and wider community. At the Y, individuals and families of all backgrounds and abilities gather to grow, to learn, and to deepen their understanding of themselves and their connections to one another. Rooted in Jewish values, our cultural, social, educational, health and wellness programs offer members of all ages multiple pathways into the richness of our local community life. Through our programs and partnerships, we strive to improve the quality of life in the Riverdale community and celebrate its uniqueness and its diversity. www.RiverdaleY.org
All photos are by Stacey Natal/Total City Girl -- www.totalcitygirl.com.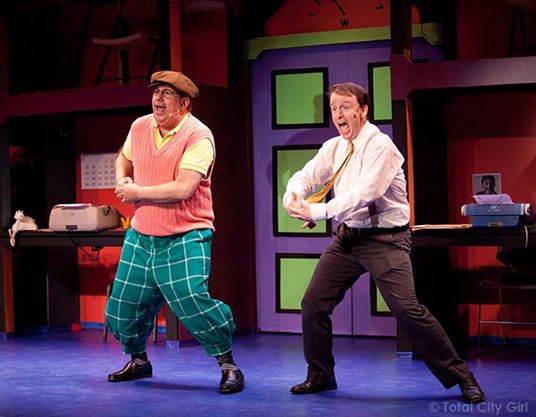 Jay Braver and Patrick Dwyer

Jay Braver and Lesly de Groot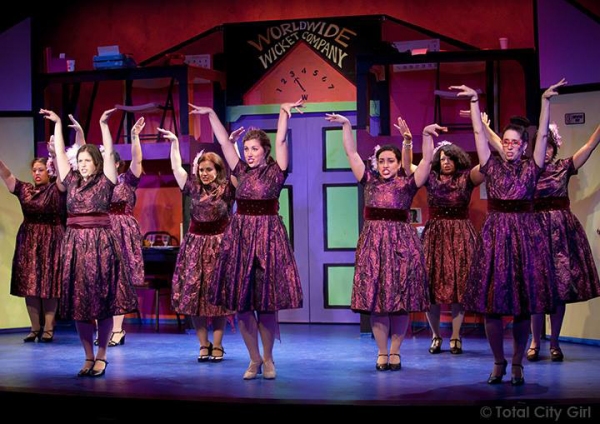 The women of HOW TO SUCCEED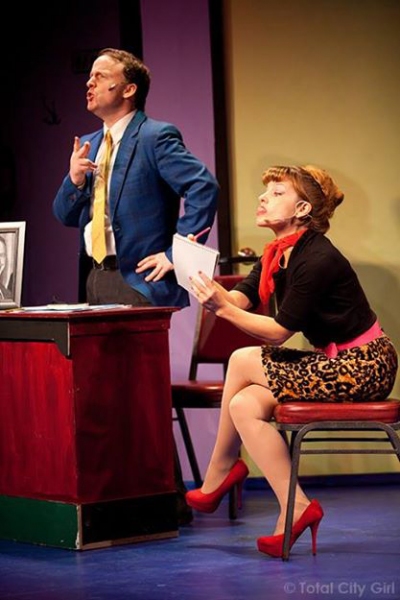 Patrick Dwyer and Lesly de Groot

Gene Berger, Philip Meranus, Jordan Bland, Sam Yaggy, and Joe Gonzalez

Patrick Dwyer (center) and the men of HOW TO SUCCEED
Related Articles
More Hot Stories For You
EVERYBODY'S TALKING ABOUT JAMIE Announces Limited Six-Month Return to Apollo Theatre
The hit West End musical Everybody's Talking About Jamie is set to make its West End return next month at the Apollo Theatre. ...

MaskUpCurtainUp Launches Line of Face Masks From Over 30 Broadway, West End, and Touring Productions
The MaskUpCurtainUp campaign announced the launch of a new webstore featuring exclusive face masks from Broadway, West End and touring productions....

Alex Brightman, Ariana Debose, Andrew Barth Feldman, Ashley Park and More Star in AS THE CURTAIN RISES Podcast
The Broadway Podcast Network has announced Broadway's first digital Soap Opera, AS THE CURTAIN RISES. Written by Dori Berinstein and Mark Peikert, AS ...

Julie Halston, Tim Daly, André De Shields and More Star in Charles Busch and Carl Andress' New Film THE SIXTH REEL
Charles Busch and Carl Andress are currently shooting their latest film project, The Sixth Reel, in which Busch also stars. The film co-stars Julie H...

Owner of The Strand Book Store Asks Book Lovers to Help Keep the Store Afloat in the Midst of the Pandemic
The owner of the beloved New York staple, The Strand Book Store, has taken to Twitter to share the struggles that the company is facing in the midst o...

Andrew Barth Feldman Presents Online Halloween Special MY HALLOWEEN FRIENDS
Andrew Barth Feldman will premiere 'My Halloween Friends,' a twenty-minute Halloween concert special at midnight on Saturday, October 31st....