Photos: Final AVENUE Q Cast Press First Look/Sneak Peek
After 6 years on Broadway the Tony Award-winning musical AVENUE Q has announced it will play its final performance on SUNDAY, SEPTEMBER 13th, 2009. It will have played 2,534 performances and 22 previews, surpassing THE PRODUCERS (on August, 17th), ANNIE, OKLAHOMA!, and PIPPIN, among many others to become the 20th longest running show in Broadway history.
AVENUE Q will mark its 6th anniversary on Broadway on July 31, 2009. The musical began previews on Broadway on July 11, 2003, opened on July 31, 2003, and went on to win three 2004 Tony Awards for Best Musical, Best Score and Best Book of a Musical.
As previously announced, beginning on Monday, July 6th AVENUE Q will welcome back original cast member Ann Harada in the role of "Christmas Eve." Also joining the Broadway cast on July 6th, direct from the AVENUE Q U.S. national tour are Robert McClure in the roles of "Princeton/Rod," Anika Larsen in the roles of "Kate Monster/Lucy the Slut," and Danielle K. Thomas in the role of "Gary Coleman." Harada, McClure, Larsen and Thomas will join Christian Anderson, Nicholas Kohn and Jennifer Barnhart to comprise the final Broadway cast of AVENUE Q.
The production held a First Look/Sneak Peak photo op with the final cast of AVENUE Q, including returning original cast member Ann Harada (Christmas Eve), and new cast members Anika Larsen (Kate Monster/Lucy), Rob McClure (Princeton/Rod), Danielle Thomas (Gary Coleman), who join the Broadway company after having recently finished the phenomenally successful, U.S. national tour of AVENUE Q. Also on hand were current Q cast members Jennifer Barnhart (Mrs. T/Bear/etc), Christian Anderson (Nicky/Trekkie), and Nick Kohn (Brian). The AVENUE Q First Look/Sneak Peek took place today, Monday June 29th at the Carol Rosegg Studios (119 West 23rd - Suite 509) and BroadwayWorld.com's cameras were there!
A musical about 20-somethings who move to the cit y with big dreams and tiny bank accounts, AVENUE Q has music and lyrics by Robert Lopez and Jeff Marx, book by Jeff Whitty, and is directed by Jason Moore. Based on an original concept byRobert Lopez and Jeff Marx, with puppets conceived and designed by Rick Lyon, AVENUE Q has musical supervision byStephen Oremus, choreography by Ken Roberson, scenic design by Anna Louizos, costume design by Mirena Rada, lighting design by Howell Binkley, and sound design by Acme Sound Partners.
The musical is produced on Broadway by Kevin McCollum,Robyn Goodman, Jeffrey Seller, The Vineyard Theatre and The New Group.
"We will miss our furry friends on 45th street but are very proud of their longevity," stated AVENUE Q producer Robyn Goodman. Of Rod, the AVENUE Q puppet who is a lifelong member of the Republican party, Ms. Goodman adds "a disappointed Rod was hoping for an Obama bail out and swore he would turn Democrat if it happened."
In addition to its long run on Broadway, AVENUE Q spawned a 2005 Las Vegas production; a 2006 West End production - which concluded its run at the Noël Coward Theatre in March 2009 only to re-open at the Gielgud Theatre in June 2009; and a U.S. national tour - which recently concluded a successful two year run in May 2009.
The Broadway production of AVENUE Q - which recouped its $3.5 million capitalization, in just 10 months - has gone on to gross $117,009,852 (as of week ending June 21st, 2009), and has returned $23,500,000 to its investors to date.
When AVENUE Q opened on Broadway in 2003, critics heralded it as "A breakthrough musical of a very different stripe...savvy, sassy and delicious," - The New York Times, and "one of the funniest shows you're ever likely to see," - Entertainment Weekly; and The Washington Post stated that "AVENUE Q rekindles your faith in the American musical."
AVENUE Q continues to perform Mondays, Tuesdays, Thursdays, Fridays at 8:00pm, Saturdays at 2:00pm & 8:00pm, and Sundays at 2:00pm &7:00pm (with added performances on Wednesday, July 1 at 2:00pm and 8:00pm). Tickets can be purchased at Telecharge.com, or by calling 212-239-6200. Outside the NY Metro area (800) 432-7250. The John Golden Theatre is located at 252 West 45th Street.
For more informatio n on AVENUE Q, log on to www.AvenueQ.com.
Photos by Peter James Zielinski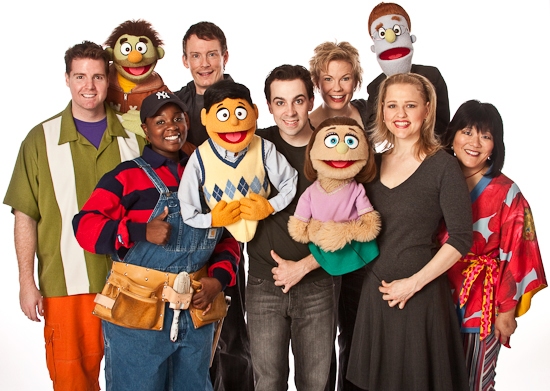 Jennifer Barnhart, Danielle Thomas, and Christian Anderson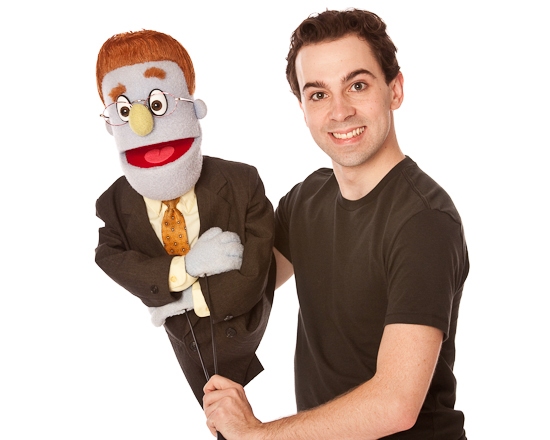 Rob McClure

Jennifer Barnhart, Danielle Thomas, and Christian Anderson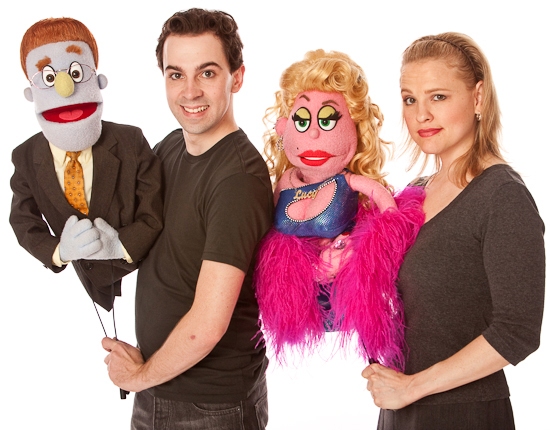 Rob McClure and Anika Larsen

Danielle Thomas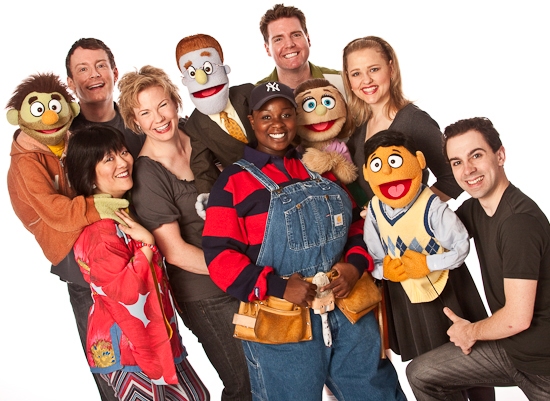 Ann Harada, Christian Anderson, Jennifer Barnhart, Danielle Thomas, Nick Kohn, Anika Larsen, and Rob McClure

Ann Harada, Christian Anderson, Jennifer Barnhart, Danielle Thomas, Nick Kohn, Anika Larsen, and Rob McClure