Click Here for More Articles on NEW YORK CITY
Nonstop Theatre, Costumes and More to Bewitch at TNC's VILLAGE HALLOWEEN COSTUME BALL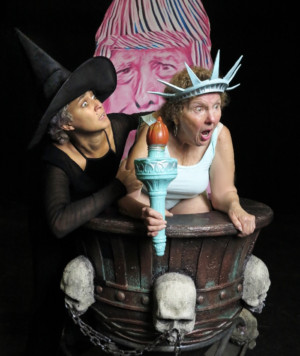 Nonstop theater, a costume competition and ballroom dancing will bewitch the East Village in Theater for the New City's Village Halloween Costume Ball on Tuesday, October 31 at TNC, 155 First Avenue.
This unique festival continues as a grand coming-together for well-known and up-and-coming performers, everyday New Yorkers and artists alike. An explosive fall tradition, the event is held annually on the actual night of Halloween.
The one-night fiesta takes over all four of TNC's theater spaces, plus its lobby at 155 First Ave. and the block of East Tenth Street between First and Second Avenues in a party and evening filled with performances capped by a costume contest.
Outdoor entertainment is 4-7 pm; doors open 7:30 pm. Admission is $20 with costume or formal wear required. Once inside, everything is free except food and drink, which are graveyard dirt-cheap. Tickets are available by clicking Tix., at (212) 254-1109, online at www.theaterforthenewcity.net or at the door
Customarily, more than 1,500 wildly-clad celebrants gather for dancing, dining, showing off costumes and viewing acts from the cutting-edge of cabaret and theater.?
"It's a Trump year. That's what's special about it. The whole subterranean world is coming to the mainstream," TNC Executive Director Crystal Field said. "He stirred things up . The Circadian rhythm has been disrupted."
In this party and night filled with performances, big-band dance orchestras take over the large Johnson Theater including Art Lillard's Heavenly Big Band and Maquina Mono (The Monkey Machine). The Johnson Theater will also have aerial dance by Constellation Moving Company.
With its Witches' Cauldron, the event can justifiably claim to have downtown's most sensational Halloween cafe with a variety of American and international delicacies available at peoples' prices.
"The Witches' Cauldron is where you get food and entertainment," Field said of this space transformed from a theater into a dining area complete with entertainment.
Holiday dishes are contributed by neighboring East Village restaurants, including some with celebrity chefs. You can gobble couscous from a coffin lid beginning at 7:30 p.m., while enjoying spine-tingling performances by performance artists, songwriters, poets and variety artists.
Performers include Evan Laurence, Arthur Abrams, Norman Savitt, Richard West, Ellen Steier and Dawoud Kringle (sitar), Azam Kalavant, Ariah, Arthur Abrams, Edith Lettner, Sarah Lilly, Norman Savitt and Ellen Steier. The space is designed by Susan Hemley and Desiree Conston with lighting design by Alexander Bartenieff.
Outside, R&B and Dixieland bands, fire eaters, jugglers, storyweavers and stilt dancers performer, all free to the public and a gift from TNC to its neighborhood. Inside, there is theater all evening including performances by Daily the Great, Star 69, Joe Bendik, George Bellici and Jennifer Blowdryer. Emcee is Mary Tierney.?
"Hell souls are performing," Field said of figures halfway between angels and devils, saints and sinners, who perform as part of the evening's entertainment.
Lissa Moira leads a scream contest in which the audience is asked to join in as part of this work that includes the words of Mary Shelley, Robert Lewis Stevenson and more contemporary text by Moira.
"I get people on stage and I punctuate the whole piece with screams," she said. " They scream for bottles of champagne and cash and all kinds of prizes. It's fabulously interactive. They come on stage and punctuate the whole piece."
The House of Horrors in the theater's lower level will be an exploration of the horrors and terror of global warming, designed and run by David Zen Mansley, in which revelers will be put through a maze. At the Champagne Bar, libations will be served by vampires who will awaken periodically for the task.
Since its beginning in 1977, TNC's Halloween extravaganza has been a point of origin for many of New York City's most original entertainers.
Six full-length plays have grown out of playlets written for the festival and performance art found an early home in the festival.
It also has been a launching pad for such formative artists as Paul Zaloom, Alice Farley, Bloolips, The Red Mole, Penny Arcade, Basil Twist and Alien Comic Tom Murrin. Each year, many acts, skits, sketches, and skadoodles go on to become the basis of larger theater works.
TNC originated the Village Halloween Parade as part of its annual Halloween Ball, before the parade itself split off as a separate event.
The procession wound its way through the Village from TNC's second home at the corner of Jane and West Streets to Washington Square Park.
"Originally, the parade was kids .We said what are the parents going to do?" Fields said. "To have some adult fun, we're going to have the village Halloween costume ball."
The Village Halloween Costume Ball today takes up every available inch (both floors) of TNC's multi-theater complex at 155 First Avenue (the former First Avenue Retail Market building) and adjoining outdoor spaces.
Doors open at 7:30 p.m. and indoor entertainment begins at 8 p.m. with two continuously-running cabarets. Outdoor entertainment, free to the public, starts at 4 p.m. capped by "The Red and Black Masque," an annual Medieval ritual show written by Arthur Sainer, scored by David Tice and directed by Crystal Field and performed by torchlight.
Scattered through the event will be stilt dancers, jugglers, fire-eaters, Vaudeville playlets, Burlesque and Hellsouls including Fran McGee, Jeffrey Archer, Oedipus on the Beach, Peter Dizzoza, Joga and Larraine Goodman and her mad tappers.
The lobby will be divided into rooms featuring rooms for Astrology/Numerology readings. Phyllis Yampolsky will throw the I-Ching. Videos are by Terry Ferreri. Emcee is Juston Rodriguez.
The entire facility will be elaborately rendered for Halloween, featuring intricate and massive environments by leading theatrical scenarists, sculptors, and artists including Donald L. Brooks, Lytza Colon, Mark Marcante, David Zen Mansley, Ian Gordon, Bruce Kraemer and Desiree Conston. Costume design is by Susan Hemley. The audience will pass through walls decorated by 17 muralists.?
The performers' list is slated to include Phoebe Legere, Penny Arcade, Bina Sharif, Vic Ruggiero, Evan Lawrence, Richard West, Alessandra Belloni, Von Duvois Dance Collective, Lissa Moira's Scream Contest, Rhonda Hansome, Wise Guise, Loretta Auditorium, Kitsch, Danielle Aziza, Evae Packer, Joe Bendick, Lei Zhou, Bob Honeyer, Dawoud Kringle, Richard Weber, Carol Tandava Belly Dance, Michael and Venus Vazquez, Ben Harburg and Friends, Eve Packer, John Grimaldi (NY Lyric Circus), Stan Baker, Jiggers Is King, Dr. Sue, Margo Lee Sherman, Norman Savitt with Susan Mitchell, The Wycherly Sisters, Georgio Handman, Elizabeth Ruf, The Amazing Amy (contortionist), Natasha Velez, Lucy Livingston, David Slone's "Le Squeezebox Cabaret," and TNC Street Theater Company performing excerpts from "Checks and Balances or Bottoms Up!" by Crystal Field and Joseph Vernon Banks.
The annual costume judging begins at midnight with the "Monsters and Miracles Costume Parade," as all revelers are invited to march past a panel of celebrity judges including David Willinger, Phoebe Legere, Bina Sharif, Miguel Maldonado, Robert Heide, Andrea Fulton, John Jiler, Tom Attea, Eduardo Machado, John Gilman, Misha Shulman, Rome Neal and Lorcan Otway.
Winners will receive one-year passes to TNC and a bottle of Moet and Chandon champagne. Attendees will be judged in such categories as "Most Anti-Oxidant," "Most Covfefe," "Most Rocket-Manned," "Most Trumped-Up," "Most Globally-Warmed," "Most Sniffling," Most Tweaked, "Most Tweetful," "Most User-Friendly," "Most Organic," "Most Insured," and "Most Insignificant." Celebrity judges will include Phoebe Legere, Bina Sharif, Chino Garcia, Andrea Fulton, David Willinger, Misha Shulman, Miguel Maldonado, John Gilman, Robert Heide, Sabura Rashid, Ramiro Sandoval, Tom Attea and John Jiler.
Theater for the New City is located at 155 First Avenue, at the corner of East Tenth Street. Reservations are strongly recommended. The TNC box office number is (212) 254-1109.
Featured This Week on Stage Door
Shoutouts, Classes, and More from Your Favorite Broadway Stars
Related Articles
More Hot Stories For You
Breaking: Tony-Winning Choreographer Bob Avian Passes Away at 83
BroadwayWorld is saddened to report that beloved Broadway choreographer Bob Avian passed away yesterday from cardiac arrest at Holy Cross Hospital in ...

Disney Adaptation of BETTER NATE THAN EVER Holds Virtual Open Call
Calling all kids! Casting is underway for Walt Disney Studios Motion Pictures' film adaptation of Tim Federle's children's book Better Nate Than Ever....

Ellen's Stardust Diner Presents STARDUSTERS Concert Next Weekend
An interactive musical theatre benefit show, Broadway Alive, will stream live from Broadway's iconic Ellen's Stardust Diner, on Saturday, January 30 a...

Final Lineup Announced For SAVE BIRDLAND: A Celebration Of Music, History, And Community
The fundraising campaign for Birdland Jazz Club will conclude on January 24th with a free streaming concert titled Save Birdland: A Celebration of Mus...

VIDEO: Christopher Jackson Performs 'The Times They Are a-Changin' at The Creative Coalition's Inaugural Ball
On January 20, 2021, The Creative Coalition brought together leaders from entertainment, media, Congress, and the White House Cabinet and Administrati...

VIDEO: Go Inside the Making of the Broadway Inauguration Performance on Stars in the House- Live at 8pm!
Stars in the House continues tonight (8pm) with the making of the Broadway Inauguration Song. Join Seth and James as they chat about making the video ...