Lindsay Mendez And RSO's Actor Therapy Summer Intensive Is Enrolling Now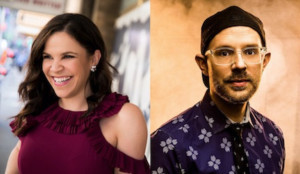 Lindsay Mendez and Ryan Scott Oliver's ACTOR THERAPY is pleased to announce that enrollment is open for their third annual Summer Intensive. This intensive is comprised of two separate programs: College Prep (ages 15-19), running July 15-26; and New York or Bust! (ages 18-28), running July 29-August 9 in New York City.
COLLEGE PREP is a two-week course designed to help prepare students for upcoming college auditions, or for those already admitted, undergraduate coursework in a musical theatre major. This program will focus on finding suitable audition material, song interpretation, movement and dance training, master classes, art and business lectures, college admissions seminars, and more.
NEW YORK OR BUST! is a two week course specifically geared towards performers who are new to the New York theatre scene. New York or Bust! is perfect for students currently in college, actors who have recently relocated to the NYC area (with or without college), recent college graduates, or students taking a gap year. Classes will focus on how to adjust to life as an artist in NYC, as well as how to successfully navigate that competitive audition circuit. Daily dance training, audition technique, song interpretation, scene study, art and business lectures, master class and casting director sessions, and voice lessons are all a part of this new-and-improved program, which will culminate in both an industry showcase and public presentation. Designed for students 18-28 years old from July 30th to August 10th 2019.
Faculty will include Tony Award winner Lindsay Mendez, Award Winning composer and lyricist Ryan Scott Oliver, writer Peter Duchan, director JV Mercanti, Broadway actress Kerstin Anderson, Broadway actress Kirsten Wyatt, Broadway actress Sierra Boggess, Broadway actress Whitney Bashor, voice technician Chris York, voice technician Dan Thaler, voice technician Clinton Sherwood, and more!
Students can expect to work with master class teachers Jessie Mueller, Jay Armstrong Johnson, Sam Pinkleton, Adam Chanler-Berat, Ben Crawford, Sas Goldberg, Katie Rose Clarke, Ben Fankhauser, Jen Colella, Kerstin Anderson and Telly Leung, as well as casting directors Michael Cassara, Patrick Goodwin, Kaitlin Shaw, and more.
In order to enroll, students must send in an audition submission before June 15, 2019. All students will be considered for a merit-based scholarship. To find out more about the submission windows, requirements and more, visit our website: ActorTherapyNYC.com
College Prep Enrollment: www.actortherapynyc.com/summer-cp
New York or Bust! Enrollment: www.actortherapynyc.com/summer-nyb

Related Articles
More Hot Stories For You
Andrew Lloyd Webber's Really Useful Group Outlines Potential Guidelines to Be Put in Place When West End Reopens
Andrew Lloyd Webber's Really Useful Group is discussing guidelines that will need to be in place in order to safely reopen productions on the West End... (read more)

When Will Broadway Re-Open? "January," Hopes Broadway League President
'I actually am a little more optimistic than those who say Broadway will reopen in the spring, but I tend to be an optimistic person, I tend to think ... (read more)

Amanda Kloots Shares Nick Cordero is 'Day By Day, Hour By Hour' Getting Better
Amanda Kloots has shared another update on the health journey of her husband, Broadway veteran Nick Cordero.... (read more)

Breaking: Playwright, Author & Activist Larry Kramer Dies at 84
According to the New York Times, Larry Kramer passed away this morning in Manhattan from pneumonia. He was 84 years old.... (read more)

Social Roundup: Read How Audra McDonald, Randy Rainbow, and More Broadway Stars 'Ruined a Musical'
You might've seen this popular Twitter trend from Jared Gray going around! Read Audra McDonald, Randy Rainbow, Bebe Neuwirth, and more Broadway star's... (read more)

VIDEO: Watch Cynthia Erivo, Kelli O'Hara, Christopher Jackson and More in PBS National Memorial Day Concert
As BroadwayWorld previously reported, PBS will present the NATIONAL MEMORIAL DAY CONCERT, hosted by Tony Award-winner Joe Mantegna and Emmy Award-winn... (read more)