John Kander to Receive Signature Theatre's 2018 Stephen Sondheim Award in D.C.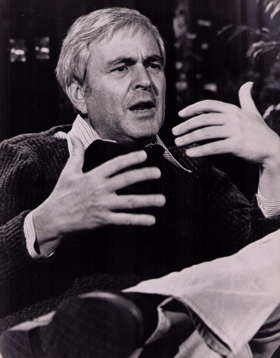 On March 19, 2018, Virginia's Tony Award-winning Signature Theatre will honor legendary Broadway composer John Kander with the company's ninth Stephen Sondheim Award.
The Stephen Sondheim Award will be presented at a black-tie Gala Benefit at the Embassy of Italy and will benefit Signature Theatre's artistic, education, and community programs.
"I'm thrilled that Signature is able to give the Stephen Sondheim Award to John Kander," says Signature Theatre Artistic Director Eric Schaeffer. "This marks the first time that we will be honoring a great American composer - one that both Sondheim and Signature greatly admire. We have had a long association with John thru his work with the late great Fred Ebb as well as his newest writing partner - Greg Pierce. It will be an honor to salute his amazing career in March."
Ms. Rynthia M. Rost, Esq. VP GEICO, and longtime Signature supporters and noted patrons of DC theater Craig Pascal and Victor Shargai will Co-Chair the Sondheim Award Gala.
"I am very proud to once again be serving as co-chair for the gala," said Rynthia Rost. "Geico invests in the arts to help strengthen our community at large, and Signature's commitment to promoting diverse voices and reaching young audiences is perfectly in keeping with our mission."
"Craig and I are very honored to be co-chairing the 2018 Signature Gala with good friend Rynthia Rost. Especially so this year, with the Stephen Sondheim Award going to the legendary John Kander, a master of musical theater." said Co-Chair Victor Shargai. "With its dazzling entertainment it promises to continue to be one of the most glamorous evenings on the Washington calendar."
John Kander was born and raised in Kansas City, Missouri attended Oberlin College and earning his Masters at Columbia University. He was a protégé of Douglas Moore and studied composition with Jack Beeson. John's first Broadway musical was A Family Affair collaborating with longtime friends James and William Goldman. John was introduced to Fred Ebb in 1962, starting a collaboration that lasted four decades. Kander and Ebb created Flora the Red Menace, Cabaret (Tony winner), Zorba, The Happy Time, 70 Girls 70, Chicago, The Act,Woman of the Year (Tony winner), The Rink, Kiss of the Spider Woman (Tony winner), Steel Pier, Curtains, The Scottsboro Boys and The Visit. Their collaboration also transferred itself to movies and television as they wrote original material for the Academy Awards, "Liza with a Z" (Emmy Winner), HBO's "Liza Minnelli's Steppin Out" (Emmy winner), "Funny Lady," (Academy Award nomination, best song), "Lucky Lady," "New York, New York," "Stepping Out" and "Chicago The Movie," (Academy Awards nomination, best song). In the early 1980's the song "New York, New York" become the official anthem of New York City.
Mr. Kander alone composed scores for television and movies including "An Early Frost," "Breathing Lessons," "The Boys Next Door," "Kramer vs. Kramer," "Blue Skies Again" and "Places of the Heart." He also wrote a composition for Renee Fleming called "A Letter from Sullivan Ballou."
Mr. Kander is currently collaborating with playwright and lyrist Greg Pierce. Their musical The Landing premiered at The Vineyard Theatre (NYC) and Kid Victory premiered here at Signature in 2015 followed by a production at The Vineyard Theatre (NYC). In the spring of 2018 John is teaming up again with book writer Tommy Thompson and Director/Choreographer Susan Stroman on a new musical based on a Henry James novel "The Beast in the Jungle."
In 2009, Signature Theatre inaugurated The Stephen Sondheim Award in recognition of the importance of Mr. Sondheim's work to Signature and to theatre in general. In April 2010 the first award was given to stage, screen, and television actress Angela Lansbury. In 2011, Tony Award-winning actress and singer Bernadette Peters received the award. In 2012, the award went to Tony Award-winner Patti LuPone. In 2013, the award was given to legendary Broadway director and producer Harold "Hal" Prince. In 2014, the award went to longtime Sondheim collaborator and orchestrator Jonathan Tunick. In 2015, the award was given to Pulitzer Prize-winning playwright and Sondheim collaborator James Lapine. In 2016 Signature paid tribute to longtime Sondheim collaborator John Weidman. In 2017 the award went to legendary producer of contemporary musical theater Sir Cameron Mackintosh.
The award, established in 2009, is given to an individual for his or her career contributions to the American Musical Theatre along with interpreting, supporting, or collaborating on works by Sondheim. To date, Signature has presented 28 Stephen Sondheim productions, more than any other theatre in the United States. In 2002, Signature's Eric Schaeffer was the Artistic Director of "The Sondheim Celebration" at The Kennedy Center.
Table sponsorship for the 2018 Sondheim Award Gala ranges from $10,000 to $100,000 and includes rewarding, year-long visibility and entertainment benefits. Individual tickets are $1,000. For more information about sponsorship and tickets contact Ashley Richardson, Development Manager at (571) 527-1828 or events@sigtheatre.org.
Recipient of the 2009 Regional Theatre Tony Award, Signature Theatre is a non-profit professional theater company in Arlington, Virginia, dedicated to producing contemporary musicals and plays, reinventing classic musicals, and developing new work. Under the leadership of co-founder and Artistic Director Eric Schaeffer and Managing Director Maggie Boland, Signature has presented 44 world premiere productions and is renowned for combining Broadway-quality productions with intimate playing spaces. Since its founding in 1989, Signature has won 97 Helen Hayes Awards for excellence in the Washington, DC, region's professional theater and has been honored with 386 nominations.