Click Here for More Articles on NEW YORK CITY
HAMILTON, LION KING Designers Put Mark on Revamped BOND 45 Restaurant in the Theater District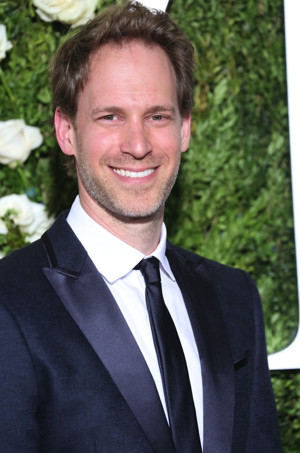 Shelly Fireman, CEO of The Fireman Hospitality Group, announces that this fall marks the re-opening of the Italian restaurant BOND 45 at its new home in the heart of the theater district, 221 West 46th Street.
Nestled between the Lunt-Fontanne Theater and the Edison Hotel, the restaurant's new two-story, 7,800-square-foot space will seat 268 guests and feature design by Tony Award-nominated scenic designer David Korins (Hamilton) in collaboration with Shelly Fireman, with lighting design by Tony Award winner Donald Holder (The Lion King).
Complemented by its distinguished menu of exceptional Italian dishes crafted by Bologna native Executive Chef Brando De Oliveira, the restaurant's carefully curated new environment honors the classic décor and lively atmosphere of the original BOND 45 on the main floor, while also offering an excitingly fresh design on its second level called the Bond Bar Below.
The restaurant is now accepting reservations and will re-open its doors on September 25, 2017.
BOND 45 first opened in 2005 at 154 W. 45th Street - former location of the historic Bond Clothing Store (1948-1977) - where it celebrated a decade of success as a dining destination for Broadway insiders, theatergoers, and visitors from around the world in the heart of the theater district. In its new location on 46th Street, it will share a block with such Broadway hits as Hamilton at the Richard Rogers Theater, Charlie and the Chocolate Factory at the Lunt-Fontanne Theatre, and the upcoming Jimmy Buffet musical Escape to Margaritaville at the Marquis Theater.
"We look forward to opening BOND 45's new beautiful and unique two-floor design (elevator available), which will feel like home to its longtime guests, while also offering many new and exciting features, dishes and environments fit for every palate," Korins said. "Whether you're seeking an all-day breakfast menu, a lively gathering spot for friends over a lunch or dinner of delicious pasta, salads or other entrees, or a quiet fireplace nook for a glass of red wine after a show."
Shelly Fireman is not only an experienced restaurateur with six established restaurants in NYC and two in National Harbor, MD, but also an avid sculptor and patron of the arts. He and Korins, one of Broadway's fastest rising design stars currently represented with mega-hits Hamilton, Dear Evan Hansen and War Paint, worked together to seamlessly blend classic New York style with modern features, utilizing reclaimed wood and imported Italian tiling, layering on plush banquette seating and marble tabletops, and creatively highlighting Shelly Fireman's selection of artwork, including Girl with the Golden Goblets, a bronze cast in Pietrasanta, Italy.
The second level, called the Bond Bar Below, seats 160 and features three distinct areas to dine and drink. Inspired by the environment near Shelly's home in Camaiore, Italy, the room features a hand-carved wood bar set amidst exposed original stone walls and two fireplace alcoves featuring built-in couch seating. A sunken-patio dining area centers the space, below a starfield light installation and flanked by state-of-the-art video screens displaying real-time Italian coast sunrises and sunsets. Additionally, there is a private party space called "The Villa" for 70 guests that features a full bar and state-of-the-art audio/video capabilities.
Under the leadership of Executive Chef Brando De Oliveira, BOND 45's expert culinary staff has created a menu to please everyone, and prepares each meal with an international and cosmopolitan flair. Best known for their signature Vegetable Antipasto Bar which offers an eclectic rotating selection of market vegetables in uniquely flavorful preparations, highlights of BOND 45's expansive menu also include specialty veal chops, seafood, thin crust pizza, and an abundant array of signature dishes including a 48 hour braised lamb shoulder, fried artichokes alla giudea, and fettucini alfredo (served tableside in a capriottino? cheese wheel). BOND 45 will now offer "family style" options for many dishes and will serve breakfast all day. De Oliveira joined the Fireman Hospitality Group in 2001 as the executive chef of Café Fiorello, after more than 15 years working at such premier establishments as New York's Aureole, where he also served as Executive Chef; Bologna's century-old Ristorante Diana; Milan's three-star Michelin restaurant L'Antica Osteria del Ponte, and Belgium's La Torre.
Straight from Rome, sommelier and mixologist Gabriele Guidoni previously worked at acclaimed Roman establishments La Pergola, Antica Pesa and Pierluigi before joining the Fireman Hospitality Group as Beverage Director. For Bond 45, and with the desire to provide healthy organic and biodynamic offerings, he has assembled a wide and recognizable selection of wines from around the world, locally brewed craft beers and ciders, and flavorful cocktail creations. His original seasonal cocktails specials include the Bond Cup (pineapple infused vodka, lime, passion fruit, yuzu); Twist on a Legend (vodka, lychee, elderflower liquor, organic cranberry); Fall in Jalisco (tequila, figs, chamomile and sage syrup, lime), and Almost a Toddy (dark rum, rye whiskey, sweet vermouth, absinthe).
Bond 45 will be open seven days a week from 11:00 am until late. Breakfast service will begin on October 23rd at 7:00 am, offering a buffet and full a la carte menu. Prices are $30 and under. All major credit cards are accepted. Delivery and take-away will be offered. "The Villa" offers private party space for up to 70 guests. For more information, visit www.bond45ny.com, call 212.869.4545 or log on to Facebook, Instagram and Twitter at @bond45nyc.
The Fireman Hospitality Group (www.thefiremangroup.com) is one of New York's most prolific restaurant owner operators with a portfolio that includes Bond 45, Café Fiorello, Redeye Grill, Trattoria Dell'Arte, and two Brooklyn Diners "The Finer Diner". With a reputation for providing classical and contemporary Italian cuisine, the most welcoming hospitality, gracious service and art-filled spaces coupled with a close proximity to Carnegie Hall, Lincoln Center, or Broadway, Shelly Fireman has been serving discerning New Yorkers and visitors from around the world since 1975.