Photo Flash: Get a First Taste of Rehearsals for PORTO at WP Theater
The cast of [PORTO] enjoyed foie gras sausage, hasenpfeffer, and more delicious bites that they will eat on stage each night during rehearsal last week at WP Theater. [PORTO] begins performances this Sunday, January 28 and runs through Sunday February 25 at WP Theater (2162 Broadway).
A woman walks into a bar. Her name is Porto. She's a regular. She likes this bar: serious food, serious wine, serious bartender--a staple in a gentrifying Brooklyn neighborhood (perhaps Bushwick?). Her friends, her wine, and her artisanal snacks are there; her doubts about being a Modern Woman are put on snooze. A handsome stranger walks in and orders something special. Disruption ensues: an upside-down romantic comedy unfolds inside and outside her head. Desires of all kinds are awakened with a ferocious thump. A nice smile is a nice smile, but can we enjoy the sausage once we know how it's made? [PORTO] reunites Benson and Evans, whose last collaboration, the Obie Award-winning A Beautiful Day in November on the Banks of the Greatest of the Great Lakes, was a smash success at WP Theater in 2015.
[PORTO] stars Noel Joseph Allain (Luft Gangster, Queerspawn), Kate Benson, Ugo Chukwu (Ripcord, JOB), Jorge Cordova (Moment of Zen, Hillary), Leah Karpel (The Harvest, Pocatello) and Julia Sirna-Frest (Welcome to the Gun Show, A Tunnel Year). It features set design by Kristen Robinson (Company - Barrington, Esais' Table) costumes by Obie Award winner Ásta Bennie Hostetter (The Wolves, Smokefall, John), lighting byAmith Chandrashaker (Twelfth Night - The Public, Her Requiem), and sound design by Kate Marvin (Somebody's Daughter, Happy Days).
[PORTO] is presented by WP Theater & The Bushwick Starr in association with New Georges. It will feature set design by Kristen Robinson(Company - Barrington, Esais' Table) costumes by Obie Award winner Ásta Bennie Hostetter (The Wolves, Smokefall, John), lighting by Amith Chandrashaker (Twelfth Night - The Public, Her Requiem), and sound design by Kate Marvin (Somebody's Daughter, Happy Days). WP Lab alumRachel Karpf (Stuffed, Queens) and John Del Gaudio (the food was terrible, Comfort Dogs: Live from the Pink House) are the line producers for this production
Photo credit: Stephen Cyr


Food of [PORTO]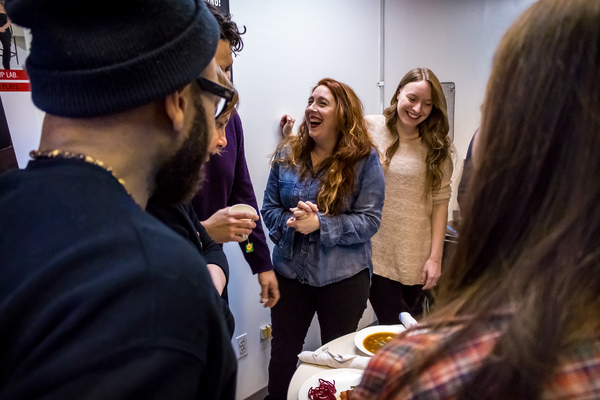 Ugo Chukwu, Julia Sirna-Frest and cast

Leah Karpel, Ugo Chukwu, Kate Benson, Jorge Cordova, Julia Sirna-Frest, Noel Allain

Leah Karpel, Ugo Chukwu, Kate Benson, Jorge Cordova, Julia Sirna-Frest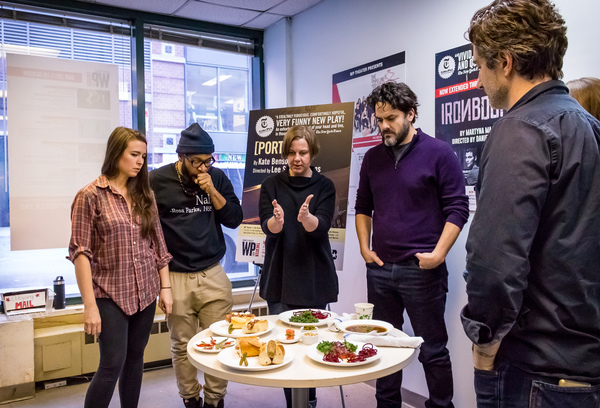 Leah Karpel, Ugo Chukwu, Kate Benson, Jorge Cordova, Julia Sirna-Frest, Noel Allain

Company of [PORTO]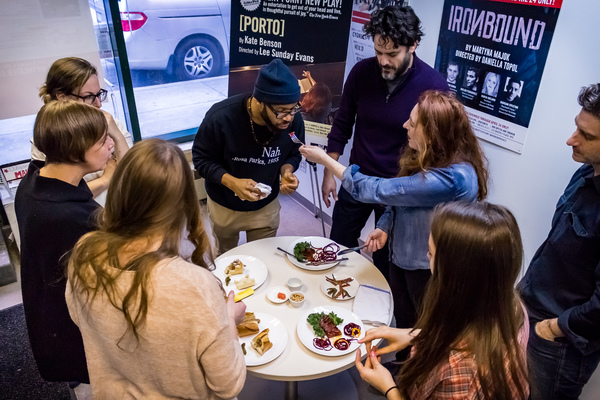 Company of [PORTO]

Ugo Chukwu, Kate Benson, Leah Karpel, Julia Sirna-Frest, Jorge Cordova, Noel Allain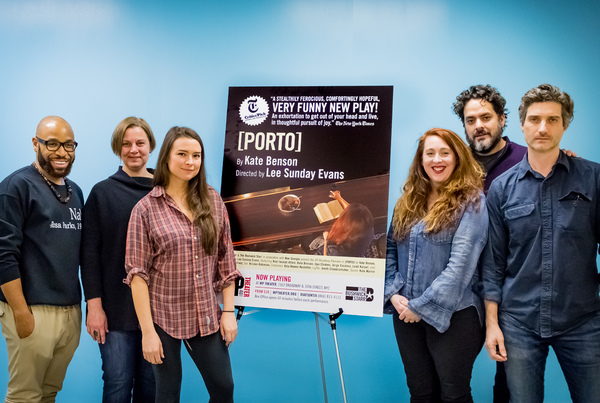 Ugo Chukwu, Kate Benson, Leah Karpel, Julia Sirna-Frest, Jorge Cordova, Noel Allain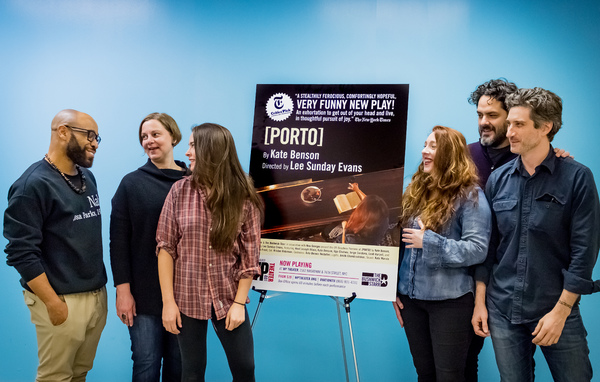 Ugo Chukwu, Kate Benson, Leah Karpel, Julia Sirna-Frest, Jorge Cordova, Noel Allain

Company of [PORTO]

Company of [PORTO]

Company of [PORTO]

Company of [PORTO]
Related Articles
More Hot Stories For You
Confirmed: Billy Porter Will Play the Fairy Godmother in Upcoming CINDERELLA Film
BroadwayWorld recently reported on a rumor that Billy Porter would be joining the cast of the upcoming Cinderella film from Sony, starring Camila Cabe... (read more)

Breaking: MRS. DOUBTFIRE Will Open on Broadway in Spring 2020 at the Stephen Sondheim Theatre
This just in! Mrs. Doubtfire, the new musical based on the film of the same name, will open on Broadway this coming spring at the Stephen Sondheim The... (read more)

HAMILTON's Miguel Cervantes and Family Mourn Passing of Three Year-Old Daughter, Adelaide
BroadwayWorld is saddened to report that Miguel Cervantes, who plays Alexander Hamilton in Chicago's Hamilton, and his wife, Kelly,  have confirmed th... (read more)

Photo Flash: First Look at Jonathan Groff & More in LITTLE SHOP OF HORRORS
LITTLE SHOP OF HORRORS, starring Jonathan Groff, Tammy Blanchard and Christian Borle, opens October 17 at The Westside Theatre (407 W. 43rd St, NYC), ... (read more)

Ben Platt Reveals Further Details About Upcoming MERRILY WE ROLL ALONG Film
Further details have been revealed for the upcoming Merrily We Roll Along film, starring Ben Platt and Beanie Feldstein.... (read more)

Photo Flash: First Look at Renee Fleming, Dove Cameron, Brian Stokes Mitchell, and More in THE LIGHT IN THE PIAZZA
L.A. Opera presents The Light in the Piazza! Get a first look at the production in the photos!... (read more)