FSLC Announces Robert Mitchum Centenary Tribute as NYFF55 Retrospective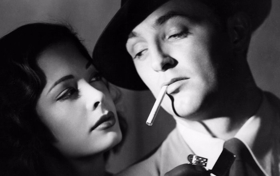 The Film Society of Lincoln Center announces the Retrospective of the 55th New York Film Festival (September 28 - October 15), a 24-film centenary tribute to the great Robert Mitchum. Hollywood has had no shortage of man's men, but perhaps no actor advanced so complex and alluring a model as Robert Mitchum. Mitchum's incomparable career stretched across five decades and saw him blossom from a bit player in war films and westerns in the 1940s into a bona fide star working with some of Hollywood's most towering figures in nearly every genre imaginable. Collaborating with pantheon auteurs such as Howard Hawks, Otto Preminger, Jacques Tourneur, Vincente Minnelli, and Nicholas Ray, the handsome and endlessly charismatic Mitchum always had the aura of a man in control of both himself and his situation, yet who was nevertheless besieged-a kind of walking metaphor for modern man's limitations amid a universe of antagonism and uncertainty. The magnetic figure he cut into the screen has endured as a paragon of timeless cool, and his spot on the Mount Rushmore of American actors is undeniable. This year marks Mitchum's centenary, and there is no better excuse to spend time with some of the highlights of his staggeringly rich career.
Mitchum famously quipped, "Look, I have two kinds of acting. One on a horse and one off a horse." He is best known for his noirs-
Roger Ebert
called him "the soul of noir"-westerns, and western/noirs, but he appeared in more than 100 films. The NYFF Retrospective showcases 24 of his finest performances and spans 50 years, from his first major role in The Story of G.I. Joe, which earned him an Academy Award nomination, to his late-career appearances in films by
Martin Scorsese
and
Jim Jarmusch
, with all but two screening on celluloid. The 18-day New York Film Festival highlights the best in world cinema, featuring works from celebrated filmmakers as well as fresh new talent. The NYFF55 retrospective is co-programmed by Kent Jones and
Dan Sullivan
, FSLC Assistant Programmer. The selection committee, chaired by Jones, also includes Dennis Lim, FSLC Director of Programming; Florence Almozini, FSLC Associate Director of Programming; and
Amy Taubin
, Contributing Editor, Film Comment and Sight & Sound. Earlier this summer, NYFF announced Richard Linklater's Last Flag Flying as Opening Night and
Todd Haynes
's Wonderstruck as the Centerpiece selection. Tickets for the 55th New York Film Festival will go on sale September 10. VIP passes and packages are on sale now and offer one of the earliest opportunities to purchase tickets and secure seats at some of the festival's biggest events, including the just-announced Centerpiece. Learn more at filmlinc.org/packages.