Click Here for More Articles on Podcasts
Broadwaysted Celebrates CANDIDE with Jay Armstrong Johnson and Meghan Picerno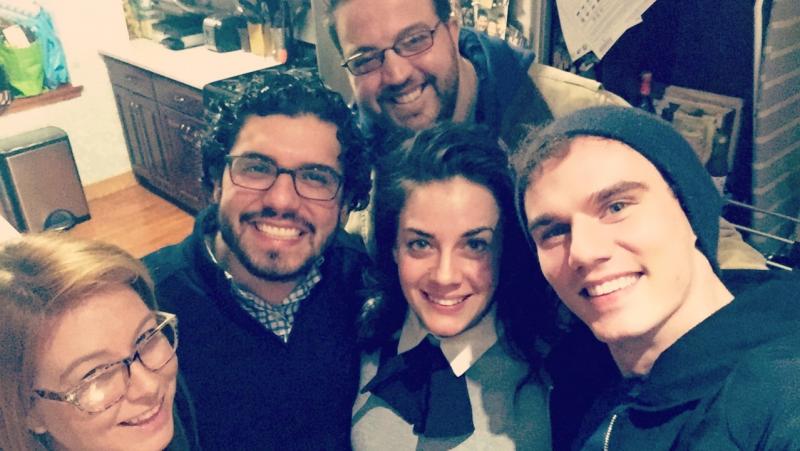 In this SPECIAL Broadwaysted episode, we're celebrating the opening night of the New York City Opera's CANDIDE (directed by Hal Prince) with the brilliant leads, Broadway favorite Jay Armstrong Johnson and classical soprano Meghan Picerno!
We talk all things CANDIDE as we pour out rye and prosecco (not in the same mason jars though) and Jay and Meghan discuss their experiences in this production so far. Jay shares is his crazy Broadway debut story, Meghan shocks us with her "27 Dresses" style Classical Competition night, and Bryan and Meghan give us a glimpse into their lives as roommates in NYC.
In honor of Jay, Game Master Kimberly breaks out a round of "Dirty Hands on a Hardbody" (with some classical categories for Meghan), a fun pop quiz, and then a round of "The Best of All Possible Games" with the Lights of Broadway Show Cards. Make sure to purchase your tickets for the New York City Opera's brilliant production of CANDIDE (Broadwaysted will be there!) and listen in as we all Glitter and Be Broadwaysted!
Listen to the episode here:
---
Jay's Bio:
Jay Armstrong Johnson is a talented actor, singer, and dancer. Jay made his Broadway debut at the age of 21 when he covered for Gavin Creel during previews for the 2009 revival of HAIR. Jay went on to appear on Broadway in Catch Me If You Can, Hands on a Hardbody, and as Chip in the celebrated revival of On The Town. Other credits include Working (Drama Desk Award) at Prospect Theater Company, Anthony in the New York Philharmonic's staged concert of Sweeney Todd with Emma Thompson, Bryn Terfel, and Audra McDonald, Romeo in The Last Goodbye at The Old Globe, and 35MM:A Musical Exhibition by Ryan Scott Oliver. Jay is a native of Fort Worth, Texas, and attended the NYU Steinhardt School of Music. He can now be seen on the television drama QUANTICO. Follow Jay @Jay_A_Johnson
Meghan's Bio:
Italian-American coloratura soprano Meghan Picerno is quickly gaining recognition for her exciting performances on both opera and theater stages. She recently performed Queen of the Night in Mozart's Die Zauberflöte at The Lincoln Center and at Carnegie Hall, made her Kennedy Center Debut as the Sandman in Hansel and Gretel, and made her David Geffen Hall debut in the title role in Lucia Di Lammermoor. This past year she was a quarterfinalist in Placido Domingo's prestigious Operalia International Vocal Competition in London at The Royal Opera House, as well as receiving 1st prize in the Arkadi International Vocal and New York Lyric Opera's Vocal Competitions, The Forte International Competition; 2nd Prize in The American Prize Vocal Competition, and awards from the Alfredo Silipigni, Benjamin Matthews Competitions, and Career Bridges Grant Program. This production of Candide marks her New York City Opera debut. Follow Meghan @meghanpicerno
---
About the Show:
Broadwaysted: Where we're drunk on Broadway! Literally. This isn't your typical theatre podcast. Come "take a glass together" with us every Tuesday!
Join our cocktail hour as we pour a few rounds, play some games, and chat all things theatre with your favorite members of the Broadway community. From current hits, to past flops, and future stars, Broadwaysted drinks to it all. It's a place to unwind, be yourself, and hang out among friends who love what you love. Feel like you're at the table with your host Bryan Plofsky, co-host Kevin Jaeger, game master Kimberly Cooper, and amazing guests! Let's all get Broadwaysted!
Twitter: @Broadwaysted
Instagram: @Broadwaysted
Bryan's Twitter: @nuttyplofessor
Kevin's Twitter: @JaegerKev
Kimberly's Twitter: @KimberCoops
Related Articles
Broadwaysted: Where we're drunk on Broadway! Literally. This isn't your typical theatre podcast. Come "take a glass together" with us every Tuesday! Join our cocktail (read more...)