Click Here for More Articles on THE WAVERLY GALLERY
BWW Review: Elaine May Returns To Broadway in Kenneth Lonergan's Touching and Humorous THE WAVERLY GALLERY
"The whole neighborhood is changing," is the oft-repeated melancholy observation of the 85-year-old woman at the center of Kenneth Lonergan's 2001 Pulitzer-finalist, The Waverly Gallery.
The year is 1989 and the neighborhood in question is Greenwich Village, where Gladys Green spent her younger bohemian days as a Communist activist making speeches atop a milk carton in Washington Square demanding low-income housing and participating in the movement for African-American civil rights.
But while anyone can sympathize with a senior citizen's fears that the streets are now filled with drug dealers and muggers, her complaints are also of the influx of well-dressed South Koreans who seem to have lots of money and of being ignored by all of the black employees at her bank.
Gladys is changing, too, with her deteriorating mind given to expressing herself with insensitive language and long monologues of non-sequiturs. Though her grandson Daniel certainly still loves her, the frustration he feels after visits tends to dissuade him from making them frequent.
Similar to Tennessee Williams' THE GLASS MENAGERIE, Lonergan's touching and humorous piece is a memory play, with the young Daniel occasionally narrating the story to the audience. For twenty-eight years the widowed Gladys has been running a small art gallery attached to a hotel across from Washington Square. It's never done great business, but the owner thought it attracted passers-by. Now he's decided to convert the place into a cafe and has given Gladys two months' notice.
After several seasons of excellent and innovative work for major Off-Broadway companies, Obie and Drama Desk winning director Lila Neugebauer makes her Broadway debut with a warm and heart-tugging production, bringing out the parallels of living in beloved neighborhoods that aren't what they used to be and dealing with beloved people who aren't what they used to be.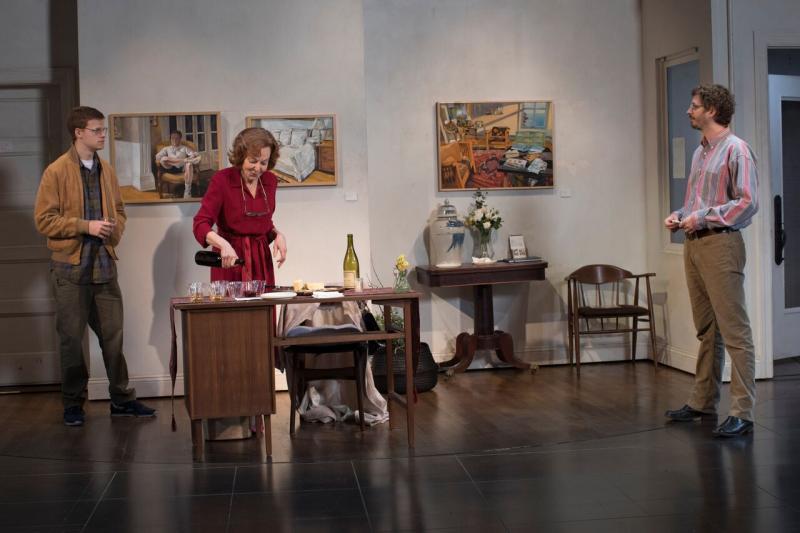 An outstanding ensemble is led by comedy icon Elaine May, making her first acting appearance on Broadway since she and Mike Nichols cavorted in their two-person show back in 1960.
In May's hands, the tragedy of Gladys' decline is that we can still see her energetic lust for life and for encouraging young artists. Michael Cera plays Don, a painter from Boston who has been sleeping in his car while trying to find a gallery that will display his work. Gladys not only offers him wall space and a gala opening but lets him sleep in the back room until he can afford his own place.
This is heaven for Don, who has always dreamed of having a show of his work in New York, and the wide-eyed excitement Cera displays contrasts with the frustration played by Joan Allen and David Cromer as Gladys' daughter and son-in-law. As Daniel, Lucas Hedges is the aloof, and often rather arch, observer. ("We're liberal Upper West Side atheistic Jewish intellectuals," is the way he describes his family to Don. "And we really like German choral music.")
May's comic expertise is generously utilized in the first act, where the family's attempts to cope with Gladys' growing obliviousness and confusion about her hearing aid generates empathetic laughs, making her racist remarks - innocent observations in her view - all the more discomforting.
The mood shifts in the second act, where the issue of what to do with Gladys becomes more urgent, but the play's romance for the past is continually enhanced between scenes by designer Tal Yarden's city life projections and composer Gabriel Kahane's evocative score; reminders that while the sadness of loss is inevitable, so is the excitement of what's new.
Featured BroadwayWorld Events
Check out these concerts...
Related Articles
After 20-odd years singing, dancing and acting in dinner theatres, summer stocks and the ever-popular audience participation murder mysteries (try improvising with audiences after they?ve (read more about this author...)