The Waverly Gallery - 2018 - Broadway Tickets, News, Info & More
A powerfully poignant and often hilarious play, The Waverly Gallery is about the final years of a generous, chatty, and feisty grandmother's final battle against Alzheimer's disease. Gladys is an old-school lefty and social activist and longtime owner of a small art gallery in Greenwich Village. The play explores her fight to retain her independence and the subsequent effect of her decline on her family, especially her grandson. More than a memory play, The Waverly Gallery captures the humor and strength of a family in the face of crisis.
Video preview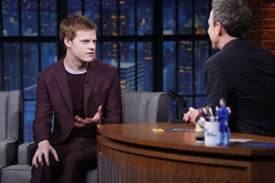 Photo preview
Featured Reviews For The Waverly Gallery
The Waverly Gallery - TimeOut NY
The Waverly Gallery forces us to deal with the walking memento mori that Gladys has become, but in a way that never seems cruel. Infuriating though she often is, it's impossible to hate her, and the casting of May, in her return to the Broadway stage after more than half a century, works brilliantly. She is funny and warm and she's familiar, which helps fill in some of the play's emotional blanks: Our affection and respect for this titan of American comedy spills over into how we respond to her character.
'The Waverly Gallery' review: Elaine May returns to Broadway with a raw, realistic performance - Newsday
The drama here (the play was a Pulitzer finalist when first produced in 2000) gets its strength from the fine performances and from the horrific reality of a situation far too many of us know well. Like so many who've been there, this family is crippled by the lack of acceptable options for their loved one. Acting as narrator, as he's done throughout, Daniel suggests that loving each other so much means you have to keep trying, even if you know you won't prevail. "It makes you think," he concludes, "it must be worth a lot to be alive." Well said.
The Waverly Gallery Broadway Cast