BWW REVIEW: Ballet du Grand Theatre de Geneve Brings "It" to NYC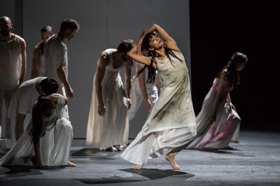 The opening night of Geneva, Switzerland's Ballet du Grand Theatre de Geneve, at The Joyce Theater, on April 24, 2018 was lit up with ballet stars in the audience. I have been watching this worthwhile contemporary ballet company since the 1980's, and I was delighted to be there when they opened the current program in NYC. Since the '80s, under the direction of brilliant Argentinean choreographer Oscar Araiz, this ballet company became an exemplary contemporary ballet company. Since 2003 Philippe Cohen has been the Artistic Director, bringing top contemporary choreographers to work with the company.
They performed Swedish choreographer Pontus Lidberg's Une Autre Passion (Another Passion) to Johann Sebastian Bach's St. Matthew Passion. In this piece of music Bach "explores the reality and the meaning of suffering and it's devotional retelling of the agony and death of Jesus Christ. Lidberg takes us through Bach's great score and proposes an abstract, almost disembodied version which juxtaposes suffering and beauty." To experience this work without preconceived notions, it looked to me like a moving mural following the musicality of the music, dancers embodying the feelings that the music, the choreography, and the lighting and scenography (by Carolyn Wong) brought to their beings. All were dressed in loose fitting white clothing, no two the same (costumes by Reid & Harriet Design).
The ballet opened with grey and white cloud-like drops from above and something similar on a screen at the back of the stage. Soon the panels of this screen separated and occasional arms and legs began to appear through the spaces. Then the screens moved smoothly around, as did the dancers...all smoothly, individuals moving on their own as a group. The panels became an integral player in this work. Throughout the 80 minutes uninterrupted by an intermission, one never loses interest in following the movement. The dancers were each full of passion. Some were extraordinary, like the couple who danced a poignant pas de deux with a tight connection, Madeline Wong and Sasha Riva, as well as the beautiful bodied man who floated and swam across the screen during intermittent film clips and danced with the company throughout this masterpiece, Geoffrey Van Dyck. A few, I could detect, were not such brilliant technicians; but it did not matter as they were integral parts of the whole, all were beautiful. Like paints used by an artist, the dancers were set in motion by the choreographer. Once in motion, they expressed their own feelings.
Without being aware of the intended meaning of the music or the choreography, the piece lends itself to various interpretations. It was entirely captivating.
I recommend that you see this company dancing Lindberg's creation through April 29th at The Joyce Theater.
Photo credit: Gregory Batardon
Related Articles