BWW Prompts: Which Broadway Animal Would You Want As A Pet?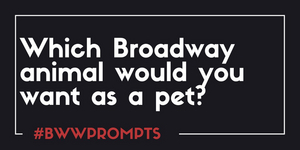 We want to hear from you! Submit your response to our daily #BWWPrompts, where each day we'll be asking our readers on Facebook, Twitter, and Instagram questions to spark some theater conversation.
Read some of our reader's answers below!
---
Twitter
"I would definitely want a Chistery [from Wicked]! Having a flying monkey would be AWESOME!" @PorbanskyAllie
"As long as they sound like Mandy Patinkin, the dogs from Sunday in the Park with George" @EvaVictoriaxx
"Sandy the Sandworm from Beetlejuice cause that would be superb!!!" @tsbmendoza
"The little lamb, from Gypsy." @JohnJHL9
"The goats from Once On This Island, obviously." @GladNSad
Instagram
"The Lion from Wicked - it's adorable and it's only a baby that needs help surviving!" izzy_dream05
"Milky White from Into the Woods, of course." harrisonlereed
"Nana from Finding Neverland/Peter Pan! The cutest, fluffiest of dogs!!" aman_duhhhh
"It's not really a pet but, the squirrel from The Lightning Thief- not sure why but the idea of having a pet squirrel seems extremely appealing to to me." squippedsushi
"Sandy from Annie!! Sandy is such a good dog!" emilybato
Facebook
"The dog from the [Mystery of] Drood revival (portrayed by Stephanie J. Block's real life dog, Macaco) Lea Passione
"Snoopy from You're a Good Man Charlie Brown." Jennifer Lynn Heering
"Sylvia [from Sylvia]" Tim Stuff
"Sven from Frozen because it's true, reindeers are better than people!" Erin Brautigan
"Bruiser from Legally Blonde." Sara Powell
Related Articles