BWW Interview: PARADISE BLUE's Kristolyn Lloyd Yearns for More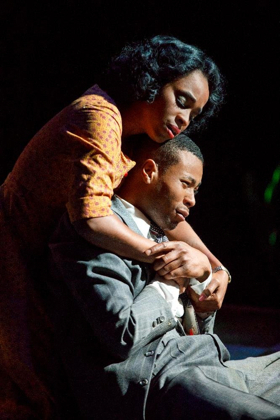 Dominique Morisseau's Paradise Blue unfolds like a jazzy film noir, set in 1949 Detroit, in an African-American community known as Black Bottom. Blue (J. Alphonse Nicholson) a trumpet player with increasingly fierce demons, runs the Paradise Club, around which the characters orbit. He has a big decision to make about selling it, one that will forever affect the lives of those closest to him.
Kristolyn Lloyd is Pumpkin, Blue's significant other. Cleaning, cooking and mothering, she takes care of the club and the boarders upstairs, but she yearns to develop her voice and recites poetry by heart. She wants to be independent but is held back by Blue, whose musical genius is thwarted as his haunting intensifies and he struggles to reach his sweet spot. Anguished flashbacks torture him and he violently vents his frustrations on Pumpkin.
"I knew I wanted the role as soon as I read it in an hour," said Lloyd. "Pumpkin plays this perfect role in Black Bottom. She's maternal, positive and knows how to connect with those around her." Corn (Keith Randolph Smith) and P-Sam (Francois Battiste), fellow musicians, round out the Paradise Club regulars. "She makes them feel safe," she said.
"And I happen to love cleaning -- I find joy in it. So playing Pumpkin is perfect," Lloyd said with a laugh. "Pumpkin has a distinct voice, and I'm happy to have the opportunity to be a voice for women."
The city of Detroit is buying property considered Urban Blight, code words for African-American neighborhoods like Black Bottom. If Blue sells his club, inherited from his also-troubled father, the community would be doomed.
When the seductress Silver (Simone Missick) appears in Black Bottom in hopes of buying the club, her effect on Corn and P-Sam, two regulars, is visceral. Pumpkin is fascinated by her slinky style oozing sex and seduction. She doesn't see Silver as a rival.
"These are two women who are on different ends of the spectrum," Lloyd reflected. "Pumpkin is totally dependent on Blue and rooted in the club. Silver is the opposite-she doesn't put down roots and doesn't need a man to define her and never will. But I don't think Pumpkin is jealous of her, just fascinated," Lloyd said.
"That's the beauty of Dominique's writing: exploring two women who are polar opposites in personality and ambition," she said.
Pumpkin puts up with Blue because she feels she has no choice.
"I think some women will be attracted to a guy who's attractive and plays a large role in the community. She puts up with him because he's gifted in her mind," Lloyd said. "We know Blue has always been this way mentally. He's having a digression of his emotions and she caters unapologetically to his mood swings."
Lloyd, who was in the original cast of DEAR EVAN HANSEN, performed the role three years ago at the Williamstown Theatre Festival in 2015.
Jazz music is a leitmotif that threads throughout each scene of the play, directed by Ruben Santiago-Hudson.
"I think every story has its own song. Ruben says every script has its own sound; the way an actor speaks and moves tells you a lot," Lloyd said. "The music expresses the piece so perfectly. Ruben was adamant and said every song is selected for a reason.
"A suite, swing, boppish-all of these styles are in the story. And at the top of the second act when the real controversy goes down, there's a haunting, sexy tempo," she added. "The jargon, the lingo, all have a musical quality."
As Blue seeks his "love supreme" by playing the trumpet, his demons taunt him. "Love supreme is a very specific thing for Blue. It's a place of peace, where I go when I'm singing and the instrument is doing its own thing," Lloyd said. "It's almost supernatural."
Taut with emotion, Paradise Blue explores social issues that are relevant today. We just have better technology.
PARADISE BLUE echoes August Wilson's Pittsburgh-set series that spans decades. That includes JITNEY, set in 1977 and also directed by Santiago-Hudson. Paradise Blue is one of a series that takes place in Detroit.
Lloyd thinks the Broadway community has improved regarding casting roles for actors of color, but it's not enough. "It seems that way, because society is demanding it. But what I find is that people who are still telling their stories are from an American white perspective," Lloyd said.
"I would like to see more people of color behind the table. After HAMILTON, it's going to be hard for a show not to have people of color," she continued. "But how are you using them? Are they side stories or can they be the hero?"
Lloyd credits her family with encouraging her to pursue acting. "I had a big personality as a kid. Even in sports I was performing," she said. She quickly found out that a soccer field during a game is not the place for cartwheels. "It was either sports or acting," said Lloyd. "My middle brother encouraged me to audition and I enjoyed it. I caught the bug."
Paradise Blue is playing at the Pershing Square Signature Center, 480 West 42nd Street. Scenic design is by Neil Patel, costumes by Clint Ramos, lighting by Rui Rita, sound by Darron L West, original music by Kenny Rampton and music direction by Bill Sims, Jr.
Photo Credit: Joan Marcus
Related Articles