BWW Interview: John Lloyd Young Gets Ready to Put His Heart Back on His Sleeve at the Cafe Carlyle
Having won critical praise for his previous residencies, Tony Award-winner John Lloyd Young returns to Café Carlyle with an all-new show, Heart to Heart, February 13 - 24. Stephen Holden of The New York Times has written that Young "has a disciplined one-in-a-million high tenor shading into falsetto that he can direct through the stratosphere."
John Lloyd Young originated the role of Frankie Valli in Broadway's Tony Award-winning Best Musical and international hit, Jersey Boys. By also starring in Clint Eastwood's film adaptation of the show, Mr. Young joins a select few actors in the entertainment industry that took their Tony-winning stage role to the big screen. He sings lead vocals on the Grammy-winning platinum Original Broadway cast album as well as the Jersey Boys movie album. As Frankie Valley in Jersey Boys, Young became the only American actor in history to win all four major leading actor honors in a Broadway debut: the Tony, Drama Desk, Out Critics Circle and Theatre World Awards.
In 2013, John Lloyd Young was appointed by Barack Obama to the President's Committee on the Arts and Humanities. Over the course of his esteemed career, John Lloyd Young has played to audiences at The White House, Carnegie Hall, Lincoln Center, Yankee Stadium, Dodgers Stadium and Radio City Music Hall among many other iconic venues. Most recently, Young has performed his solo act around the country, up and down the California cost, and in a sold out engagement at Washington D.C.'s Kennedy Center.
BroadwayWorld's Richard Ridge caught up with Tony Award-winning star John Lloyd Young just days before kicking off his return, two-week Valentine's engagement at the famed Cafe Carlyle.
---
How excited are you to be returning to The Cafe Carlyle?
I love the Carlyle, especially at this time of year. I've played there since 2013. There really is nothing like cocooning yourself in that warm and dimly lit room in the depths of the New York winter, luxuriating in what, in my opinion, are some of the best throwback R&B songs ever, descending my suite at the hotel and entering through the back door of that cozy cafe to give a concert... it's like hosting a salon with friends in your own living room.
Over the course of your esteemed career you have played to audiences at such prestigious venues as The White House, Carnegie Hall, Yankee Stadium, Dodgers Stadium and Radio City Music Hall. What makes the Cafe Carlyle such a great room to play?
Being back in New York always feels like playing my home base, so I'm very comfortable at the Carlyle. The Cafe Carlyle, however, has a decades-long reputation for quality and elegance. Whenever you go there, you know you're going to get an experience that just simply can't be had almost anywhere else in the world anymore. I'm aware that I step onto a supper club stage to rekindle a rare and lush tradition of live music that has no parallel. Just as you'd hope to savor an excellent meal at a world-renowned restaurant, it's somewhat a meal of music at the Carlyle and I think everyone, the audience and the artist, thinks of the music there as something to be savored and focused on in a way that doesn't happen in almost any other performance setup.
Also how does it feel to be The Cafe Carlyle's favorite Valentine every year?
I was traveling on an American Airlines flight near the end of the year and was flipping through their in-flight magazine. There was a profile of the Cafe Carlyle, and I was mentioned as one of their star artists. I'm still excited to be invited back each year. I guess we're doing well together!
I understand this is a new show called Heart to Heart. What can you tell us about it?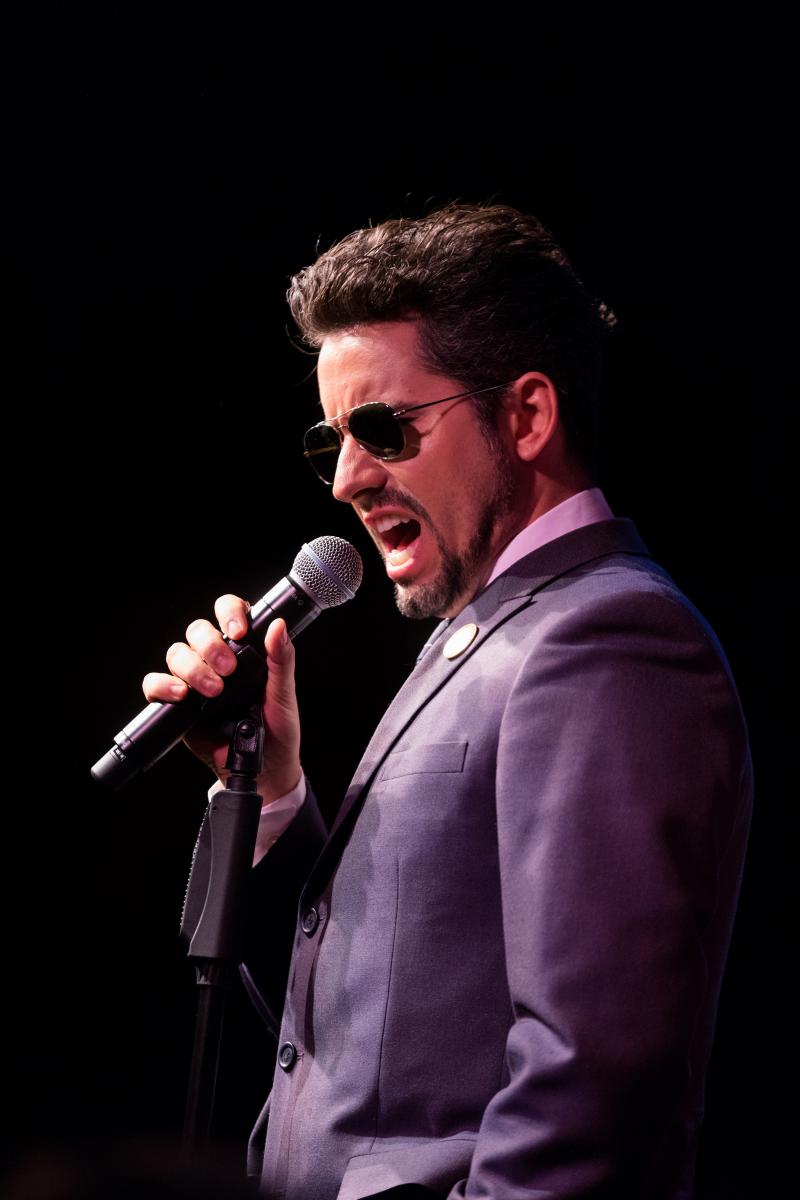 I've been learning through the years that the greatest moments in live performance are when I wear my heart on my sleeve and make a connection to people in real time. It was the most awkward part of evolving into this kind of performance, leaving behind the security of the actor's mask and just talking to people, either literally, or through the song. It takes a little more courage to be yourself, both for the audience and the performer. I'm expecting an authentic connection. I've been on the Carlyle stage enough times to know that the room itself makes that happen. You are bundled together closely in a room that seats only 90. I've chosen songs that help make that feeling happen- of taking a break from the treadmill of life and really coming together to take a collective breath. Maybe there will be moments of inspiration for both of us. But really, I'm happy to just take a breather to spend some time together enjoying great music.
You took Broadway by storm with playing Frankie Valli in the international hit musical Jersey Boys and you join a very select few actors in the entertainment industry that took their Tony-winning stage role to the big screen. What are your fondest memories of working with film director Clint Eastwood?
Eastwood listens. There is no greater respect accorded to someone on my side of the business than to be allowed to be heard. He's not like so many people much farther down the totem pole- the "don't-you-know-who-the-hell-I-think-I-am?" contingent. Eastwood says "a good idea is a good idea, even if it comes from the janitor." He moves fast. Sometimes you're on to the next thing before you feel you've nailed it. But if you ask him for a moment, he'll give you his time. He taught me how to drive a "three on the tree" stick shift for a stunt scene where I had to drive a car through a window. We drove around the Warner Bros back lot until I could do it. The crew waited. That was a father/son kind of moment, pretty cool. He also has the best on-set catering in Hollywood.
In 2013, you were appointed by Barack Obama to the President's Committee on the Arts and Humanities. How big of a pinch-me moment was that?
It's heady to take the same oath as the President from a sitting Justice. (I was sworn in at the Supreme Court by Elena Kagan). When you're promising to "protect the Constitution from enemies foreign and domestic." It's not play acting. My colleagues and I took the oath seriously, in the sense that you do what is in your power to protect our liberties. As artists, we promoted our Constitution by acting as delegates to the only official U.S. Cultural Mission to Cuba so far in US History. I think we took that oath to protect our Constitution from domestic enemies almost literally when those of us who remained under Trump resigned en masse after the debacle at Charlottesville. I was astonished to see how ironically that oath I took at the behest of the last President, seemed to require me to resign in protest the current one.
Over the past year you have been treading the boards again and you received terrific notices for your performance as Tom in the Tennessee Williams classic The Glass Menagerie. What did you enjoy the most about taking on that iconic role?
I was a Theatre Arts graduate from Brown University before I was known as a working-class Italian character with only an 8th grade education. What a thrill to return to roots and tread the stage in a classic, but also to be allowed to transform myself as much as I did to play Frankie, but this time in a direction most, except my friends and colleagues who knew me before Jersey Boys, would not have expected.
So finally, what are you looking forward to the most as you kick off your latest two week run at The Cafe Carlyle?
New York! I love it!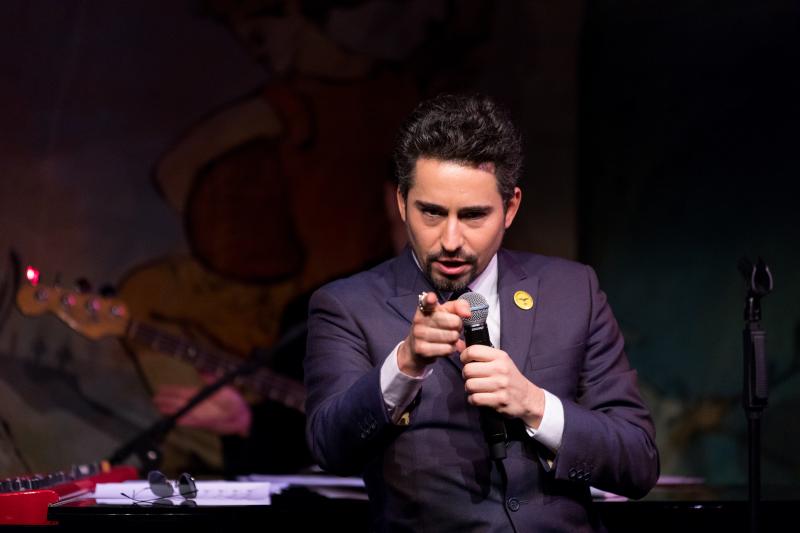 ---
Performances will take place Tuesday - Saturday at 8:45pm. Weekday pricing begins at $90 per person / Bar Seating: $60 / Premium Seating: $140; Weekend pricing begins at $110 per person / Bar Seating: $75 / Premium Seating: $160. A special Valentine's Day show includes a four-course prix fixe dinner. Valentine's Day pricing begins at $265 per person / Bar Seating: $75 (bar seating does not include dinner) / Premium Seating: $315. Reservations can be made by phone at 212.744.1600 or online via Ticketweb. Café Carlyle is located in The Carlyle, A Rosewood Hotel (35 East 76th Street, at Madison Avenue).
Photo Credit: David Andrako