BWW Feature: MOZART IN THE JUNGLE at National Sawdust - An Evening of Humanity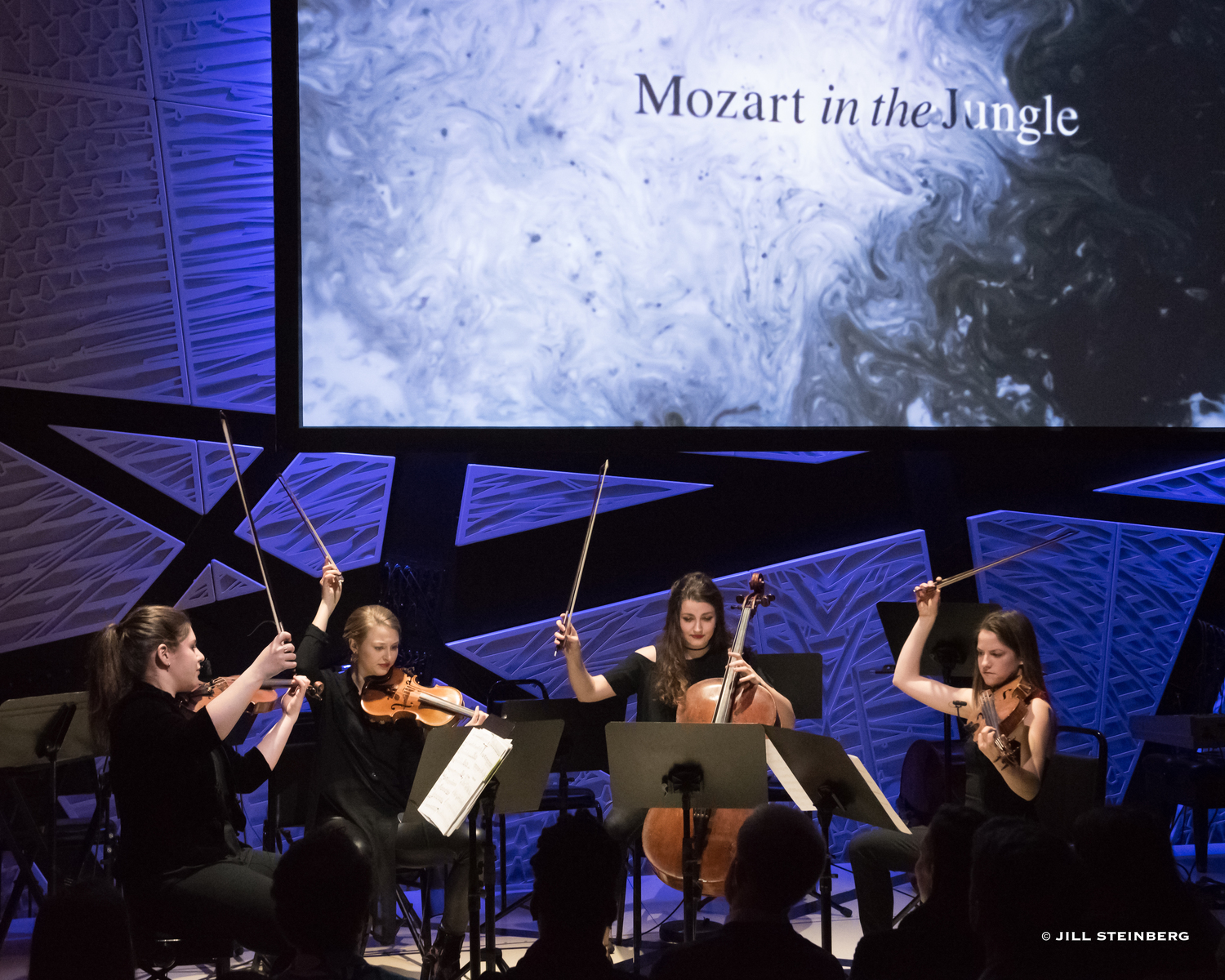 "...your job is to not give a sh*t and concentrate on the music."
It's the line of dialogue that screamed with resounding resonance from the trailer of the upcoming season of Mozart in the Jungle, premiering on Amazon this Friday, February 16th.
It made me think. On the macro-level, this text isn't just about music - it's about life. Our job is to not give a sh*t and concentrate on the (fill in the blank). Yes, you. This is the impetus for change. This impregnates us with success. But Mozart takes this one step further when you start digging down to the micro-level. They're asserting that, yes, while our job is to focus on giving less sh*ts, and concentrate solely and completely on what matters - the task at hand - it's also about the strength of music and how this art form has the power to pull is through whatever we're dealing with. Specifically, classical music. Show runner and executive producer, Will Graham, said it best:
"This show is about what art can do for your life and the world."
It's this thinking that will propel the integration of classical music into our everyday life, and once everyone can internalize the point of view Graham so succinctly asserted, "classical music is just music," they will realize its transcendent power. To say that one doesn't like classical music is ignorant. The sentiment ignores the fundamental, defining differences within the genre. This thinking would assume that Beethoven sounds like Berg, or Caroline Shaw like Handel, Puccini like Glass. It doesn't make sense. It would be the same as writing off swaths of popular music with limited knowledge of the cannon. Not all popular music is compositionally elementary, and neither are all singers woefully untalented. The same is true of painting, sculpture, performance art. In fact, it's akin to the ever so popular 'no fats, no Asians, no fems' on modern dating profiles. As human beings, we create these giant buckets, lumping in anything that feels remotely related, to make us feel safe. It makes it easier for us to understand heavily nuanced issues - but it's ignorant. Mozart in the Jungle is doing their part in splitting this notion wide open and now it's our turn to run with it.
Last night, National Sawdust+'s MITJ Season 4 Release Party and Concert helped to look under the hood and shine a light onto this nuanced narrative. The evening was chock full of artists featured in the upcoming season and teased for big things to come. Laura Karpman, who creates a 'STOMP meets Beethoven' moment in season four, had two compositions featured. This woman's musical language is so cinematic and exacting that it stuns, leaves the audience with vivid imagery emblazoned on their mind's eye. Her aural and multimedia depiction of a specific stretch of the 110-highway made me never want to drive again - much less live in LA. The visual-musical marriage was an immersive experience - one that had me on-guard, looking both ways before I crossed the street, even this morning.
The rest of the evening featured evocative pieces from Missy Mazzoli, Nico Muhly, Paola Prestini and Caroline Shaw with stunning performances by Quartet 63, Susanna Phillips, Ian Rosenbaum, and Jeffrey Zeigler. National Sawdust is at the forefront of classical programming, pushing the charge to awaken our awareness of the innate underpinning of music within our fallible humanity. Bravi!
In theme, life's abundant, beautiful accidents were in attendance last night. During one of Caroline Shaw's effortlessly gorgeous compositional masterworks, the violinist attached the microphone too closely to her nose. Having rarely used a microphone that clipped to her instrument, the mistake was understandable. But, for the entirety of the performance, you could hear her breath being used to direct the ensemble. Instead of serving as a distraction, it grounded the performance, allowing me to 'concentrate on the music' and remind me of why we are affected by it. Music is intrinsically part of the compositional fabric of our makeup, our natural rhythm, tied, quite literally, to the reason we're alive. This moment highlighted humanity - the humanity in living, in art, and in our world.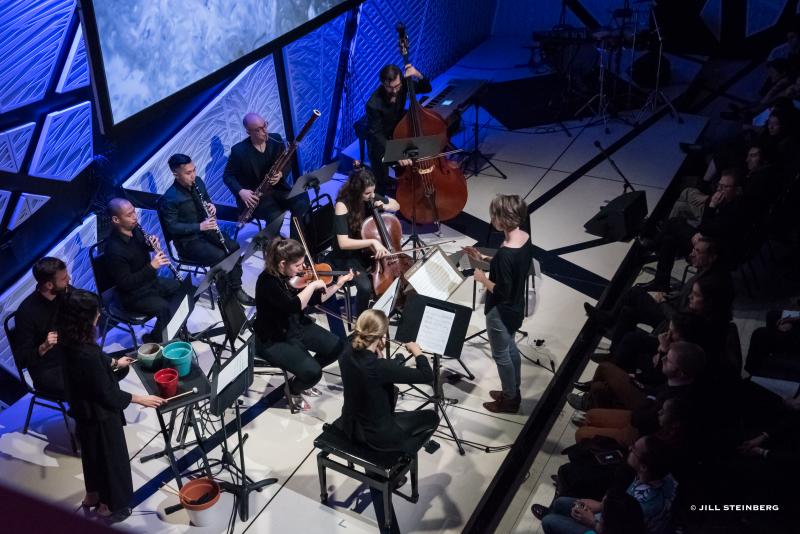 At the end of an evening akin to a flourless chocolate cake, saturated with delightfully dense cultural and compositional moments, the audience intoned a unison Bb to accompany the final piece. The experience left the room with a feeling that maybe, just maybe, even though the world is kind of crappy right now, together we can, "...not give a sh*t and concentrate on the music." And in doing so, we might just come out of this ok.
Be sure to stay tuned for upcoming National Sawdust+ programming as they continue to do their part, strengthening the conversation.
Photo Credit: Jill Steinberg