Click Here for More Articles on 2020 AWARDS SEASON
BWW Exclusive: Behind the Numbers of Tony-Winning Broadway Debuts

This year's Tony nominations, announced earlier this month, brought a slew of renowned names. Performers such as Kevin Kline (PRESENT LAUGHTER), Nathan Lane (THE FRONT PAGE) and Patti LuPone (WAR PAINT) are no strangers to Tony nominations, let alone taking home the trophy.
For a handful of nominees, however, the 2016-17 season brought not only their first Tony nomination, but also their first time appearing under the lights of Broadway.
This season, six performers are nominated for their Broadway debuts: Denis Arndt (HEISENBERG), Denée Benton (NATASHA, PIERRE & THE GREAT COMET OF 1812), Cate Blanchett (THE PRESENT), Danny DeVito (THE PRICE), Josh Groban (NATASHA, PIERRE & THE GREAT COMET OF 1812) and Eva Noblezada (MISS SAIGON). In honor of these acclaimed performances, we looked back at the Tony-winning Broadway debuts of the past 70 years.
---
Since the inaugural Tony Awards in 1947, 560 performers have been awarded Tonys in the leading and featured categories for both plays and musicals. For 88 of these actors and actresses (just over 15 percent), the awards commemorated their Broadway debuts.
This number does not include June Lockhart and James Whitmore, who in 1948, both won the Best Newcomer award for their performances in FOR LOVE OR MONEY and COMMAND DECISION, respectively. This award, reserved for individuals new to the Broadway stage, was awarded for the first and last time at the second Tony Awards.
---
2010 is the year with the highest number of newcomers; of its eight winning performers, five were making their Broadway debuts:
Scarlett Johansson, Featured Actress in a Play, A VIEW FROM THE BRIDGE
Levi Kreis, Featured Actor in a Play, MILLION DOLLAR QUARTET
Douglas Hodge, Leading Actor in a Musical, LA CAGE AUX FOLLES
Catherine Zeta-Jones, Leading Actress in a Musical, A LITTLE NIGHT MUSIC
Eddie Redmayne, Featured Actor in a Play, RED
---
Of the 88 performers who have won in their Broadway debuts, 69 appeared in new works, while only 19 were in revivals. In recent years, however, these numbers are much more even; since 2000, 15 have come from originals, and 14 from revivals.
In addition, nearly half of all debut winners have come from new plays. The next largest category is new musicals, accounting for 29 winners, followed by revivals of plays and revivals of musicals, holding only 10 and nine winners, respectively.
---
Excluding the newcomer award of 1948, there are eight categories in which performers can win: Leading Actor in a Play, Leading Actress in a Play, Leading Actor in a Musical, Leading Actress in a Musical, Featured Actor in a Play, Featured Actress in a Play, Featured Actor in a Musical and Featured Actress in a Musical.
The category with the most Broadway debut wins is Featured Actor in a Play (17), while the category with the fewest is Leading Actress in a Musical (7).
---
In 2009, the award for Best Leading Actor in a Musical was shared by David Alvarez, Trent Kowalik and Kiril Kulish for their performances as the title character in BILLY ELLIOT. All three made their Broadway debuts as Billy.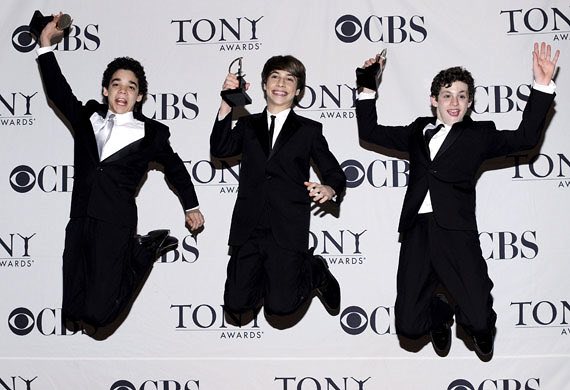 ---
10 performers, after winning for their Broadway debuts, went on to win subsequent acting Tonys:
1958: Anne Bancroft (TWO FOR THE SEESAW) won again in 1960 for THE MIRACLE WORKER.
1965: Liza Minnelli (FLORA, THE RED MENACE) won again in 1978 for THE ACT. Minnelli also earned a Special Tony Award in 1974.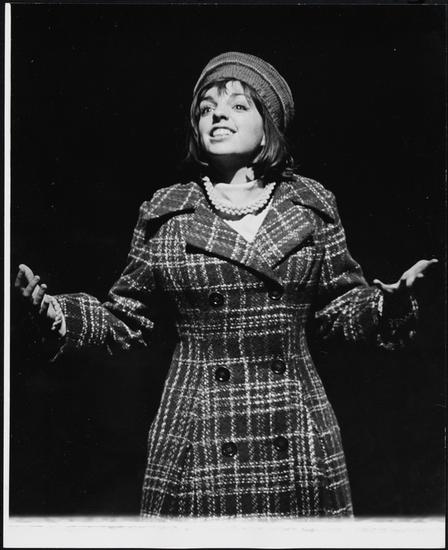 1969: Al Pacino (DOES A TIGER WEAR A NECKTIE) won again in 1977 for THE BASIC TRAINING OF PAVLO HUMMEL.
1973: John Lithgow (THE CHANGING ROOM) won again in 2002 for SWEET SMELL OF SUCCESS.
1983: Harvey Fierstein (TORCH SONG TRILOGY) won again in 2003 for HAIRSPRAY. Fierstein's TORCH SONG TRILOGY also took home the Best Play award in 1983, and Fierstein was awarded the Best Book of a Musical award in 1984 for LA CAGE AUX FOLLES.
1983: Matthew Broderick (BRIGHTON BEACH MEMOIRS) won again in 1995 for HOW TO SUCCESS IN BUSINESS WITHOUT REALLY TRYING.
1989: Boyd Gaines (THE HEIDI CHRONICLES) won again in 1994 for SHE LOVES ME, in 2000 for CONTACT and in 2008 for GYPSY.
1993: Stephen Spinella (ANGELS IN AMERICA: MILLENIUM APPROACHES) won again in 1994 for ANGELS IN AMERICA: PERESTROIKA.
2000: Jennifer Ehle (THE REAL THING) won again in 2007 for THE COAST OF UTOPIA. Ehle is nominated again this year for her performance in OSLO.
2008: Mark Rylance (BOEING-BOEING) won again in 2011 for JERUSALEM, and in 2014 for TWELFTH NIGHT.
---
To see if Arndt, Benton, Blanchett, DeVito, Groban and Noblezada join the ranks of Tony-winning Broadway debuts, tune in to the 71st Annual Tony Awards on CBS on Sunday, June 11, 2017, 8 p.m. EST.
Related Articles