Andy Blankenbuehler Talks Making His Ballet Choreography Debut With the Tulsa Ballet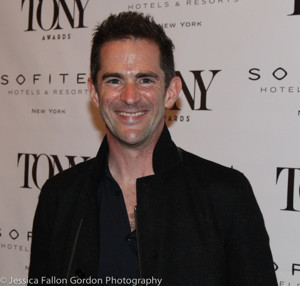 Andy Blankenbuehler may be best known for his work on Broadway, most famously choreographing Hamilton, as well as Cats, Bandstand, and more.
However, according to the Tulsa World, Blankenbuehler is gearing up to take on something completely new to him: choreographing a ballet. He is working with the Tulsa Ballet on a project that will have its world premiere as part of the company's "Signature Series" performance in May.
"One thing about working dancers such as these is that they are used to creating these beautiful images on stage," Blankenbuehler told the Tulsa World. "But for the piece I'm doing, they're creating pictures that are a little too pretty. So I'm trying to dirty things up a bit, and in the end, I think we'll end up with a better piece of choreography."
Tulsa Ballet Artistic Director Marcello Angelini said that he wanted to introduce someone who was "very successful on Broadway who would be trying his hand at working in ballet for the first time."
"I wanted to see what happens if you mix the technique and purity of shapes of classical ballet dancers with the energy, attack, passion and movement value of Broadway dancers," Angelini said.
Blankenbuehler's ballet is set during World War II, something he has experience with, as the last Broadway show he worked on was Bandstand.
However, he said the process of working on a ballet is much different from Broadway.
"I don't have the luxury of words," he said. "Or elaborate scenery, costumes, a plot. Usually, I would work with the composer and the lyricist to create dances that would fit a fairly well-established vision. Here, you're pretty much starting from nothing."
Read more on Tulsa World.
Andy Blankenbuehler won the 2016 and 2017 Tony Awards for Best Choreography for Hamilton and Bandstand. respectively Mr. Blankenbuehler won a 2008 Tony Award for his choreography in the Tony Award winning Best Musical In The Heights (also Lortel Award, Outer Critics Award and Drama Desk Award for Outstanding Choreography). He also choreographed the Broadway revivals of The Apple Tree and Cats.