Amas Musical Theatre to Present BREAD AND ROSES A New Musical as Part of the Dare to Be Different Series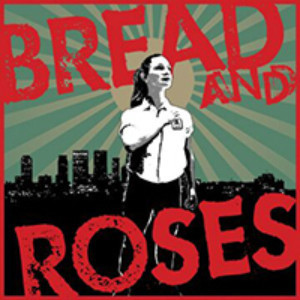 Amas Musical Theatre (Donna Trinkoff, Artistic Producer) will present Bread and Roses, with book & lyrics by Jill Abramovitz and music by Brad Alexander, the third and final offering of Dare To Be Different, the previously announced series of new musicals and one-night only special events being held at A.R.T./New York Theatres (502 West 53rd Street - 10th Avenue & 53rd Street). The three performances will be held on Thursday, December 14 at 3pm & 7pm and on Friday, December 15 @ 3pm. For tickets please call (212) 352-3101 or visit www.amasmusical.org.
Maya is a 25-year old undocumented Mexican woman who crosses the US border to work with her sister Rosa cleaning Office Building 646 in downtown L.A. Witnessing firsthand the corruption and abusive working conditions, Maya joins Sam from Justice for Janitors in an attempt to unionize the workers. Alliances are formed, backs are stabbed, and the sisters' relationship is brought to the brink. Inspired by true events, Bread and Roses asks: must the American dream come at the cost of human dignity?
Directed by Melissa Crespo (¡Figaro! (90210) with music direction by Meg Zervoulis (Mean Girls) and musical supervision by Alexander Gemignani (Sweeney Todd: The Demon Barber of Fleet Street), the cast of Bread and Roses will feature Blanca Carmacho (In the Heights), Richard R. Henry (Fiorello! - Encores), Miguel Jarquin-Moreland (Jersey Boys), Andrea Jones-Sojola (Porgy and Bess), Michelle Lauto (Spamilton), Cedric Leiba, Jr. (Miss Saigon), Travis Mitchell (Rock of Ages), Diomargy Nuñez (The Realness), Nick Rehberger (Fiddler on the Roof) Desiree Rodriguez ("Orange is the New Black"), Jennifer Sanchez (Sunday in the Park with George), Martín Solá (Man of La Mancha), Forest Van Dyke (Cadaver Synod - NYMF) and Jessica Vosk (Wicked). Danielle Thomsen is the Stage Manager. Bread and Roses is sponsored by James White.
"With the current negative climate directed at documented and undocumented immigrants in America, sadly this story remains as timely as ever," says Artistic Producer Donna Trinkoff. "There are so many immigrants in our country who are making real contributions to our economy and to the culture they cannot be discounted. Unfortunately, exploitation or these workers is part of this territory and needs to be addressed."
"For 49 years, Amas has been a pioneer in multi-ethnic casting and has been devoted to the creation, development and professional production of new American musicals through the celebration of diversity and minority perspectives, and the emergence of new artistic talent," says Ms. Trinkoff. "We wanted to present a series featuring new musicals being developed in our Lab and special one night events that explore the stories of people who dared to be different: the slave who stole a gunship from under the nose of the Confederate army; Hollywood's sepia goddess- the first black woman to be nominated for an Oscar; the Mexican immigrant who fought to unionize building janitors. And to give our audiences the chance to get in at the ground floor in the development process of our talent artists in an intimate and up-close and personal setting."
Tickets for Bread and Roses are $20. Become an "Amas49er" member to receive a 50% discount. For tickets please call (212) 352-3101 or visit the brand new Amas web site at www.amasmusical.org.
Jill Abramovitz (Book & Lyrcics) A contributing lyricist on Broadway's It Shoulda Been You, Jill also wrote lyrics for TheatreworksUSA's Martha Speaks (book by Kevin DelAguila, music by Brad Alexander). She is the lyricist/co-bookwriter of The Dogs of Pripyat with composer, Aron Accurso and co-bookwriter, Leah Napolin (Weston Playhouse New Musical Award, Jerry Bock Award, NAMT 2011 and Goodspeed's Festival of New Artists 2012). Jill is a past Dramatist Guild Fellow, a Harrington Award winner in the BMI Advanced Workshop, and a current member of the MTF writer's workshop, where she's developing a new show with Brad Alexander and playwright Erik Jackson. She's also a Broadway actress, most recently seen as Grandma Tzeitel in the latest revival of Fiddler on the Roof. Jillaonline.com
Brad Alexander (Music) is the composer of See Rock City & Other Destinations (book and lyrics by Adam Mathias), Drama Desk Award-winner, Outstanding Book of a Musical. He wrote the music for TheatreworksUSA's Click, Clack, Moo (Drama Desk, Lortel nom), Just So Stories, Martha Speaks and songs for Duck For President, Fly Guy, We The People (Lortel nom). Brad's TV scoring credits include five episodes of PBS's Emmy Award-winning Peg + Cat and VH1's "Celebreality" campaign. Currently he's developing a new show in Musical Theatre Factory with Jill Abramovitz and Erik Jackson. He is a member of NAMT, The Dramatists Guild and BMI Workshop. bradalexander.com
Melissa Crespo (Director) is a NYC based director of theater, opera, film and television with a focus on new work. Melissa is most known for Vid Guerrerio's ¡Figaro! (90210), a modern-day adaptation of Mozart's The Marriage of Figaro which had its world premiere at LA Opera and ran Off-Broadway at The Duke. Other Credits: Karen Zacarías' Destiny of Desire (NSKI in Norway); Tar Baby written and performed by Desiree Burch with Dan Kitrosser (NYC, London, New Zealand, Finland and Edinburgh Fringe Festival, winner Scotsman Fringe First); 2015 and 2017 ABC Talent Showcase. Melissa has served as the Allen Lee Hughes Directing Fellow at Arena Stage, Van Lier Directing Fellow at Second Stage Theatre, a member of The Civilian's R&D Group, and is a Drama League Directing Fellow. She is currently a Usual Suspect at New York Theatre Workshop and a Lab Member at The Women's Project. MFA in Directing from The New School for Drama. Contact: Alexis Williams, Bret Adams Ltd. http://melissacrespo.com
Amas Musical Theatre (Donna Trinkoff, Artistic Producer) now in its 49th year of continuous operation is New York City's award-winning pioneer in diversity and multi-ethnic casting in the performing arts since 1968. Amas ("you love" in Latin) is devoted to the creation, development and professional production of new American musicals through the celebration of diversity and minority perspectives, the emergence of new artistic talent, and the training and encouragement of underserved young people in the New York area. In recent years, Amas has emerged as a leading not-for-profit laboratory for new musicals, the most recent being Broadway and the Bard, starring Len Cariou and Red Eye of Love, which was awarded the Joseph A. Callaway Award for Outstanding Choreography. Its production of The Other Josh Cohen received six 2013 Drama Desk nominations including Outstanding Musical, a 2013 Lucille Lortel nomination for Outstanding Musical, and a 2013 Off-Broadway Alliance nomination for Best New Musical. Other shows that Amas has developed include Play it by Heart, A Taste of Chocolate, Triassic Parq, The Countess of Storyville, Distant Thunder, Marry Harry, Me and Miss Monroe, Aesop & Company, Signs of Life, Wanda's World, Shout! The Mod Musical, Lone Star Love, From My Hometown, Zanna, Don't!, 4 Guys Named Jose and Stormy Weather: Reimagining Lena Horne. Amas education programs include the Rosetta LeNoire Musical Theatre Academy, Lens on Live Theatre and in-school theatre arts residencies designed in partnership with elementary, middle, and high schools.
The A.R.T./New York Theatres are a project of the Alliance of Resident Theatres/New York (A.R.T./New York), which provide state-of-the-art, accessible venues at subsidized rental rates, plus free access to top-line technical equipment, so that the city's small and emerging theatre companies can continue to experiment, grow, and produce new works. Founded in 1972, A.R.T./New York is the leading service and advocacy organization for New York City's 375+ nonprofit theatres, with a mission to assist member theatres in managing their companies effectively so that they may realize their rich artistic visions and serve their diverse audiences well. We accomplish this through a comprehensive roster of real estate, financial, educational, and community-building programs, as well as research, advocacy, and field-wide initiatives that seek to improve the long-term health and sustainability of the industry. Over the years, A.R.T./New York has received numerous honors, including an Obie Award, an Innovative Theatre Award, a New York City Mayor's Award for Arts & Culture, and a Tony Honor for Excellence in the Theatre. For more information, please visit www.art-newyork.org.
Related Articles

More Hot Stories For You