Talawa Unveils Plans For New Hub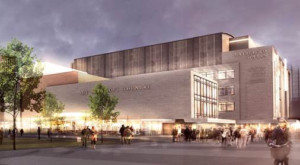 Talawa Theatre Company is to take up residence within the redeveloped Fairfield Halls in Croydon, giving the UK's primary Black theatre company a 200 seat studio and offices. This will be the first time since 1995 that Talawa's headquarters will feature an on-site performance space. The new spaces, opening to the public on 16 September 2019, will operate as a central hub for Black artists, develop a community outreach programme, and allow the company to create, develop and premiere new work.
Fairfield Halls - South London's largest Arts Centre - will reopen after a multi-million-pound redevelopment to transform it into a state-of-the-art venue in the heart of the Croydon community. Originally opened in 1962 as an arts and entertainment space, Fairfield Halls closed in July 2016 for the redevelopment.
Besides providing a space for Talawa's artist development programme MAKE, the new residency will create opportunities to train young Black artists in technical and creative theatre disciplines, suited to Croydon's status as the London borough with the largest youth population, working in partnership with organisations in the borough and nationally.
In addition to premiering and developing new work, Talawa Theatre Company will use the studio as a space to research & develop new ideas, and create a programme of activities, debates and events aimed at Croydon's diverse community.
Talawa Theatre Company is currently based in Rich Mix, in Shoreditch, having previously based their headquarters for 10 years near Old Street. From 1991-1995, Talawa based their offices at the Cochrane Theatre.
Programming plans for the studio will be announced in Autumn 2019.
Michael Buffong, Artistic Director of Talawa Theatre Company, said: "For Talawa, this building provides a home for Black artists, enabling them to make outstanding work which will truly diversify and shape the cultural life of the whole country."

Neil Chandler, BH Live's Venue Director of Fairfield Halls, said: "After several months of discussions I am delighted that we have encouraged one of the top theatre companies into Croydon. To welcome Talawa into the refurbished and relaunched Fairfield Halls, South London's arts centre, is a fantastic accolade for the venue. Our combined commitment to aspiring young artists, the borough of Croydon and inspirational programming will no doubt make for some exciting projects in the years ahead."
Councillor Oliver Lewis, cabinet member for culture, leisure and sport, said: "We are absolutely delighted to welcome Talawa and incredibly proud that they have chosen Croydon as their new home. Their vision and ambition in changing the face of theatre, attracting diverse audiences and creating platforms for the work of Black artists, is internationally renowned, and we are excited by the conversations we have already had with them about the potential for them being based here. Our multi-million pound investment transforms Fairfield Halls into world-class arts centre, putting culture at the heart of our regeneration and creating a wealth of new opportunities for our communities to access the arts. Talawa recognise and share our ambition, and we very much look forward to working with them as we make this become a reality."
Talawa Theatre Company is the most successful Black theatre company in the UK. They have established a track record of producing work which shines a spotlight on Black artists, creating theatre for diverse audiences across the country. Mounting more than fifty productions over their 30-year history, their current co-production, Superhoe by Nicole Lecky, can be seen at the Royal Court until the 16th February. Other recent productions have included collaborations with the Royal Exchange; Guys & Dolls, King Lear (in association with Birmingham Repertory Theatre) and All My Sons (Royal Exchange Theatre, UK tour), and new work including Girls by Theresa Ikoko (co-production with Soho Theatre, HighTide) and Half Breed by Natasha Marshall (co-production with Soho Theatre).