Photos: First Look at the Closing Production of Hoxton Hall's Season, FEMALE PART SHORTS
Female Parts Shorts: A Woman Alone, The Immigrant and A Mother is a collection of short plays directed by Karena Johnson, Artistic Director of Hoxton Hall. Johnson directs Gehane Strehler in A Woman Alone, Clare Perkins in The Immigrant and Rebecca Saire in A Mother. The three monologues are performed in sequence, opening on Thursday 15 March, with previews from Tuesday 13 March, running until Saturday 31 March.
Check out a first look at photos from the evening below!
A Woman Alone By Franca Rame and Dario Fo
In a translation by Gillian Hanna
Directed by Karena Johnson; Design by Libby Watson; Lighting Design by Sherry Coenen
A hilarious tragic farce about a Turkish London housewife imprisoned in her own home by her 'loving' husband who incessantly calls her throughout the day to check on her. With no company except that of her injured, hand-wandering brother-in-law, she begins to make friends with the next door neighbour.
As she talks to her neighbour through the window, she suddenly comes to realisation her life isn't as perfect as she thought, and that loving husband of hers is a pig like the rest of them.
A Woman Alone is a comedy that makes serious commentary on freedom, misogyny and power.
Gehane Strehler plays Zehra. Her theatre credits include La Fille à la Mode (National Theatre, Barbican & Theatre Royal Haymarket), Romeo & Juliet, Twelfth Night (International tour) St Joan (Bedlam Theatre, Edinburgh), Seance On A Sunday Afternoon (Nottingham Lakeside), Mirad The Boy From Bosnia (Bristol Old Vic), Sahar Speaks (Theatre 503), Operation Magic Carpet (Polka Theatre), Red Fortress (Unicorn Theatre), Burn My Heart (Trestle), The Slow Sword (Old Red Lion), 4:48 Psychosis (Arcola Theatre), My Mother Medea (York Theatre Royal) and Respect (Birmingham Rep). Her television credits include The Child in Time.
Female Parts Shorts: The Immigrant By OneNess Sankara
Directed by Karena Johnson; Design by Libby Watson; Lighting Design by Sherry Coenen
The Immigrant follows Amanda, a highly accomplished Caribbean woman and space pioneer in her field. Instead of being praised as a role model she is portrayed as ruthless career woman who abandoned her child in order to pursue her career goals.
The Immigrant explores the guilt of a working mother amplified by distance. As she ponders the emotional cost of her choices and the judgement she faces from outsiders.
OneNess Sankara is an award-winning singer, songwriter, lyricist, actress and director. She has performed at Glastonbury, Royal Festival Hall as well as on BBC, SKY and Choice FM. She has also performed as part of a poetry quartet, Best Kept Secret.
Clare Perkins plays Ama. Her theatre credits include Daisy Pulls it Off (Park Theatre), Three Mothers (Waterloo East), Primetime (Royal Court), Roundelay (Southwark Playhouse), The Convert (Gate Theatre), Removal Men (Yard Theatre), Play On, Little Revolution (Almeida Theatre), The Curious Incident of the Dog in the Night-Time (National Theatre, UK tour), The House that Will Not Stand, How Long is Never? Darfur- a Response, Fabulation (Tricycle Theatre), Welcome to Thebes (National Theatre), A Fag Burn in the Carpet (Kings Head Theatre), Our Country's Good, Cyrano De Bergerac (Nuffield Southampton Theatres), Generations of the Dead (Young Vic) and Ready or Not (Theatre Royal Stratford East). For television her credits include as series regular Ava Hartman in EastEnders, Denise Boulter in Family Affairs and Cathy Kelsey in Pig Heart Boy.
Female Parts Shorts: A Mother By Franca Rame and Dario Fo
In a translation by Ed Emery
Directed by Karena Johnson; Design by Libby Watson; Lighting Design by Sherry Coenen
Imagine you're at home, after a long day at work, having dinner, mindlessly watching TV. As your eyes glaze over you hear a voice from the newsreader saying, "terrorist captured", and the photo of the ruthless criminal flashes across your screen. Your heart suddenly stops as you realise that you know that ruthless criminal on your screen. Not only do you know him, he is your family member... even worse he's your son!
A Mother tells the story of woman who discovers her son is a terrorist by seeing him on the news. As she watches the news she contemplates her part in his fate - Where did she go wrong in raising him?
Rebecca Saire plays A Mother. For theatre her credits include The Crucible (The Old Vic), The Charity that Began at Home (Orange Tree Theatre), Four Dogs and a Bone (Etcetera Theatre), Private Lives (National Theatre), The Misanthrope (Piccadilly Theatre), Northanger Abbey (Greenwich Theatre), Travesties, A Jovial Crew, All's Well that Ends Well, School of Night and Hamlet (RSC). For television her credits include The Crown, A Taste for Death, Jeeves and Wooster, Vanity Fair, A.D. and Love in a Cold Climate. Her film credits include Their Finest and The Shooting Party.
Photo Credit: Sharron Wallace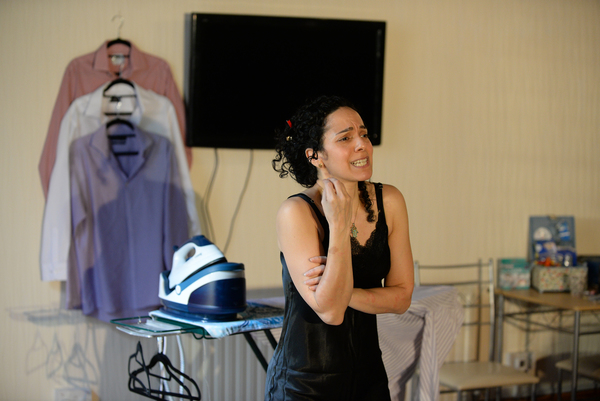 Gehane Strehler

Gehane Strehler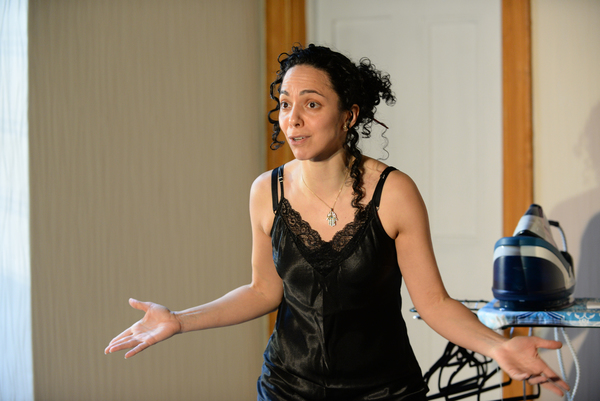 Gehane Strehler