Guest Blog: Actor Charles Aitken On BILLY BISHOP GOES TO WAR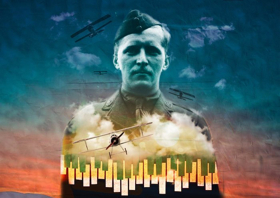 If my flat burned down in a fire, there's one object I would grab as I fled the building. It's a black and white portrait of nine young men dressed in uniform, staring at the camera from the dusty confines of a dugout.
This photograph, taken 14 years ago in my final year at RADA on the set of Journey's End, marked not just a turning point for me as an actor, but cemented my profound relationship with the First World War that endures to this day.
Prior to attending drama school, WWI was, for me, something to be studied in history - it lacked the extensive media and Hollywood treatments that have done so much to bring WWII to vivid life. The First World War still felt remote and unrelatable, and it wasn't helped by the preponderance of funny moustaches and pointy helmets.
But then, I discovered the poetry. Wilfred Owen. Siegfried Sassoon. Robert Graves. Suddenly, I could hear the voices of these innocent young men that were no older than me. The decades collapsed and I felt their lives rise up out of the pages of history. When I was cast in my final year as Captain Stanhope, I embarked on a journey that would change my life.
In preparation for the production, the entire cast travelled to Northern France to the town in which the play is set. We visited the haunting grave sites with so many white crosses dotting the rolling green fields. That evening, we went to a local bar and after a few drinks, one of our cast spontaneously broke out into the classic WWI marching song, "It's a Long Way to Tipperary".
What could have been a cringey moment of tipsy Brits abroad immediately morphed into something extraordinary. All the French locals in the bar - from the middle-aged husband and wife to the old boy at the bar to the teenagers slouched in the corner - joined in. They knew all the words, in English, to a song that clearly still resonated in the stones and the fields and towns almost a hundred years later. They sang.
The following day, with slightly foggy heads, we ventured out into a no-less foggy morning. Our destination was Thiepval and its monument to the missing dead from the battle of the Somme. We climbed the steps of the monument in silence, and as we neared the base of the towering, stone arch base we realised that there were inscriptions covering the vaulting stone columns.
They were names. Eighty thousand names. The names of every soldier who died in the Somme whose body had never even been recovered. And the first name I saw on that monument? Captain Stanhope.
The name and rank of my character in Journey's End.
I felt a chill run up my spine. The man had existed. A different man, but nevertheless, a man with his name. I felt an almost religious conviction surge through me that I must honour this real Stanhope with as honest and committed a performance as I could possibly muster.
From that moment onwards, I went deeper and worked harder as an actor than I ever had before. We all did. We felt the weight of responsibility to honour the names of those men lost on the fields of the Somme.
My performance in Journey's End resulted in interest from an agent, who has been my guide and my champion in this topsy-turvy profession ever since. Over the past 14 years as a professional actor I have returned time and time again to World War I as a source of inspiration: Pat Barker's Regeneration trilogy was a way into Poor Tom's madness in King Lear, Otto Dix's stomach-churning illustrations of trench life was a way to explore the post-war life of a PTSD-afflicted soldier in the final episode of Foyles War.
The imagery, words, and lives of the men that endured that conflict have moved, inspired, and transformed me as an actor and a person.
To be playing Billy Bishop on the eve of the hundredth anniversary of Armistice Day is an incredible honour. I feel the same chill and thrill of responsibility that I felt 14 years ago that misty morning at the foot of a monument in Northern France.
With this production, I hope to celebrate Bishop and the countless brave men like him. To bring them out of the dusty pages of history and make them briefly live again in all their humanity, all their beauty and ugliness, in all their virtues and their vices, all their strengths and their weaknesses. For the two hours that I'm on stage I hope to gain the tiniest insight and perception into who Billy Bishop was, how he loved, and what he sacrificed for us.
And if I can share that insight, that spark of life with the audience, then I will have done Billy and Captain Stanhope and all those men memorialised in stone a small bit of justice. And I will have given them what we all owe them on this hundredth anniversary of the end of the most tragically wasteful war in human history.
Billy Bishop Goes To War at Jermyn Street Theatre 31 October-24 November