Review: THE TEMPEST, Barbican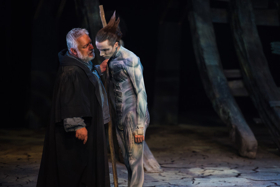 It's a brave new world for the RSC, collaborating with Intel and Andy Serkis's Imaginarium Studios on a notably high-tech Tempest. But, for all the computer-generated trickery, it's the human experience and rough magic of theatre that really impress in Gregory Doran's production, now playing at the Barbican.
Doran declares the masques of Shakespeare's day "multimedia events" in a programme note, thus the decision to apply the latest technology to the play to find the 21st-century equivalent of that ambition and innovation. His Ariel doesn't just appear physically on stage, but - through the use of a motion capture suit - is also projected on giant screens, flying and shapeshifting at will.
It's visually arresting, but the indistinct edges of the projected figure mean details of the excellent Mark Quartley's performance are lost. The effect works best for grand extremes, like Ariel transforming into a giant winged harpy, otherwise Quartley's actual form is far more compelling: lithe, balletic, dignified and watchful, skin-tight suit showing every sinew of his otherworldly physicality, his face a controlled mask that occasionally blooms into fierce passion.
His interactions with Simon Russell Beale's Prospero are most satisfying when staged simply. Beale's exquisite delivery ably evokes the tree where Ariel was imprisoned by Sycorax - a visual rendering is unnecessary - while Quartley's gentle "Do you love me, master?", met by tears from a Prospero anticipating yet another loss as he sees his daughter married, is far more stirring than the projected animations.
Beale's is essentially a kindly Prospero; in what looks like an academic gown, he's more scholar than ruler, and seeing his former foes arouses sadness rather than rancour. Yet there is extraordinary power in the grace of his forgiveness and gift of reconciliation, hard won by an emotionally articulate Beale: that's the real wonder of this production.
There are strong performances throughout Doran's fine cast: Jenny Rainsford's naturally shrewd yet endearingly eager Miranda; Daniel Easton's initially pompous Ferdinand, employing the loud, patronising voice of an Englishman abroad addressing the natives; and Joseph Mydell's benevolent advisor.
Especially good is the fumbling trio of James Hayes's amusing drunkard Stephano, Simon Trinder's vaudevillian clown Trinculo, and Joe Dixon's abject, anthropod-like Caliban - external spine, hunched over a potbelly and garlanded with a fish. Along with a rather buffoonish would-be assassin in Tom Turner's Sebastian, the corruptibility of men is here mainly a source of comedy, if not pity.
The semi-camouflaged spirits, who really do seem a part of this charmed island, are very effective (great movement throughout from Lucy Cullingford), as well as enjoyably mischievous, contributing to a production characterised by log-based humour.
Paul Englishby's music is pleasant but sometimes overstays its welcome, particularly in a lengthy operatic masque backed by technicolour projections that have the generic quality of a computer screensaver. But the opening tempest is genuinely thrilling, thanks to Simon Spencer's lighting, Jeremy Dunn and Andrews Franks's sound, and Finn Ross's video that makes the ship seem to sway alarmingly.
That ship fills the Barbican stage (no mean feat) in Stephen Brimson Lewis's epic design: a cracked-open cross-section that also resembles the wood of the island or an eerie fossilised skeleton.
Ultimately, the foray into new tech feels somewhat superfluous, and detracts from theatre real's power to fire up the imagination. But the sterling company, led by an infinitely compassionate and intelligent Shakespearean in Beale, still makes this a thoroughly enchanting outing.
The Tempest at the Barbican until 18 August
Photo credit: Topher McGrillis, RSC