BWW Review: RULES FOR LIVING, Royal and Derngate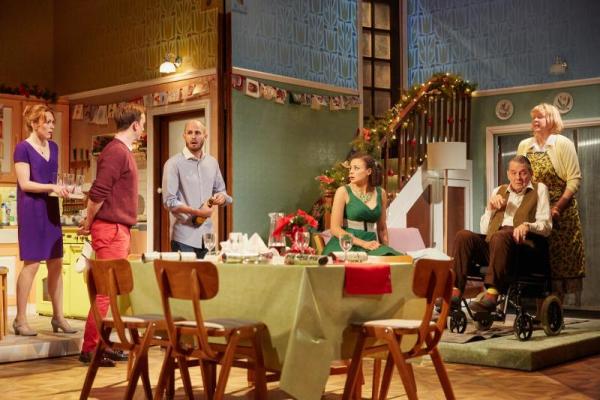 It's a situation most of us will have been in at some point: taking someone new home for family Christmas or going to someone else's family for the big day for the first time. Every family has different rules and different traditions that can be a minefield to navigate, and we all have our own rules that govern our behaviour too.
That's the basis for Sam Holcroft's dark comedy, Rules for Living, which had an acclaimed run at the National Theatre in 2015, and now has its regional premiere at Royal and Derngate in Northampton before a national tour.
It's Christmas Day and the family is assembling. Matthew has brought his girlfriend Carrie, Adam and his wife Nicole are there but their daughter Emma is in bed upstairs. Edith has everything planned out with military precision so that it's perfect for when her husband arrives from hospital. They're all following the rules they have created to cope with life to try and get through the day.
The difference between your family Christmas and this one is that the rules this lot are following are projected on the roof of Lily Arnold's doll's house-esque set, lighting up like categories on a game show as each character falls back on their coping mechanism. Carrie-the-actress has to stand up to tell jokes, Matthew has to sit down to lie.
What starts off as merely character quirks escalate as the rules get more complicated, the stakes get higher and secrets and tensions bubble to the surface until everything implodes. Or should that be explodes. It's dark, it's funny and it'll have you curling up in embarrassment as each character hurtles inexorably towards disaster.
It's hard to pick out which part is the most fun to watch: the brothers who have been played off against each other for their entire lives and now have no other way to deal with each other but bicker, their mum who will do anything to avoid answering questions about her husband while mainlining over-the-counter medicine, Carrie and the brother that she's married to or the one she's been moaning to about her marriage.
The first half sets all this up, culminating in Paul Shelley's Francis finally being wheeled in, and then after the interval it all just unravels. I thought that there was perhaps a little too much set-up for the amount of pay-off, but without the layers from the first half, the second would just have felt like meanness and slapstick. I'm not sure I'd want to spend any amount of time with any of them, but it's hard to take your eyes off the trainwreck.
Ed Hughes juggles accents with aplomb as he turns Adam into a ball of suppressed rage and frustration, while Laura Rogers' Nicole starts as subtly angry before becoming an incredibly entertaining drunk.
As Matthew, Jolyon Coy is all desperate yearning - for his girlfriend to tone down her schtick, for a peaceful life, and for things he can't have. I found Carlyss Peer's Carrie incredibly grating - but I think that was the point, as her final exit is masterly.
It might be a bit early in the year to be thinking about Christmas, but in director Simon Godwin's hands Rules for Living made me laugh, as well as reassuring me that really my family is not too bad at all!
Rules for Living is at Royal and Derngate until 30 September and then touring.
Photo credit: Mark Douet
Related Articles View More UK / West End

Stories

Shows