BWW Review: GISELLE, Royal Opera House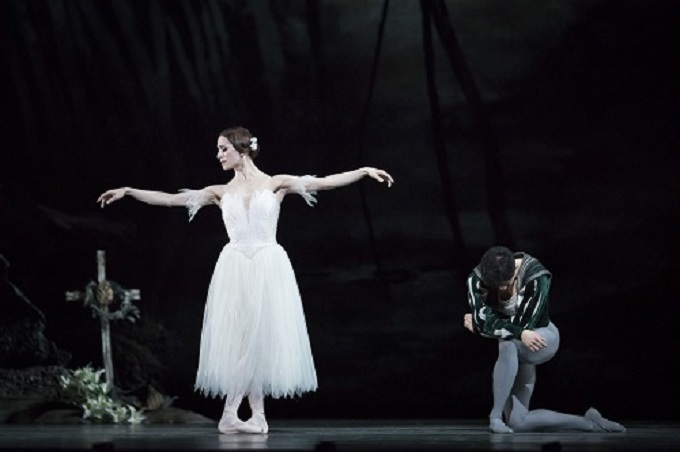 Marianela Nuñez celebrates her 20th year with the Royal Ballet this year. For a prima ballerina you may believe her peak years of performing are behind her. However, nothing could be further from the truth in this divine production of Sir Peter Wright's mystical Giselle, in which a stellar cast bring their superior storytelling skills to this signature work in the company's repertoire.
Giselle is possibly the quintessential romantic ballet. It tells the story of a young peasant girl who falls in love with Count Albrecht, disguised as a peasant himself. Albrecht is already engaged to Bathilde (a beguiling Olivia Cowley), and when Giselle discovers this at the end of Act One, she kills herself. In Act Two she reappears as a spirit, sharing a brief reunion with her beloved before returning to the grave, leaving Albrecht powerless and alone.
Nuñez is delightful is the early scenes. Throughout her initial infatuation with Albrecht, she maintains a joyful and sunny disposition, while remaining a humble Giselle of believable youth and innocence.
Her dance for the nobles and aristocrats is captivating in its airy grace, with her effortless springs from pointe to pointe. There is nothing in the choreography that seems a challenge to Nuñez here; her pirouettes are pretty, and her jumps are clean and crisp.
Bonelli's Albrecht is less of a standout, but nonetheless a worthy partner for Nuñez, who he enables to shine further. His Albrecht is somewhat distant in showing his affection for Giselle, his aristocratic blood not allowing him to humanise his feelings as honestly as his peasant love interest.
Nuñez continues to weave her magic through the intricate choreography. The mad scene that closes Act One can pose more complex challenges, yet she executes it with confidence and without hesitation. Her youthful Giselle demonstrates realistic vulnerability before descending into an unstoppable despair. She clings desperately to her mother and then Albrecht before her final demise.
The pas de six provide an enjoyable interlude to the Act One action. They are led by young Principal Yasmine Naghdi, who impressively matches Nuñez's standards with her clean lines and easy extensions. Alexander Campbell is a more than able partner, and one cannot help but look forward to his debut as Albrecht with Francesca Hayward in the lead role later in the run. New Artist Joseph Sissens also features, showing promising control of his long limbs, dancing with energy and precision.
While Act One is heavy on storytelling, the sheer beauty of Act Two should be absorbed and enjoyed. The sight of 24 ghostly Wilis, as they bourree in unison, heads hanging mournfully under their shimmering veils, is one of the most remarkable scenes in classical ballet.
The ensemble work present in this act has evidently been mercilessly drilled, and the resulting faultless synchronicity of the Wilis is utterly breathtaking.
Tierney Heap is a regal and majestic Myrtha, assuredly summoning her faithful Wilis to convincingly dispose of Giselle's intended, Hilarion (a troubled Bennet Gartside), and draw spirit Giselle from beyond the grave. Heap exudes the haunting aura of a being with formerly human traces.
Nuñez smoothly converts herself from sprightly peasant to to mournful ghost. She is sombre and melancholic in her well-placed movements: her arms hang heavy and her face is forlorn as she desperately tries to sustain Albrecht before dawn breaks.
There is no weak link in the Royal Ballet's latest offering of Giselle. Nuñez is one of the great classical ballerinas of our time, and Bonelli, Heap and Naghdi are sublime in the supporting roles, though there is of course an argument that it is the corps who are the real stars of the show here. Nonetheless, one cannot fail to get caught up in this magical storytelling of this deeply affecting and timeless ballet.
Giselle runs at the Royal Opera House until 9 March
Image credit: Helen Maybanks
Related Articles View More UK / West End

Stories

Shows