BWW Interview: Actress Johnetta Eula'Mae Ackles Talks A VERY VERY VERY DARK MATTER
American actress Johnetta Eula'Mae Ackles makes her professional stage debut in Martin McDonagh's A Very Very Very Dark Matter at the Bridge Theatre, playing the captive Congolese woman who supplies writer Hans Christian Andersen with all his stories.
Where did you grow up, and did you go to the theatre a lot from a young age?
As a child, I lived in a town called Radcliffe, Kentucky, and I grew up watching TV movies and recorded plays with my family on our fat back TV.
Did you do much drama at school, and when did you realise it was something you wanted to pursue professionally?
All I ever did in school was drama! At the time I took a year off and I felt incomplete - I realised I'm nothing without acting, I'm nothing without theatre. I'm a lost cause without it! I couldn't get a job anywhere, and in that moment I knew God's purpose was for me to be an actress.
What was your experience of the American Musical and Dramatic Academy like?
I loved AMDA - getting in the plays, doing the shows, going to class, networking, failing to succeed but trying hard to pursue, staying on my grind and keeping my hustle. I can go on forever. I grew in every aspect and learnt who I was as an artist.
How did you get the opportunity to make your professional debut here in London, and in such a prestigious new play?
I met with Martin [McDonagh] and Matthew [Dunster] when they were in America. I believe prayer, meditation, faith, diligence, patience, forgiveness, wisdom and everything else that God has to offer led me straight to this opportunity. I feel very blessed to work with such a wonderful team at the Bridge Theatre.
For those who haven't seen it, tell us about your character
My character is a captured, bold, chosen, intellectual goddess who doesn't let her situation define her future. This play indulges in the dark truth of black and African-American history.
Did you do a lot of research?
Yes, and I'm still researching. There's never too much information you can obtain to connect you to the story you're telling.
The play is such a complex mix of tones (comedy with darker material) - was it tricky to find that balance?
Not for me, no - I understand dark humour. Although it's downright dirty, ignorance is bliss. Ignorance intertwined with the intellect is the beauty of play for me.
What are some of the themes in the work that you particularly connected with, and that you think resonate with audiences too?
The countdown. First you killed my husband, then you killed my babies, and my stories were all I had left to me.
Did you find it very different working with British actors and director? And did the veteran actors like Jim Broadbent offer any wisdom?
No difference. It's everything it should be. I learn something new from every actor in the show every single day, and its an honour and a privilege to share the stage with Jim.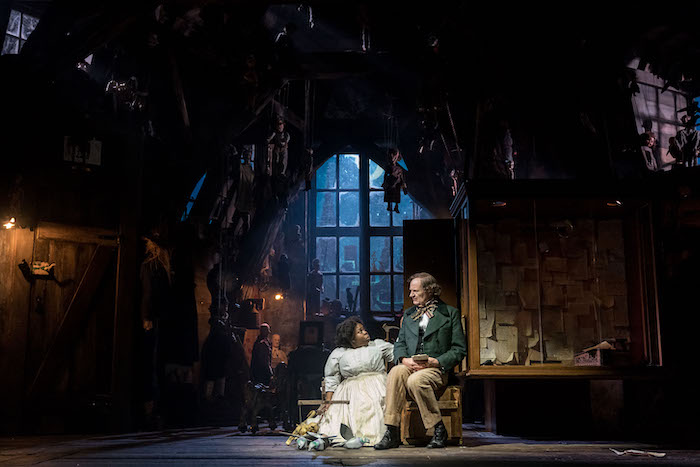 Does your process change much when you're approaching a brand new play, like this one, as opposed to a classic text?
The work strategy is all the same. Before I perform I make sure I know exactly what I'm talking about through a lot of research, and of course the rehearsal process.
Whatever the process is for a particular job, I'm eating and sleeping with my script! My script is always on my mind no matter what the play is, no matter what day it is, no matter anything.
Was Martin McDonagh available much in the rehearsal room, and if so, did he advise you at all?
We were lucky to have Martin with us in the rehearsal room every day. I really appreciated all the conversations we had about the role and the setting of the play.
Looking forward, what's on your wish list of parts?
There are SO many! I want to be Indiana Johnetta instead of Indiana Jones; I want to be the next Olivia Benson on Law & Order; I want to be in Black Panther 2, if there is one; I want to be on Stranger Things, maybe as Lukas's aunt or cousin who comes to live with them. I want to write a story with Tyler Perry where I am Madea's long-lost granddaughter, who carries on her legacy, and so much more!
Are there any actors whose careers you particularly admire - perhaps trailblazing actors of colour?
Again, so many to choose from, but to name a few: Denzel Washington, Idris Elba, Samuel L. Jackson, Will Smith, Phylicia Rashad, Angela Bassett, Loretta Devine, Gabrielle Union, Queen Latifah, Whoopi Goldberg, Cicely Tyson, Jennifer Lewis, Ice Cube, Oprah, Spike Lee...the list can go on!
Finally, if audiences are thinking of coming to see the play, what should they expect?
Expect that you'll get your money's worth!
A Very Very Very Dark Matter at the Bridge Theatre until 6 January, 2019
Photo credit: Manuel Harlan
Related Articles View More UK / West End

Stories

Shows
More Hot Stories For You