Rorschach Theatre Announces 3 New Plays for the Inaugural MAGIC IN ROUGH SPACES Workshop & Reading Series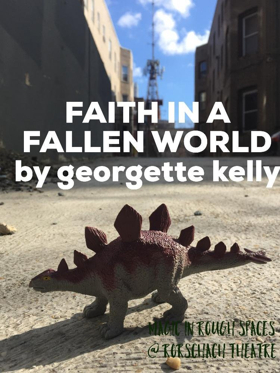 Rorschach Theatre proudly announces the first annual MAGIC IN ROUGH SPACES readings, developing and presenting three new plays of American magical realism. Following a nationwide search, selected playwrights will spend three days next month in Washington working with local directors, designers, dramaturgs and actors. On Sunday, April 8 each play will receive a public reading at the Atlas Performing Arts Center.
The 2018 lineup includes FAITH IN A FALLEN WORLD by Georgette Kelly, Directed by Cara Gabriel; SING TO ME NOW by Iris Dauterman, Directed by Jenny McConnell Frederick; and TRANSFERAL by DC-based theatre artist Jack Novak, Directed by Shirley Serotsky.
MAGIC IN ROUGH SPACES
A brand new initiative for 2018, MAGIC IN ROUGH SPACES is a collaboration with three playwrights to workshop and develop a trio of new plays. The playwrights - one of whom will always be DC-based - will set new goals for their work and spend three days in DC working with a director, dramaturg, actors and designers. Each play will be read along with some enhanced design components to give audiences a taste of what a full production might feel like. Audiences will also have the opportunity to talk with artists in a post-show conversation following each play.
Directed by Jenny McConnell Frederick
Dramaturgy by Cam Magee
April 8, 2018 @ 12pm
About the Play
The Greek muse of epic poetry breaks down and hires a human girl as an intern when she gets overwhelmed with her workload. In a modern mythological world, where dreams and ideas are tangible things, both gods and humans have to learn their own limitations and explore the place of the artist in a chaotic world.
The SING TO ME NOW team will include a lighting designer who will explore the creation of dreamscapes throughout the play.
About Iris Dauterman
Iris Dauterman is a playwright from San Luis Obispo, California. She holds an MFA in Playwriting from Indiana University, and a BA in Drama from Bennington College. She is a two-time finalist for the Heideman Award whose plays have been workshopped or produced at the Berkshire Fringe Festival, the Massachusetts Museum of Contemporary Arts, Indiana University, Animus Theatre Company, the Philadelphia Fringe Festival, Campfire Theatre Festival, Little Lifeboats Theatre, and the New American Theatre. Iris lives in Indianapolis, Indiana. http://www.irisdauterman.com/
Directed by Cara Gabriel
Dramaturgy by Alan Katz
April 8, 2018 @ 4pm
About the Play
Bethany is the only daughter of a charismatic creationist preacher who has founded The Museum of God's Creation in rural Kentucky. When Bethany returns home from her first year in a liberal arts college, she finds herself working retail in the museum's gift shop as her father preps for a televised debate with Rita Anning, a famed evolution scientist. The morning before the debate, Bethany's atheist boyfriend shows up and they must juggle two worlds and a big secret. Meanwhile, Bethany discovers a six-year-old girl who has been living in the museum and who promises to deliver a miracle.
The FAITH IN A FALLEN WORLD team will include a prop/puppet designer to explore how some of the small creatures in Georgette's world might manifest.
About Georgette Kelly
Georgette Kelly is a playwright with one foot in Chicago and the other in New York. She received the inaugural Hope on Stage Playwriting Award, and her work has been featured on The Kilroys List. Georgette's plays include: Ballast, In the Belly of the Whale, I Carry Your Heart, F*ck la vie d'artiste, and an adaptation of Jeanette Winterson's Lighthousekeeping. Her plays have been developed with The DC Source Festival, The National New Play Network, The ALLIANCE THEATRE, terraNOVA Collective, Taffety Punk, and Diversionary Theatre. She has also been chosen as a finalist for the O'Neill Playwrights Conference, the Lark Playwrights Week, the Goodman Playwrights Unit, the Stage Left Playwright Residency, and the Alliance/Kendeda National Graduate Playwriting Competition. Georgette is a resident of Chicago Dramatists and a member The Dramatists Guild of America. She holds a B.A. in Performance Studies from Northwestern University and an M.F.A. in Playwriting from Hunter College. GeorgetteKelly.com.
Directed by Shirley Serotsky
Dramaturgy by Brent Stansell
April 8, 2018 @ 8pm
About the Play
Kora, a young woman who is obsessed with death, has just come home from college after a significant loss. Kora's return forces her and her mother, Rose, to re-examine their roles as mother and daughter, and learn to relive happier times in their life through the video game Tekken 2. Meanwhile, Cato, wakes up in a strange vehicle on the way to an unknown destination, piloted by a mysterious, powerful figure. To avoid making this transferal, they will attempt impossible things: erasing a memory, eliminating emotions, reclaiming a family, reversing a death.
The TRANSFERAL team will include a sound designer who will explore the auditory world of the play as the plane's engines drive the action of the play forward.
About Jack Novak
Jack Novak is a Washington, DC based actor, playwright, and educator. He first studied Playwriting under Laura Schellhardt at Northwestern University. He went on to win the annual Agnes Nixon Playwriting Contest with his piece, A Decade of Wandering-a cycle of five short plays inspired by folklore. Jack's play The Great Lieutenant Sprinkle Didn't Save Me-which also touches on the mythical-was developed and produced by Field Trip Theatre, after originating as a ten-minute play in Rorschach Theatre's Klecksography festival. Jack's created works also extend into the territory of devising, having worked with performance/visual artist Jane-Claire Remick and bassist/composer Ethan Foote to create the piece Fox Cried, which was originally produced as a part of the 2013 Source festival. Jack's other works include the TYA piece Journeying Jack, plays for young actors Interface and Fanatics, and numerous short plays. http://jackjacknovak.com/
THE SPACE
A landmark of the newly revitalized H Street, NE neighborhood, the Atlas stood vacant for years until it was re-opened as the Atlas Performing Arts Center in November, 2006 following an extensive four-year renovation. Its 60,000 square foot complex includes four theatres, three dance studios, administrative offices, dressing rooms, lobbies, a café and production and rehearsal spaces. The center is home to a diverse group of locally renowned theatre and dance companies, symphony orchestras, choral groups and arts education programs. Its mission includes serving the greater metropolitan DC area as well as being the artistic heart of its immediate community.
In the past Rorschach Theatre has performed in a greenhouse, a back-alley art gallery, the lobby of 16th Street JCC, the former sanctuary of a Methodist Church in Columbia Heights, Georgetown University's Performing Arts Center and in the basement of a Lutheran Church in Georgetown.
ABOUT RORSCHACH THEATRE
Through uncommon uses of environment and intimate passionate performances, Rorschach Theatre seeks to lure its audiences beyond the limits of ordinary theatrical experience so that they may discover new elements of their own humanity.
Rorschach Theatre tells stories that allow for innovative design and visceral performances. the company treats productions as "installations" that surround the audience with the world of a play. Our work centers on the intersection of magic or impossible moments and relatable human experience. Without proselytizing, it provides a complex, intellectual catalyst for self-exploration of challenging subjects. Rorschach is also a vital launching pad for emerging artists. By trusting early-career actors, directors, playwrights and designers with substantive artistic responsibilities, and surrounding them with established professionals and ample resources, the company has become an essential showcase for new talent.
Rorschach has produced more than fifty plays seen by tens of thousands of people in the Washington area. the company has been nominated for over a dozen Helen Hayes Awards; won a Mary Goldwater Award; been a finalist for the Mayor's Arts Award; and have been the recipients of multiple grants and awards from the DC Commission on the Arts and Humanities. the company's work has garnered the attention of The New York Times, The Washington Post, American Theatre magazine and National Public Radio, as well as countless local publications.
For Tickets: RSVP https://rorschachtheatre.com/mirs-2018/