Click Here for More Articles on OPERA - WASHINGTON DC
Opera North Announces Casts For TALES OF HOFFMAN And THE BARBER OF SEVILLE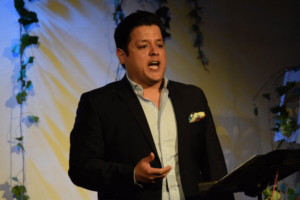 Kicking off its 2017/18 Season: Survival Instincts, Constellation Theatre Company will present screenings of the 1920 German expressionist horror film The Cabinet of Dr. Caligari from August 9-13 at Source, located at 1835 14th Street NW, Washington, DC. Helen Hayes Award-winning percussionist Tom Teasley will reveal the horror of the Cabinet as he performs his original score live at every screening to complement this classic silent film. The Cabinet of Dr. Caligari is the third installment in Constellation's ongoing silent film series featuring Tom Teasley, following The Adventures of Prince Achmed in 2015 and Metropolis in 2016. Tickets are $25-$55 and can be purchased online at www.ConstellationTheatre.org or over the phone by calling 202-204-7741.
Directed by Robert Wiene, The Cabinet of Dr. Caligari follows a young man named Francis and his encounter with the eponymous doctor, who has hypnotized Cesare, a somnambulist or sleepwalker, to emerge from a coffin-like cabinet and offer foreboding prophecies. What follows is a series of escalating kidnappings and murders involving the deranged Dr. Caligari and his somnambulist, culminating in a shocking twist. Described by film critic Roger Ebert as "the first true horror film," Dr. Caligari's distorted visual aesthetic, suspenseful narrative structure, and haunting performances distinguish it as a hallmark of German expressionist cinema.
Constellation Theatre's presentation of The Cabinet of Dr. Caligari will be an immersive event for audiences as well as a showcase for the talents of internationally acclaimed musician Tom Teasley. Combining ancient instruments with digital technology, Teasley's original score will interplay with the film and its bold visual style. For the first time, Teasley will use an electronic analog synthesis reminiscent of twentieth-century French composer Edgar Varèse, also known as "The Father of Electronic Music." Teasley will also reflect the angular optics of the film using odd meter and additive rhythms inspired by both Igor Stravinsky and Middle Eastern traditions. Lastly, in keeping with Tom's interest in current sounds, he will borrow contemporary urban rhythmic language from fellow Washington D.C. native DJ Spooky, who has also created an alternative score to the same film.
Tom Teasley maintains a unique career as a multi-instrumentalist, percussionist, composer and collaborator, and frequently tours the world performing and teaching as a Cultural Envoy for the State Department. He has received five Helen Hayes Nominations and three Awards for his work with Constellation including: Crazyface, The Ramayana, The Green Bird, The Love of the Nightingale, The Fire and The Rain, and Journey to the West. A three-time recipient of a Fulbright-Hayes grant for performances in the Middle East, Teasley has collaborated with indigenous musicians and has performed in Bahrain, Iraq, Saudi Arabia, the West Bank and Jerusalem. Teasley has won the Washington Area Music Award for World Music Instrumentalist of the Year for four years running. To learn more about Teasley and his work, please visit www.tomteasley.com.
Now in its 11th Season, Constellation Theatre Company is dedicated to telling stories from around the world and connecting multi-cultural communities. Theatre, film, and music patrons will enjoy this quintessential German film, enhanced by live music from one of Constellation's favorite collaborators.
The Cabinet of Dr. Caligari Fact Sheet

The Cabinet of Dr. Caligari (1920)
Directed by Robert Wiene
Written by Hans Janowitz and Carl Meyer
Blurb: A dangerous hypnotist uses a sleepwalker to commit murder in this quintessential work of German Expressionist cinema. Set in a jagged urban landscape and told with iconic visual style, this horror film treads the fine line between sanity and madness. Helen Hayes Award-winning percussionist Tom Teasley performs his original score live at each screening as part of Constellation's silent film series.
Composer/Performer/Sound Designer: Tom Teasley
Performance Schedule: August 9 at 7:30 PM; August 10, 11, & 12 at 8 PM; August 12 & 13 at 3 PM. Ticket Prices: $25-55. There is no late seating. Run Time: 1 hour and 30 minutes, with no intermission. Recommended for ages 16 and up due to frightening imagery. Location: Source Theatre at 1835 14th St. NW on the corner of T St. Two blocks from the U St./ Cardozo Metro. On-street parking.
For Tickets or Information: www.ConstellationTheatre.org or call 202-204-7741.
Related Articles
More Hot Stories For You