BWW Review: The In Series's VIVA VERDI is an Indescribable Emotional Multitude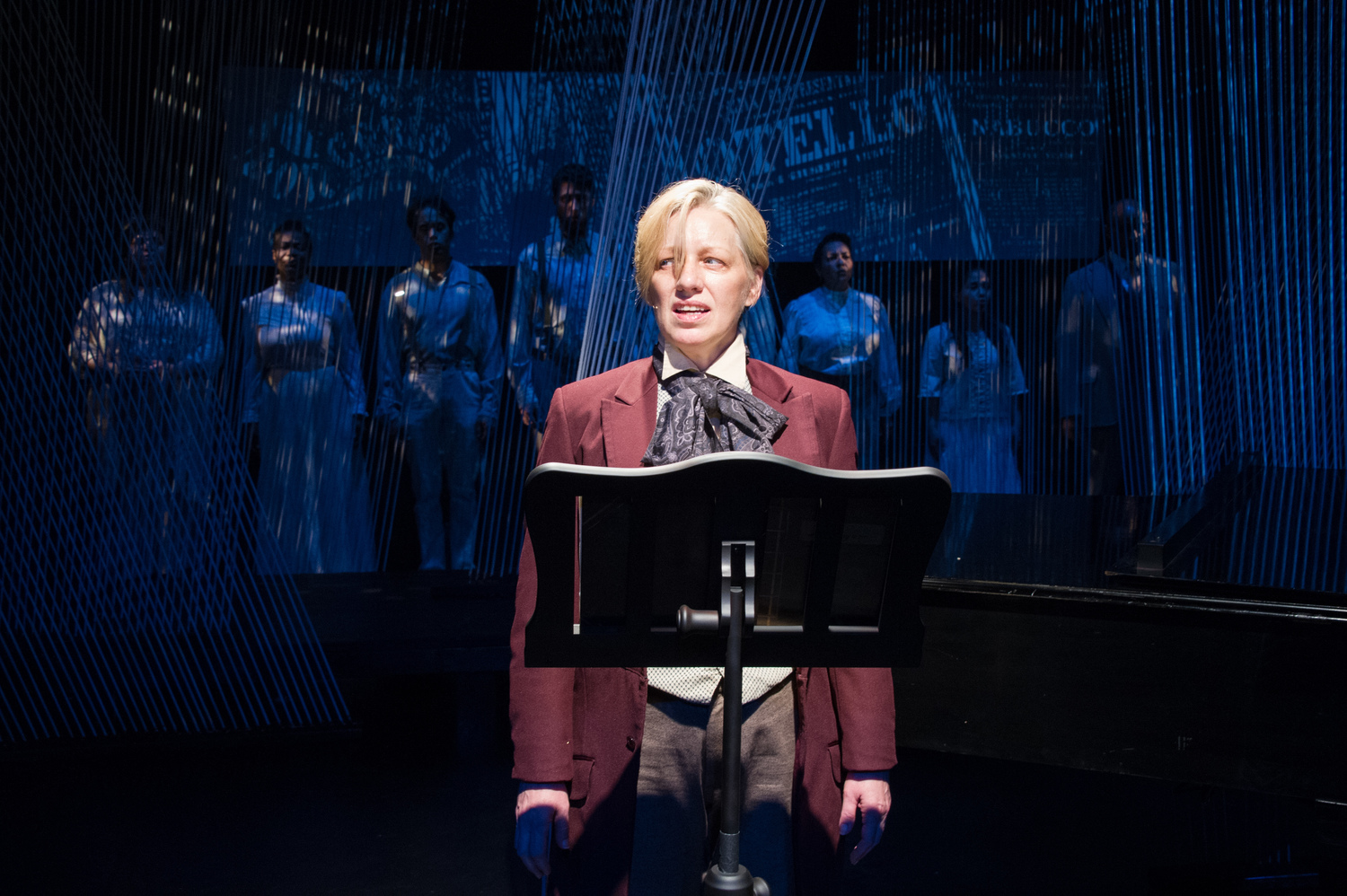 "I don't like works which require an explanation," begins Timothy Nelson, the new Artistic Director for the In Series, at Sunday's performance of Viva VERDI. Even after Mr. Nelson describes the performance with great detail, he encourages the audience to embrace their inevitable confusion. Instead, Mr. Nelson explains, this is a work that should be felt rather than understood. Keeping true to Mr. Nelson's suggestion, Viva VERDI is a work that only a genius could fully understand. Nevertheless, it is one of the most emotionally stirring performances I have seen in recent memory.
The nuances of this work's plot are difficult to enumerate, but I shall try my hardest. The show opens as Giuseppe Verdi (a spectacularly commanding Nanna Ingvarsson) is heading into the final moments of his life and looking upon the 27 operas he has crafted. Despite the undeniable breadth of his canon, Verdi is haunted by the 28th opera he never wrote: an adaptation of Shakespeare's King Lear. The subsequent performance weaves the text of King Lear into Verdi's Requiem and excerpts of Shakespeare After All by Marjorie Garber. Ultimately, Verdi's own descent into madness echoes that of Lear's-each of whom are haunted by their inability to fulfill their potential.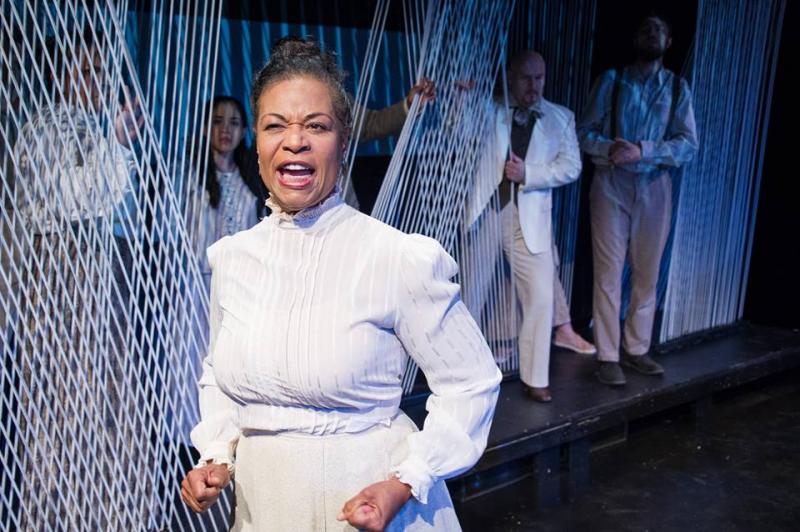 The performance is an incredibly complex tapestry of music and emotion. The plot is often hard to follow as Ms. Ingvarsson's emotionally-rich monologue is commonly drowned out by the stunningly synchronized octet. This never disturbs the evening, however, as the show paints emotions with incredibly broad strokes. Even if you are unable to tell what is being said or what is being sung, you'll pull out all of the important aspects: Ms. Ingvarsson is up, she's down, she is all around and brings you along for every stop of her journey.
All eight singers have their moments to shine throughout. The octet is so good that I feel obligated to name each of them individually: Brian Arreola (tenor), Peter Burroughs (tenor), Anamer Castrello (mezzo), Natalie Conte (soprano), Teresa Ferrara (soprano), Bryan Jackson (bass), Elizabeth Mondragon (mezzo), and John T.K. Scherch (bass). Harmonies remain tight for the entirety and while the boisterous Requiem's score can feel overwhelming in the intimate Source Theater, it is the kind of overwhelming feeling that wraps you in the intricacies of Verdi's work. It's a surprisingly welcome sensation.
This overwhelming performance is anchored skillfully with an adroit design team. As Mr. Nelson notes in his pre-show remarks, "the set is incredibly Instagram-able." He is accurate in this description. Strings of thick rope drape the stage and invite comparisons to a piano or a harp and demonstrate set designer Jonathan Dahm Robertson's deft abilities to create a simultaneously concrete and formless space. With plenty of negative space around the stage, the set provides an ideal backdrop for singers to continually shift around.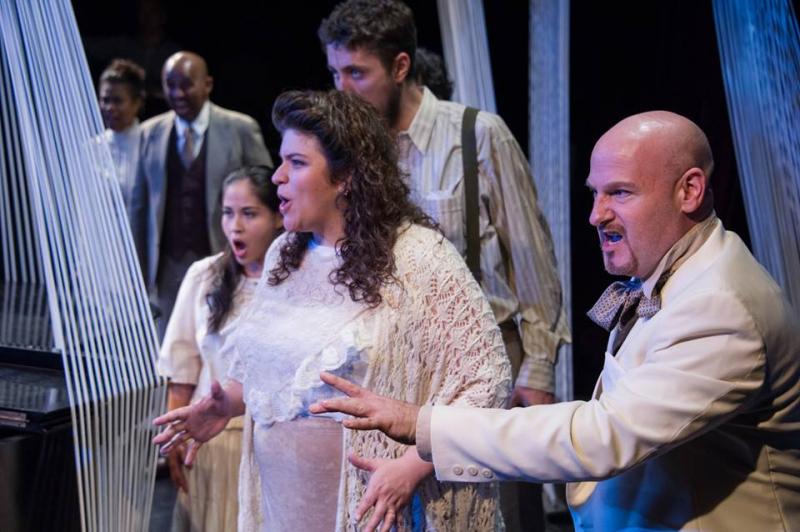 Marianne Meadows provides a helping hand with some skillful lighting design. Given the number of emotional outbursts and musical cues, the lighting plays a key role in underscoring all of the emoting taking place onstage. With so much darkness being explored, it is refreshing that Ms. Meadows is able to accentuate the softer moments with soothing lighting choices that help the performance develop even more layers. Maria Bissex rounds out the designs with dutiful costumes that are notable enough to write about but never draw attention away from the enrapturing performance.
Paul Leavitt works wonders as Viva VERDI's Music Director. With just a piano and a giant drum (played by one of the octet members), Mr. Leavitt is able to bring Requiem to stunning life without making it seem like it's missing anything. Accomplishing this task is impressive considering the work is normally performed with an entire orchestra. Additionally, Steven Scott Mazzola provides fluid direction that keeps the action flowing even when the content may begin to feel repetitive.
On that note, as delightful as the performance is, the heaviness of all of Ms. Ingvarsson's emotions can become tiring toward the latter half of this 80 minute production. Whenever "Dies Irae" begins playing, you know that Verdi is about to go through another emotional breakdown. Considering "Dies Irae" plays multiple times in the show, the subsequent drawn out scream can pull people out of the performance for a brief moment. It is a brief detachment from the material but, in such a short production, every moment should keep the audience enraptured.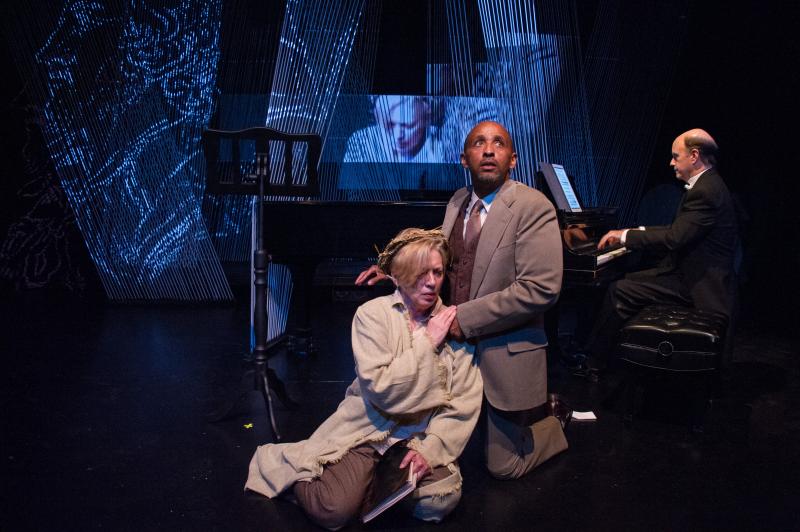 Viva VERDI is likely a scary show for people trying to just find a casual musical or opera production. In fact, this production is unable to be defined as any specific type of performance. There is too much music for the show to be a play, there's too much dialogue for the show to be an opera and there's just too much happening for the show to be easily classified as a musical. Despite all of this, there is so much to love. This is the kind of performance that will leave you pondering its meaning for days, weeks, maybe even months to come. If this is a sign of what Mr. Nelson's tenure at the In Series will bring, then you'd better snatch your tickets now before the company cements their position as a must-see attraction.
Viva VERDI runs approximately 80 minutes at the CulturalDC Source Theatre through September 23. For tickets, click here. For additional information, including the production's program and full script, click here.
---
Sam Abney is a Washington, D.C. based arts professional. A native of Arizona, he has happily made D.C. his new home. Sam is a graduate from George Mason University with a degree in Communication and currently works for Arena Stage as a member of their Development team. He is a life-long lover of theater and is excited about sharing his passion with as many people as possible.
To stay up-to-date on reviews from Sam, click here and subscribe to alerts.