BWW Review: THE MASTER AND MARGARITA at Constellation Theatre Company
An artistic genius and his muse...a dancing cat...Pontius Pilate...No, this is not the latest Andrew Lloyd Webber revue. It is the wonderful and completely weird world of Mikhail Bulgakov's The Master and Margarita (adapted by Edward Kemp). Written in the Soviet Union of the 1930s, but only published posthumously in 1967, the novel remains a popular and significant contribution to Russian literature. It has spawned countless adaptations in a variety of mediums and almost as many pop culture references.
Part political satire, part supernatural dark comedy, Kemp's version admirably translates the original source material, which moves abruptly between biblical and "contemporary" story lines, into a more coherent package for the stage. As you might expect, some of the nuance of the novel does get lost with the trade-off being that the play can be enjoyed by even those who have yet to read it. The action begins straightforward enough and quickly spirals off in many directions, leaving the audience with a sense of being off-kilter.
This feeling of disorientation, yet inter-connectedness, is brought to life through the amazing scenic and lighting design of A.J. Guban (recently nominated for a 2019 Helen Hayes Award for designing Constellation's The Caucasian Chalk Circle). Even those intimate scenes that are played near to the audience are accompanied by the foreboding void that lays behind the actors, both literally and figuratively. The movement of key set pieces, some very cleverly hidden, is a physical manifestation that not everything is as it seems and we should not always believe what we see.
The setting is further enhanced by the steampunk-esque costume designs of Erik Teague. In Teague's capable hands, a straight jacket, a walking stick, or a mask become characters of their own in service to the greater story...and not unlike the original novel.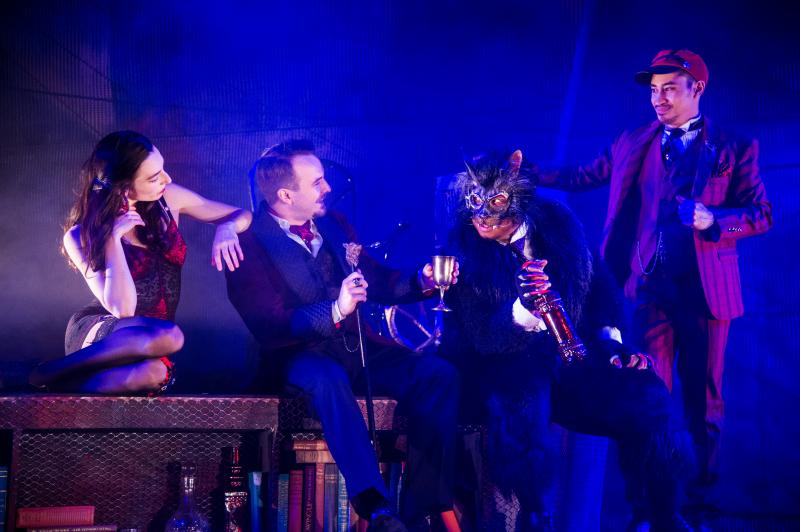 The cast of twelve is well-helmed by Constellation's Founding Artistic Director, Allison Arkell Stockman, and Choreographer Toni Tolentino (who also portrays Trepan). The action does not always seem as effortless as it could be (no doubt this will improve through the run), but it is especially effective in the larger dance scenes. There is a definite sense of heightened mania, helped by many of the cast members inhabiting multiple roles, but fails to reach the frenetic pitch associated with the novel.
Alexander Strain and Amanda Forstrom, as the titular lovers, are well-matched. Forstrom's quiet determination is the perfect complement to Strain's impassioned genius. Scott Ward Abernethy (also recently nominated for a 2019 Helen Hayes Award for his role in Constellation's The Caucasian Chalk Circle) oozes black charm as the swarmy and seductive Professor Woland. At his side, Dallas Tolentino portrays Fagott with an almost childish sense of mischief. McLean Fletcher sinks deliciously into the role of Azazello and Louis E. Davis is the perfect incarnation of that fiendish feline, Behemoth.
The ensemble supporting them is equally stellar. Emily Whitworth personifies the haughtiness of Moscow's literary elite as Berlioz. The melancholy and pain of Pontius Pilate is exquisitely played by Jesse Terrill. Omar D. Cruz's Ivan is movingly earnest, at first through his professional ambitions and later through his personal descent into madness.
Constellation Theatre Company's The Master and Margarita runs through March 3, 2019. Run time is approximately 160 minutes, with one intermission. For more information and to purchase tickets, visit constellationtheatre.org.
Four performances (February 10, 17, 24, and March 2) will include an "Epic Exchange" that delves deeper into the world of The Master and Margarita. These are free and open to all ticket holders. For more information on topics and speakers, visit Constellation Theatre Company's website.