Review: THE BOOK OF WILL Delights at Round House Theatre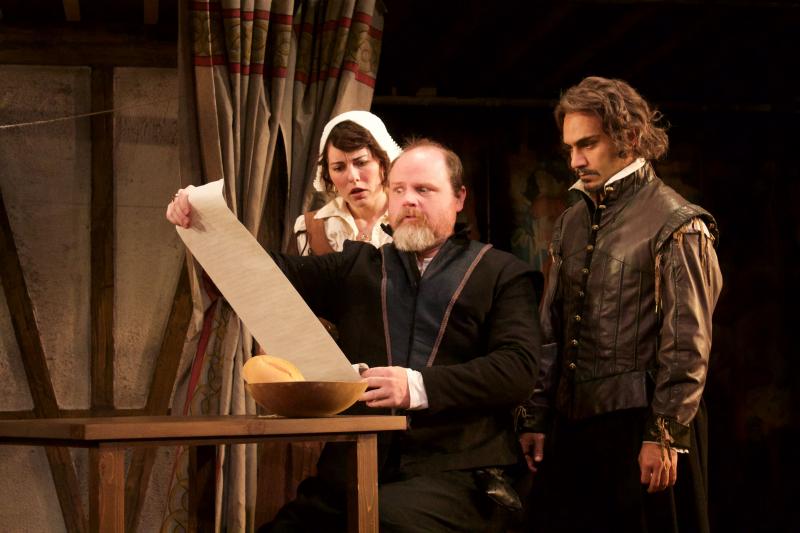 When Round House Theatre announced its 2017-2018 season, I was delighted to see it would present another work by Lauren Gunderson as Miss Bennet: Christmas at Pemberley (co-written with Margot Melcon) was one of my favorite plays last season. This time, instead of taking us the world of Jane Austen, she takes us - in a very unique way - into the world of Shakespeare. Well, not Shakespeare specifically, but the world of his friends who - even after his death - continue to act out his works for the good people of England.
There's a slight problem though. At the time, Shakespeare's works weren't published in an official form. Shakespeare himself did not seek publication nor did he make any attempt to crack down on people publishing their own corrupt versions of his plays for personal gain in quarto form. As the group of actors who knew Shakespeare personally grows even smaller, the available institutional memory of his work as he wrote it also shrinks. After one more member of the group dies, Henry Condell (hilariously played by Maboud Ebrahimzadeh) gets the brilliant idea to assemble and publish a collection of Shakespeare's works so his words will be available to the next generation - in folio form no less.
There are a few complications, however. There's the matter of convincing the rest of the King's Men, including fellow actor John Heminges (a strong Todd Scofield), that this is a good idea. There is also the matter of getting a publisher willing and able to take on such a big and expensive project. Then there's...well...trying to cobble together definitive versions of his plays without resorting to using the quartos. This latter task, in particular, is easier said than done as the core group of actors doesn't possess all of the scripts (there was that little fire at the Globe), and the materials they do have (including actor sides) are scattered throughout the houses. With some help from their devoted wives, and a copyist/scholar with his own personal stash of materials (Ralph Crane, played by Michael Richardson), they get enough materials to put together a folio. Challenges with publishing abound (for instance, enter William Jaggard, played by Michael Russotto), and the collaborative process in general. A family crisis compels Mr. Heminges to push for completion of the first folio, but getting it done won't be easy.
Gunderson's witty, historical yet modern comedy describes in detail the obstacles the group has to overcome so that their friend Will - and his amazing plays - could be remembered for generations to come. While Gunderson could have completely focused her attention on the core band of actors and the publishing team involved in the publication process, she adds some interesting layers to the story. We get a strong female perspective from the wives (well played by Kimberly Gilbert as Rebecca Condell and Marni Penning as Rebecca Heminges) and Heminges' daughter Alice (a charming Katie Kleiger), all of whose involvement is crucial to the success of the collaborative publication effort. Gunderson even includes idealized versions of two historical characters (Richard Burbage and Ben Jonson) to add layers of complexity and complete the story. An added bonus is these men are brought to life by one of DC's most versatile actors, Mitchell Hébert, who gives one of the most memorable performances this season.
Gunderson's script is exceptionally well-structured and written; it certainly draws in the audience. If I had to identify a weak point - apart from the apparently comedic use of (whether intentional or not) badly executed stuttering in an early scene (full disclosure: I stutter) - it would be the opening of Act Two. Here, John grapples with a life-altering situation that occurs offstage. While I do completely understand why the scene is in the play - it's a driving force for what John does next - the tonal shift is jarring. At least initially, the scene seems a bit out of place with what the audience has seen of the play up until until that point.
This really is a quibble though. Under Ryan Rilette's excellent direction, a uniformly marvelous cast gives one of the best ensemble performances I've seen this season of a very strong play. The technical elements - most notably Paige Hathaway's exquisitely detailed scenic design, Kasey Hendricks' prop design, Kendra Rai's period-appropriate costumes, and Matthew M. Nielson's memorable sound design/compositions - are also first-rate, and contribute to the success of the production in a real way.
All in all, I would suggest everyone take a trip over to Round House this holiday season to see this play. It's sure to offer a good time.
Running Time: 2 hours and 15 minutes, including one intermission
THE BOOK OF WILL plays Round House Theatre - 4545 East-West Highway in Bethesda, MD - through December 24, 2017. For tickets, call the box office at 240-640-1100 or purchase them online.