Click Here for More Articles on THE SOUND OF MUSIC TOUR
BWW Review: National Tour of THE SOUND OF MUSIC Dazzles and Delights at Kennedy Center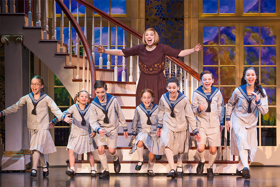 Is this a rave? You bet your favorite things it is! Refreshing, revived, and ridiculously entertaining, THE SOUND OF MUSIC, now playing at the Kennedy Center through July 16 is a dream come true.
Grove Entertainment and Ted Chapin are listed as the lead producers for this tour, now into its second year on the road. Chapin, handpicked by the Rodgers and Hammerstein families to be the keeper of the flame for the works of Dick and Oscar, chose the right man for the job to breathe new life and vitality into one of the "R&H" library's most popular titles. That man is the multiple Tony Award-winning director Jack O'Brien. His pedigree is needless to say impressive - HAIRSPRAY, THE COAST OF UTOPIA, HENRY IV (his Tony Award shows), as well as many other productions and his longtime tenure as artistic director of the Old Globe Theatre.
THE SOUND OF MUSIC is a musical some people treat with kid gloves and it is often overshadowed by the wildly popular 1965 film version starring Julie Andrews. But its appeal to family audiences is alluring. Since many Rodgers and Hammerstein titles have recently been given lauded revivals on Broadway - SOUTH PACIFIC and THE KING AND I, with a new CAROUSEL production announced for the future - it was inevitable they look at a remount of THE SOUND OF MUSIC.
O'Brien has applied his exacting technique to this production and the results surpass expectations. First of all, each character seems like a real person, starting with Maria Rainer, the young nun candidate who becomes the governess to the von Trapp brood. Maria is no symbol for sweetness and innocence as played by the beguiling Charlotte Maltby. Maltby's Maria May be the first one I have seen who lives up to the senior nuns' description of her, "a flibbertygibbet, a will-o'-the-wisp, a clown." Part tomboy and part love-bug, Maltby's Maria could charm the most incorrigible kids and the most uptight father, which she does. With the memory of soprano Julie Andrews looming large, audiences often forget Maria was written for Broadway legend Mary Martin whose instrument was more mid-range and homey. Maltby possesses a nice range, with an earthy belt that expands into warm high notes, handling all of Maria's songs with a unique style. From her rendition of the title song in the beginning, Maltby won the heart of at least one reviewer, and, I suspect, the rest of the audience, too.
Playing opposite Maltby, and forming no ordinary couple, is an actor Washington audiences will likely recognize: Nicholas Rodriguez. A veteran of numerous Arena Stage musicals, including two Rodgers and Hammerstein's OKLAHOMA! and the recent CAROUSEL, Rodriguez also has national tour and Broadway credits to his name. He joined this tour as Captain von Trapp in the spring and I cannot think of a better match to Maltby's Maria. Exuding the proper military bearing and sporting some streaks of gray to give an air of middle-age, Rodriguez paints a picture of a
conflicted widower and father of seven. When his enthusiastic governess catches his eye for the first time, the recognition is palpable. As Maltby's Maria slowly realizes she is in love with the seemingly stiff former sea captain, the conflict builds. I should also mention, for my money, Maltby and Rodriguez might be one of the sexiest musical theatre couples I have seen in years; as Maria and Georg dance around their relationship, the tension is thick. When they finally give in to desire, their first kiss got an audible reaction from the crowd. And, I need not forget, Rodriguez uses his sensitive and expressive tenor voice in the touching "Edelweiss," and in his musical numbers with Maltby.
Now is a good time to note that O'Brien's production is clearly of the stage version, with book by Howard Lindsay and Russel Crouse, not some hybrid of the stage and film libretti, as other major productions have attempted. Same with the score and lyrics: the only interpolation from the slightly altered film soundtrack this touring production allows is to replace "An Ordinary Couple" for Maria and Georg with "Something Good," to display their desire to be with each other. I did notice some revised lyrics but could not find any credit for who might have revised the words of the song written specifically for the movie by composer Rodgers.
What about the von Trapp children? No worries, I would say. O'Brien and company have assembled a talented group of youngsters who sing up a storm - and during a storm in "The Lonely Goatherd." Anika Lore Hatch, Gretl, is the cute as a button youngest, Gretl; Taylor Coleman is the equally charming Marta. As "11-almost" Kurt, James Bernard is a good peace-maker, while Elliot Weaver nails Friedrich's playful side. As the impish trickster Louisa, Stephanie di Fiore does a fine job. Among the younger children, Brigitta is the precocious and observant one who bonds quickly with Maria. Dakota Riley Quackenbush is a perfect Brigitta and displays maturity beyond her years.
These talented young ones have a field day with Maltby's Maria, by the way. All parties are able to convey a spontaneity and sense of fun that is infectious. Both young and old handle Danny Mefford's lively choreography with aplomb.
As Liesl, the eldest von Trapp sibling, Paige Silvester makes the most of her character - the child on the verge of being a young woman, resisting the new governess while being pulled by her heart by her first big crush. Speaking of her beau, Austin Colby is a dashing and dastardly Rolf, the delivery boy who steals Liesl's heart and then falls in line with the growing Nazi regime. Colby is another performer area audiences may recognize from his appearances at Signature Theatre (Tony in WEST SIDE STORY), Arena Stage (SMOKEY JOE'S CAFE), and Olney Theatre Center (SPRING AWAKENING), to name but a few.
Rounding out the principals are three performers who make their individual marks on this stunning production. Teri Hansen lends an air of class and sophistication, not to mention a lovely soprano voice, to Captain von Trapp's potential second wife, Elsa Schraeder. Her partner in crime and Georg's opportunistic friend Max is played to the hilt and with impeccable comic timing by Merwin Foard. The duo also take two of Rodger and Hammerstein's least appealing songs, "How Can Love Survive?" and "No Way to Stop It," and mines some sort of entertainment out of them, not an easy feat.
As Maria's spiritual guide and the head of the Nonnberg Abbey, Melody Betts is warm, gentle, engaging and the perfect surrogate parent as the Mother Abbess. Betts is both no-nonsense and benevolent. The performer also possesses an expansive voice that practically soars to the rafters, especially during her delivery of the inspirational "Climb Ev'ry Mountain." Betts builds the song to a chilling crescendo that caps off the first on a literal high note.
With so many winning performances, I'd better mention the majestic scenic design by Douglas W. Schmidt which is enhanced with a painterly touch by Natasha Katz's lighting design. The halls and ground of the Abbey, the Austrian hillside, and the von Trapp villa are all rendered impressively. For period flair and a whimsical touch or two, you would be hard pressed to find more fitting and eye-catching costumes than the ones Jane Greenwood provided for this production.
Finally, the sound of the music in THE SOUND OF MUSIC is par excellence under the sharp baton of Jay Alger and the touring orchestra, enhanced by expertise of the Kennedy Center Opera House Orchestra. Rodgers score sounds magnificent from start to finish, aided by the flawless sound design of Ken Travis.
I warned you this was a rave. No all you need to do is get your tickets before the von Trapps head across the Alps.
~ Follow Jeff Walker on Twitter - @jeffwalker66
---
THE SOUND OF MUSIC
Music by Richard Rodgers
Lyrics by Oscar Hammerstein, II
Book by Howard Lindsay and Russel Crouse
Directed by Jack O'Brien
National Tour at the The John F. Kennedy Center for the Performing Arts -
2700 F Street, NW Washington, DC 20566
Through July 16, 2017
Performance Timing: Act One - 85 min.; Intermission - 20 min.; Act Two - 55 min.
Tickets & Information: (202) 467-4600 Toll-Free: (800) 444-1324
Or go to Kennedy Center Ticket Events
Photo Credit: Jeremy Daniel