Click Here for More Articles on DC - Theatre Life
BWW Interview: Theatre Life with Florence Lacey
Today's subject Florence Lacey is currently living her theatre life at Signature Theatre where she is preparing to start performances of A Little Night Music in the role of Madame Armfeldt. The production runs August 15th through October 8th.
Florence Lacey's distinguished career has led her to Broadway, prominent regional theatres, and all over the world. She was seen on Broadway in Follies, The Grand Tour, Hello, Dolly!, Les Misérables, An Evening with Jerry Herman, and Evita. Evita took her all over the world, so read on to see how many performances of Eva Perón Flo has logged. The number is very impressive.
Off-Broadway credits include Sweet Feet, Elizabeth and Essex, Styne After Styne, and Under the Bridge.
A Little Night Music is not Flo's first time performing at Signature Theatre by any means. Besides her stunning performance as Norma Desmond (giving the most human portrayal of the character I've ever seen) in Sunset Boulevard, she has appeared in Titanic, Ace, Saving Aimee, Nevermore, The Rhythm Club, The Gospel According to Fishman, Follies, and One Red Flower. Other DC area credits include Follies and Sunday in the Park with George at Kennedy Center and, most recently, Kaleidoscope at Creative Cauldron.
Other regional work includes Pal Joey at Goodspeed Opera House and A Little Night Music and Wings at Connecticut Repertory Theatre.
She is the recipient of Theater World, MAC, Drama Logue, and Outer Critics Circle awards.
She is married to musical director and longtime Broadway Phantom of the Opera keyboardist Tim Stella.
Florence Lacey is one of those performers who is continuing to live her theatre life to the fullest. Here is an actress who has worked with Carol Channing and Joel Grey and played an iconic role all over the world, but as you will read, loves coming back to work at Signature Theatre. Few performers constitute theatrical royalty, but I'd say that Florence Lacey definitely is one of them.
Have a Smile on a Summer Night and get your tickets to A Little Night Music at Signature Theatre. The cast also features Holly Twyford, Bobby Smith, Tracy Lynn Olivera, and Sam Ludwig to name just a few. This promises to be one of the major theatrical events of the season to be sure.
How did you get into performing?
I started performing in high school. I went to an all girls school and my first audition was at the boys high school (Serra High, McKeesport, PA). It was Little Mary Sunshine. I got the lead and found my calling.
How long after leaving college did you book your first professional performing job? What was the show?
During college at Point Park University in Pittsburgh, PA, I joined AFTRA and did local radio commercials. My first Equity show was less than a year after I earned my BA in Dramatic Arts. It was an Off-Broadway show called Sweet Feet.
Can you please tell us about what makes Signature Theatre's production of A Little Night Music stand out from some of the previous productions of the show?
What I always love about working at Signature is the intimacy. I've done two other productions of A Little Night Music in larger venues, one with a symphony orchestra. Telling this story up close will give the audience a deeper understanding of and involvement with the characters.
Stephen Sondheim's music is very challenging to sing for many performers. Do you find this to be true with your big song in A Little Night Music "Liaisons"?
Stephen Sondheim's music is always a challenge for the singers. It's part of the fun. And Madam Armfeldt is certainly a challenge for me. The songs for this character are written in a very low key and we're using the original key. It's a stretch down for me.
You've performed at Signature Theatre on several occasions. You starred in Sunset Boulevard and were a part of the incredible ensemble in Titanic. What do you enjoy the most about working at Signature Theatre?
What I like best about working at Signature is the ensemble feeling that Artistic Director Eric Schaeffer creates. No matter what my role is I'm always made to feel that my contribution is important. Since this is my 11th show here it feels like home.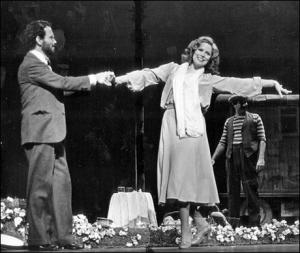 You were on Broadway in a musical by Jerry Herman called The Grand Tour. That show should have run considerably longer than it did, in my opinion. What do you think were the reasons for its undeserved short run and what is your fondest memory of your co-star Joel Grey?
The Grand Tour was a big heartbreak in my life. I still think that it's a wonderful piece of musical theatre that not very many people got to see. As to why it failed, I don't know. The wrong season, the bad weather, who can say! My fondest memory is not so much about Joel, but about his daughter Jennifer. She was just a little girl and she liked to visit me in my dressing room. We would talk and giggle and drink tea. She was a big stress reliever for me during the agony of giving birth to a new musical. I often wonder if she remembers those days.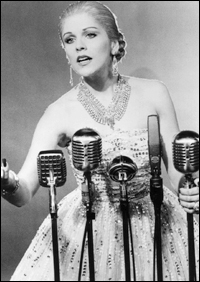 You performed the role of Eva Perón in Evita for many years. How many performances did you actually end up having and did it ever get boring to you?
Evita was my role of a lifetime. I stopped counting after 3,000 performances. I never tired of it because I knew I would never have a part that thrilling to play again and I was seeing the world while I played that wonderful part every night.
After A Little Night Music, what is next for you?
After A Little Night Music I plan to have a rest. This has been a busy year for me with Titanic at Signature, Kaleidoscope at Creative Cauldron, and now this. I keep telling myself that I'm retired. Hopefully as long as I'm still able to play, once in a while I'll get a chance to do so.
Special thanks to Signature Theatre's Deputy Director of Creative Content and Publicity James Gardiner for his assistance in coordinating this interview.
Theatre Life logo designed by Kevin Laughon.
Related Articles