Arena Stage Gala To Honor NPR's Nina Totenberg; Kathleen Turner Headlines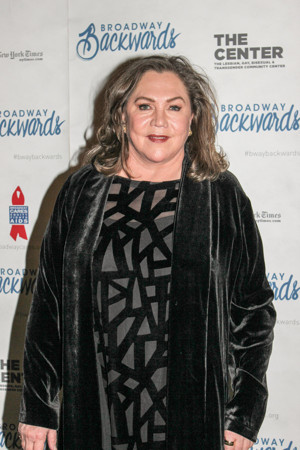 Arena Stage Artistic Director Molly Smith and Executive Producer Edgar Dobie are pleased to announce the presentation of the fourth annual Beth Newburger Schwartz Award to National Public Radio's Nina Totenberg, with actor and performer Kathleen Turner headlining the 2019 Arena Stage Annual Gala. The Gala will be held on Tuesday, May 21, 2019 at the Mead Center for American Theater (1101 Sixth Street, SW).
The evening kicks off with a cocktail reception, followed by a performance and a three-course seated dinner. The performance will feature the presentation of the Beth Newburger Schwartz Award to Nina Totenberg, in recognition of her ground-breaking reporting in the broadcast world and her continual support of the arts. Totenberg was the first radio journalist to receive the 1998 Sol Taishoff Award for Excellence in Broadcasting from the National Press Foundation. The award was first presented to Arena Stage board chair Beth Newburger Schwartz in 2016, Arlene Kogod in 2017 and Muriel Bowser in 2018, and celebrates a female leader who strives to better the community in which she lives through her own unique strengths and talents.
"It's a thrill to present the Beth Newburger Schwartz Award to Nina Totenberg in recognition of her superb work as a reporter," says Smith. "She has been at the forefront of Supreme Court and history-making news for decades. Our decision to present her with the Beth Newburger Schwartz Award was unanimous-her excellent reporting skills and shrewd intellect are at the top of her field."
"I have spent decades in Washington partaking of the dramatic feast that Arena Stage offers," Totenberg shares. "Arena has entertained me and made me think; it has taught me about history, science and the human condition and so it is a special honor to receive this award."
Kathleen Turner is a Golden Globe Award-winning, Academy Award-nominated and Tony Award-nominated actress who has made her mark on both the film and stage scenes. She has appeared at Arena Stage in The Year of Magical Thinking (2016), Mother Courage and Her Children (2014), Red Hot Patriot (2012) and A Midsummer Night's Dream (1989). She debuted her first cabaret performance, Finding My Voice, last year, and her new book, Kathleen Turner on Acting was recently published.
For additional event details visit arenastage.org/gala. For information on individual ticket or table purchases please contact Maria Corso at 202-600-4025 or email mcorso@arenastage.org.
Nina Totenberg is NPR's award-winning legal affairs correspondent. Her reports air regularly on NPR's critically acclaimed news magazines All Things Considered, Morning Edition and Weekend Edition. Totenberg's coverage of the Supreme Court and legal affairs has won her widespread recognition. In 1991, her ground-breaking report about University of Oklahoma Law Professor Anita Hill's allegations of sexual harassment by Judge Clarence Thomas led the Senate Judiciary Committee to re-open Thomas's Supreme Court confirmation hearings to consider Hill's charges. NPR received the prestigious George Foster Peabody Award for its gavel-to-gavel coverage - anchored by Totenberg - of both the original hearings and the inquiry into Anita Hill's allegations, and for Totenberg's reports and exclusive interview with Hill. That same coverage earned Totenberg additional awards, among them: the Long Island University George Polk Award for excellence in journalism; the Sigma Delta Chi Award from the Society of Professional Journalists for investigative reporting; the Carr Van Anda Award from the Scripps School of Journalism; and the prestigious Joan S. Barone Award for excellence in Washington-based national affairs/public policy reporting, which also acknowledged her coverage of Justice Thurgood Marshall's retirement. Totenberg was named Broadcaster of the Year and honored with the 1998 Sol Taishoff Award for Excellence in Broadcasting from the National Press Foundation. She is the first radio journalist to receive the award. She is also the recipient of the American Judicature Society's first-ever award honoring a career body of work in the field of journalism and the law. In 1988, Totenberg won the Alfred I. duPont-Columbia University Silver Baton for her coverage of Supreme Court nominations. Totenberg has been honored seven times by the American Bar Association for continued excellence in legal reporting and has received a number of honorary degrees. On a lighter note, in 1992 and 1988 Esquire magazine named her one of the "Women We Love." A frequent contributor to major newspapers and periodicals, she has published articles in The New York Times Magazine, The Harvard Law Review, The Christian Science Monitor, Parade Magazine, New York Magazine and others. Before joining NPR in 1975, Totenberg served as Washington editor of New Times Magazine, and before that she was the legal affairs correspondent for the National Observer.
Kathleen Turner has garnered critical acclaim for her performances in movies including Body Heat, for which she was nominated for a Golden Globe; Romancing The Stone and Prizzi's Honor, which earned her a Golden Globe Award for each; Peggy Sue Got Married, which brought Turner both an Academy Award nomination and a Golden Globe nomination; and War of the Roses, and yet another Golden Globe nomination. Turner's extensive film credits also include The Man with Two Brains, with Steve Martin; Jewel of the Nile, with Michael Douglas; The Accidental Tourist; V.I. Warshawski; John Waters' Serial Mom; Naked in New York; Moonlight and Valentino; The Real Blonde; and Sofia Coppola's The Virgin Suicides. Ms. Turner has also starred on Broadway in Cat On a Hot Tin Roof, for which she received a Tony nomination for Best Actress; Indiscretions; The Graduate; and Who's Afraid of Virginia Woolf, for which she received a second Tony nomination for Best Actress. More recently, Ms. Turner had a major recurring role playing the role of Sue Collini on Showtime's hit series, Californication as well as the starring role in an independent film called The Perfect Family. More recently on stage, Ms. Turner starred as Molly Ivins in Red Hot Patriot: The Kick Ass Wit of Molly Ivins at Philadelphia Theater Center, The Geffen in LA and Arena Stage in D.C. She also starred on Broadway as a nun in HIGH and took the show on tour for some of 2011 and 2012. In 2014 she starred in one of her most challenging roles as Mother Courage in Mother Courage and Her Children at Arena Stage.
Her most recent film, Dumb & Dumber To with Jim Carey and Jeff Daniels was in theaters in 2014 and made nearly $200 million dollars worldwide. In 2015 she starred opposite Ian McDiarmid in Bakersfield Mist in the West End and following that she went to Berkeley Rep to do the Molly Ivins play. Last year she was back at Arena Stage performing in Joan Didion's The Year of Magical Thinking. Ms. Turner has recently expanded her repertoire with the development of her first cabaret performance, Finding My Voice, which debuted in Philadelphia in the fall of 2017, followed by a run in London at The Other Palace Theatre and a tour of the UK and will continue in selected cities across the country, including her most recent engagement at the legendary Cafe Carlyle in New York City. In addition to her film and stage credits, Turner wrote of her many accomplishments and life experiences in her 2008 autobiography titled Send Yourself Roses: Thoughts on my Life, Love, and Leading Roles, which secured a position on the New York Times Best-Seller List and which she recently recorded as an audio book. Her most recent work includes the publication of her new book, Kathleen Turner on Acting. Lastly, Ms. Turner is also a director and activist, particularly for women's health and finds it rewarding to teach master classes.
Beth Newburger Schwartz is an entrepreneur who has started and sold several businesses. She is currently president and CEO, Epoch Communications, Richlynd Federal and Middle Finger Productions. Beth is known in preservation circles for her work as director of communications for the National Trust for Historic Preservation. She served as a senior political appointee in both Clinton administrations, first in the White House Women's Office and later as associate administrator, General Services Administration. In addition to her professional career, Beth is past chair of Arena Stage and currently vice president, past chair and trustee of the National Children's Museum, trustee of the Roosevelt Library at Hyde Park, President's Council of Cornell Women, the Boat Owners Association of the United States and chairman of the board of Apollo Enterprise Imaging. Beth shared her love of theater and the arts with her late husband, Richard Schwartz, founder and chairman of BoatUS and an extraordinary philanthropist.
Arena Stage at the Mead Center for American Theater, under the leadership of Artistic Director Molly Smith and Executive Producer Edgar Dobie, is a national center dedicated to American voices and artists. Arena Stage produces plays of all that is passionate, profound, deep and dangerous in the American spirit, and presents diverse and ground-breaking work from some of the best artists around the country. Arena Stage is committed to commissioning and developing new plays and impacts the lives of over 10,000 students annually through its work in community engagement. Now in its seventh decade, Arena Stage serves a diverse annual audience of more than 300,000. arenastage.org
More Hot Stories For You