The Royal Conservatory Of Music Announces April Concerts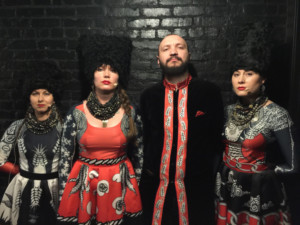 The Royal Conservatory Of Music has announced its lineup of April Concerts.
Quiet Please, There's a Lady on Stage
Portugal's reigning fado queen Mariza - often named the heiress to Amália Rodrigues - makes her Koerner Hall debut in a sold out concert on April 27. Born in Mozambique and raised in Lisbon, she has mastered the roots of her musical culture and opens her music to the world without losing her heartfelt Portuguese identity. "The Portuguese star dispels the idea that fado is gloomy with a set that mixe[s] passion with delicacy and humour," stated The Guardian.
World Music
Virtuoso fiddler Roby Lakatos is a scorching player and a musician of extraordinary stylistic versatility who is equally comfortable performing classical, jazz, and Hungarian folk music. He is a player whose strength as an interpreter derives from his activities as an improviser and composer. Born into the legendary family of Roma violinists descended from János Bihari (who directly inspired the music of Liszt and later Brahms in his Hungarian Dances) Lakatos's musicianship evolved not only within his own family but also at the Béla Bartók Conservatory of Budapest, where he won the first prize for classical violin. His unparalleled technique places him among the best players in the world and his musical curiosity and Roma heritage make him truly unique. He returns to Koerner Hall for the third time on April 5.
Roots and Folk
DakhaBrakha has been described as Ukrainian "ethnic chaos" blending Ukrainian harmonies, contemporary roots and rhythms, surprising instrumentation, and theatrical flourishes. The group was created at the Kyiv Center of Contemporary Art by avant-garde theatre director, Vladyslav Troitskyi. Accompanied by Indian, Arabic, African, Russian, and Australian traditional instrumentation, the quartet's astonishingly powerful and uncompromising vocal range creates a trans-national sound rooted in Ukrainian culture. At the crossroads of Ukrainian folklore and theatre, their performances are at once intimate and riotous. The group makes its Koerner Hall debut on April 14, presented in partnership with the Aga Khan Museum.
Classical Concerts
A Vienna Boys Choir performance is an enchanting event. The Washington Post has called the choir "breathtaking" with "totally disciplined voices tempered by a singular sense of ease and consistency." Boys have been singing at the court of the Holy Roman Emperor since the early 15th century. In 1498, more than half a millennium ago, Emperor Maximilian I moved his court and his court musicians to Vienna. He gave instructions that there were to be six singing boys among his musicians. Historians have settled on 1498 as the foundation date of the Vienna Hofmusikkapelle and in consequence the Vienna Boys Choir. Until 1918, the choir sang exclusively for the imperial court, at mass, at private concerts and functions, and on state occasions. The Vienna Boys Choir has delighted music lovers across the globe with their purity of tone, charm, and crowd-pleasing repertoire, and their return to Koerner Hall on April 6 is sure to be another sellout.
The Invesco Piano Concerts series concludes with Richard Goode, who has been recognized for music making of tremendous emotional power, depth, and expressiveness. Gramophone magazine captured the essence of what makes him such an original and compelling artist: "Every time we hear him, he impresses us as better than we remembered, surprising us, surpassing our expectations and communicating perceptions that stay in the mind," and The New York Times declared: "It is virtually impossible to walk away from one of Mr. Goode's recitals without the sense of having gained some new insight, subtle or otherwise, into the works he played or about pianism itself." Goode will perform an all Ludwig van Beethoven program on April 7 and give master classes at The Glenn Gould School.
Two fiery artists, Gautier Capuçon and Yuja Wang, perform works by Chopin and Franck in a sold out concert to be recorded live in Koerner Hall by Warner Classics on April 13. Chinese pianist Wang returns for her fifth Koerner Hall appearance. "She seems to have everything: speed, flexibility, pianistic thunder and interpretive nuance." (The New York Times) French cellist Capuçon is a true 21st century ambassador for the cello. He is acclaimed internationally for his deeply expressive musicianship and exuberant virtuosity, as well as for the glorious sonority of his 1701 Matteo Goffriller cello, which showcases his phenomenal technical skills. "It's the rare performer who can bring such ease and refinement to this music, while still giving everything he plays a sense of dramatic urgency." (San Francisco Chronicle)
As part of the Temerty Orchestral Program, András Keller conducts the Royal Conservatory Orchestra on April 26. Hungarian violinist, Artistic Director and Chief Conductor of Concerto Budapest Symphony Orchestra, and founder of the Keller Quartet, Keller has won numerous awards. He was the artistic director of the Arcus Temporum Festival in Pannonhalma 2004-10, the founder and the artistic director of International Sándor Végh String Quartet Competition, and between 2012 and 2015 was head of Chamber Music Department in Liszt Academy of Music. Pianist Linda Ruan, recipient of the full-tuition Colleen Sexsmith Piano Scholarship, performs Shostakovich's Piano Concerto No. 2 in a program that includes Tchaikovsky's Francesca da Rimini and Stravinsky's The Rite of Spring.
Season Finale Festival, which celebrates the 10th anniversary concert season at Koerner Hall, starts on April 30 with opera stars Luca Pisaroni and Thomas Hampson in a concert titled No Tenors Allowed. Italian bass-baritone Pisaroni returns to Koerner Hall, this time joined by his father-in-law, famed American baritone Thomas Hampson (who appeared this season with the Canadian Opera Company in the world premiere of Daniel MacIvor and Rufus Wainwrights's Hadrian), to perform an evening of operatic arias and Broadway songs, accompanied by pianist Vlad Iftinca. Hampson "is without question one of the world's greatest opera singers ... a voice, a baritone so rich it can circle the universe," stated Diane Sawyer on Good Morning America. He has received many honours and awards for his probing artistry and cultural leadership, and his discography includes winners of a Grammy Award, five Edison Awards, and the Grand Prix du Disque. The concert will be preceded by Pre-concert Talk at 7pm with Rick Phillips. After a recent No Tenors Allowed concert in Boston, Operawire stated, "Pisaroni and Hampson didn't need big sets or costumes to tell the stories of their particular acts. They did it with their voices, their bodies, and together," and called the singers "two brilliant artists."
Mazzoleni Masters Songmasters series concludes on April 14. Soprano and Songmasters Artistic Curator, Monica Whicher, who possesses a "gleaming instrument that she uses with confidence and fire" (The Calgary Herald), and harpist extraordinaire Judy Loman, perform works and song transcriptions by Strauss, Mahler, Ravel, and folksong gems from North America and the British Isles.
Discovery Series presents piano students of The Glenn Gould School in Sergei Rachmaninov's Moments musicaux and Etudes-Tableaux in The Glenn Gould School Piano Showcase on April 6.
Free Concerts
The Glenn Gould School Chamber Competition Finals, part of the Discovery Series, offers the opportunity to hear the talented ensembles of The Glenn Gould School compete for prizes and performance opportunities on April 3 in Koerner Hall.
Sunday Interludes concert series concludes with a daring artist with diverse musical interests, flutist Marina Piccinini, internationally acclaimed for her interpretive skills, expansive colours, and compelling stage presence. She has been hailed by Gramophone as "the Heifetz of the flute." On April 7, she is joined by pianist Benjamin Smith for a program of Aaron Copland, Johann Sebastian Bach, Aaron Jay Kernis, Elliott Carter, and Richard Strauss. This concert is approximately 75 minutes with no intermission.
Rebanks Family Fellowship Concert on April 10 offers the opportunity to hear artists on the cusp of major careers. This concert features solo and chamber works performed by Rebanks Fellows currently enrolled in the post-graduate Rebanks Family Fellowship and International Performance Residency Program at The Glenn Gould School.
The Phil and Eli Taylor Performance Academy for Young Artists presents the Academy Chamber Orchestra on April 28. String students from The Phil and Eli Taylor Performance Academy for Young Artists come together as the Academy Chamber Orchestra to perform this special concert, conducted by Ivars Taurins. The program will include works by Charles Auguste de Bériot, Wolfgang Amadeus Mozart, George Frederic Handel, and Ralph Vaughan Williams.
Tickets and subscriptions are available online at www.rcmusic.com/performance, by calling 416.408.0208, or in person at the Weston Family Box Office.
More Hot Stories For You